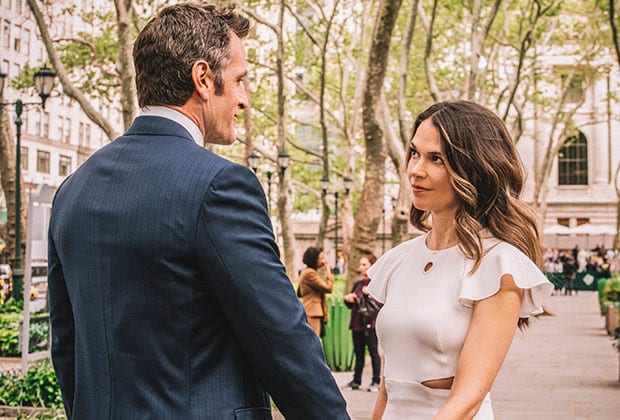 'Younger' is a comedy-drama series that is based on a novel of the same name that was written by Pamela Redmond Satran. The main character of the series is Liza Miller, who is a divorced mom in her 40s who is experiencing financial difficulties caused by her ex-husband's gambling addiction. She tries to get a job in publishing, which is an industry that it is difficult to get a job in for a woman in her 40s with no experience. She also meets a younger man who believes they are a similar age. To help Lia out, her friend gives her a makeover to make her appear younger for the sake of her job and her new relationship. The series first aired on TV Land in 2015, and the sixth season of the series was aired for the first time in June 2017. To prepare you for what's to come in this series, here is an overview of the cast members from season five.
Sutton Foster
The lead role of Liza Miller has been played by Sutton Foster since the series began. Foster has worked as an actress, dancer, and singer since 1989. For most of her career, she worked in musical theatre and is particularly well known for playing Reno Sweeney in 'Anything Goes' and Millie Dillmount in 'Thoroughly Modern Millie'. In her television career, Foster was best-known for playing the lead in the series 'Burnheads', but now she is better known for playing Liza Miller. She is married to screenwriter Ted Griffin and the couple has adopted a little girl, Emily Dale Griffin.
Debi Mazar
Debi Mazar plays the role of Liza Miller's friend Maggie Arnato in 'Younger'. In her early career, she had supporting roles in films including 'Goodfellas', 'Singles', and 'Little Man Tate'. She then landed lead roles in 'L.A. Law', 'Civil Wars', and 'Extra Virgin'. Other than her role in 'Younger', she is probably best-known for playing Shauna Roberts in 'Entourage'. Mazar has been married to celebrity chef Gabriele Corcos since 2002 and they have two daughters together. The family splits their time between their property in Brooklyn and their 15th-century home near Florence, Italy.
Miriam Shor
Playing the role of Diana Trout is Miriam Shore. She is an actress of both stage and screen who began her career back in 1994. She is known for her role in 'Hedwig and the Angry Inch', as she appeared in both the rock musical and the film adaptation versions. In television, she is known for her roles in 'GCB' and 'Swingtown'. She is married to Justin Hagan and they have two children.
Nico Tortorella
Playing the part of Liza's younger love interest Josh, a tattoo artist, is Nico Tortorella. This actor has also worked as a model. He has had roles in several films, including 'Scram 4′. Tortorella is also known for his role in Fox crime drama series 'The Following'. He has been married to Bethany C. Meyers, a fitness and lifestyle entrepreneur, since 2018.
Peter Herman
Charles Brooks is played by Peter Herman. This actor began his career in television in 1997, and he has also enjoyed a career in theatre as he has appeared in several Broadway productions. Since 2004, Hermann has been married to Mariska Hargitay. She is an actress who is best known for playing Lieutenant Olivia Benson on 'Law & Oder: Special Victims Unit'. The couple has three children together.
Molly Bernard
Molly Bernard is the actress who plays Lauren Heller in 'Younger'. Despite having begun her career as an actress back in 2000, this is Bernard's biggest role to date. However, you may have seen her on television before. She has had smaller roles in television series including 'Royal Pains' and 'Alpha House'. An interesting fact about this actress is that she is the granddaughter of Joseph Bernard, who is the co-founder of the Lee Strasberg Theater and Film Institute.
Charles Michael Davis
In the role of Zane Anders is Charles Michael Davis. He originally joined the cast in season four as a recurring cast member but was then promoted to the main cast for season five. He began his career in 2005 and has worked in the entertainment industry in many capacities, including as an actor, director, and producer. He has also worked as a model. Prior to landing his role in 'Younger', he played the lead role in 'The Originals'. He also had a recurring role in 'The Game'. Other series in which he has appeared include 'Grey's Anatomy', 'Switched at Birth', and 'That's So Raven'.
Hilary Duff
Hilary Duff has worked in the entertainment industry since 1993. She is an actress, singer, songwriter, designer, author, and producer. Duff first became famous for playing Lizzie McGuire in the television series of the same name and the movies that stemmed from this series. She is also known for her roles in films including 'A Cinderella Story', 'Agent Cody Banks', 'Cheaper by the Dozen', 'Material Girls', 'According to Greta', and 'The Haunting of Sharon Tate'. Duff has also released several successful music albums as a solo artist. In 'Younger', Duff plays the role of Kelsey Peters. In her personal life, Duff was married to former ice hockey player Mike Corrie from 2010 to 2014. The couple had one son together. She has been in a relationship with singer and record producer Matthew Koma since 2017 and they have a daughter together.
Recurring Cast Members and Guest Appearances
In season five, there are also some recurring cast members. These include Jason Ralph as Jake Devereaux, Chris Tardio as Enzo De Luca, and Jennifer Westfield as Pauline Turner-Brooks. There are also actors who make guest appearances throughout the season, including Grant Shaud, Alanna Masterson, Tessa Albertson, Richard Masur, Christian Borle, Gina Gershon, Maddie Corman, and Paul Fitzgerald, and Tonya Patano.