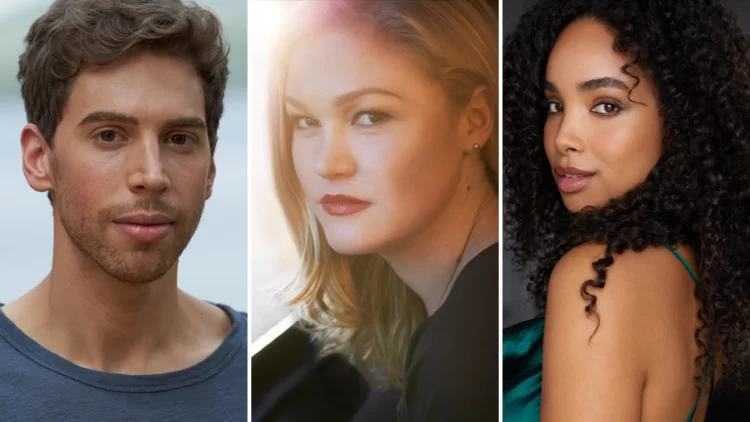 Amazon Prime is set to drop its very first scripted Canadian comedy TV series. Titled The Lake, the upcoming comedy show is written by Julian Doucet, Vivian Lin, and Lisa Codrington, with direction from Jordan Canning and Paul Fox. Michael Souther and Teza Lawrence, alongside Doucet, are executive-producing the series. In a statement reported by Deadline, the two expressed their excitement over the series and shared inspirations behind the show's development: "We were inspired by the summers we spent on the lake, which is the basis of the concept that we brought to Amazon," they said. "We're excited and really looking forward to working with this incredibly talented and diverse cast, and proud to have Jordan in this central role that celebrates the LGBTQIA+ community in this series." The plot of the show is as follows, according to IMDb: "Justin returns from living abroad in the hope of reconnecting with the biological daughter that he gave up for adoption. His plans go awry when he finds out his father left the family cottage to his stepsister." The Lake is set to feature an intriguing list of cast members. If you want to learn more about the actors appearing in the show, read ahead. Here are the cast members of the upcoming Canadian comedy TV series The Lake.
Jordan Gavaris
Jordan Gavaris will be playing the role of Justin, a gay man returning home to connect with his family. Gavaris is best known for his role as Felix Dawkins in the BBC America series Orphan Black. Since then, he's appeared in shows such as Take Two and Love in the Time of Corona, both of which he played a recurring role in. Gavaris is gay in real life. In a statement reported by ET Canada, Gavaris talked about his coming out, saying: "I had this position when I started on the show that it shouldn't matter. And I believe that," Gavaris said. "I hope that one day, the world gets to a place where you don't need to politicize your sexuality any more than someone needs to politicize their race — that we can just act and we can exist in this zeitgeist, telling stories about one another."
Julia Stiles
Julia Stiles will be portraying Maisy-May, Justin's step-sister, in the upcoming comedy The Lake. The actress gained international fame for her leading performance in the rom-com 10 Things I Hate About You, a movie that made her a household name. She's appeared in other teen movies like Save the Last Dance and Down to You. Stiles would eventually perform in movies like The Bourne Identity, Mona Lisa Smile, The Prince and Me, The Omen, Silver Linings Playbook, Hustlers, and most recently, The God Committee. She is set to appear in an upcoming movie titled Orphan: First Kill, directed by Brent Bell, which is currently in post-production. Despite being better known for her work on film, Stiles has also made frequent appearances on TV. She's appeared in 10 episodes of Dexter, which earned her two nominations for the Primetime Emmy Awards. She also played characters in The Makeover and The Mindy Project. She recently starred in Riviera, wherein she played the role of Georgina Cilos. Currentlym she stars in DreamWorks Dragons: The Nine Realms. Despite everything she's achieved, 10 Things I Hate About You remains to be her most popular work. In an interview with NME, she recalled her time working on the movie, saying: "For me, it was such a special moment because it was my big break. I remember, vividly, the scene where I read the poem because it was towards the end of filming. It was such a genuine, unexpected feeling when I break down crying and that was emblematic of how I felt during the whole experience. We were all really present and it was just so uninhibited. None of the actors felt jaded or shut down [on the set]. We were all having a great time."
Madison Shamoun
Actress Madison Shamoun will be portraying Billie, Justin's teenage daughter, in The Lake. Here is her IMDb profile which lists her most recent works: "Madison Shamoun is an American actress. Born in San Diego, she made her start in community theater and commercials before she went on to receive her BA in Acting from UCLA's Theater, Film, and Television department. She is known for The Lake (2022), Black-ish (2020), #BlackAF (2020), and Sydney To The Max (2020)." In an interview with TV Brittany F, Shamoun talked about how she got her start as an actress: "I did musical theater when I was in high school and middle school. My mom says that coming out of the womb I wanted to be a performer. She put me in dance, acting, vocal lessons and commercial workshops. She threw me into the world of performance-based extracurriculars and that's what I worked in. Then in high school, when applying to colleges, I looked into a theater acting degree – not a BFA, but a bachelor's program, so that I could still have minors and study abroad and do other things that I wanted to do outside of acting. I ended up going to UCLA's theater acting program, but [with] no emphasis in musical theater. That was moreso what I did in high school and in middle school."
Jon Dore
Jon Dore is set to portray a yet-to-be-named character in The Lake. An Alaska-based actor and comedian, Dore has appeared in Humour Resources, The 5th Quarter, Baroness von Sketch Show, Those Who Can't, Speechless, Angel from Hell, The Pickle Recipe, After the Reality, and Comedy Bang! Bang!.
Natalie Lisinska
Natalie Lisinska has also been listed as a character in The Lake. Born in England, she grew up in Canada. Lisinska has appeared on shows like Star Falls, Satisfaction, and Orphan Black, where she played a recurring role. For her appearance in that show, she received a Best Performance in a Guest Role, Dramatic Series award at the 2nd Canadian Screen Awards. On the big screen, she's worked on Shelby, Total Recall, and Chloe.
Other cast members
Other cast members expected to appear in The Lake include Carolyn Scott, Travis Nelson, Declan Whaley, Terry Chan, and Sagine Semajuste.
Tell us what's wrong with this post? How could we improve it? :)
Let us improve this post!