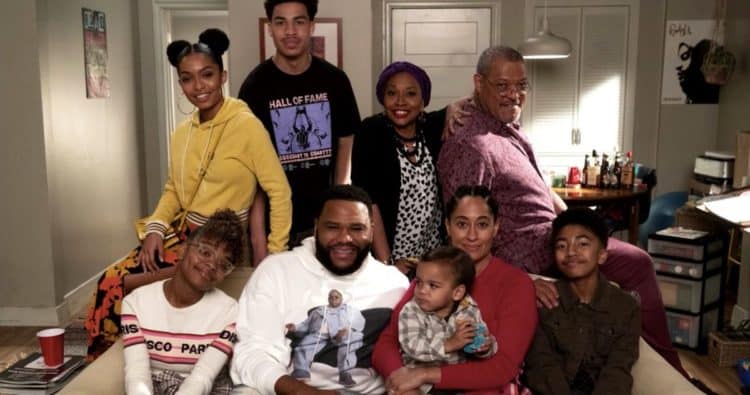 For eight seasons, America has ridden with the Johnsons. Black-ish has been as entertaining as it is educative. Through the seasons, the Johnson family has given us a couple of lessons about life and love, sometimes with the help of guest stars. On one occasion, it was Octavia Spencer profiling the greats during Black History Month, and other times, Dre and Bow were having a light dinner with Michelle Obama. Both times, Black-ish fans were glued to the screen. These are ten celebrities who made the storytelling worth the while:
10. Mary J. Blige
During the show's first season, Mary J. Blige showed up to resurrect the 1920s Harlem Reinassance by performing "I'm Going Down". After her performance, she walked up to Drex (Anthony Anderson) and highlighted how he didn't take his eyes off of Bea for a second. She wished somebody could love her half as much as Drex loved Bea. Asked about Elroy ( Sean Combs), she said he was only in love with himself, and asked Drex to fight for Bea.
9. Sean "Diddy" Combs
Sean "Diddy" Combs and Mary J. Blige happened to both appear on an episode of Black-ish at the same time. Diddy played the role of Elroy Savoy, a club owner who was interested in Drex's dream girl Bea (Tracee Ellis Ross). Drex, the ice delivery man, who'd been staring hard at Bea during her performance, nearly eloped with the apple of his eye, Bea, but her Boss Elroy wouldn't let him. "Ass Boy", as Elroy called Dre, was in for a shock when Bea took her Boss's side and gave him a smack.
8. Zendaya
Zendaya came into the Johnson household as Zoey's friend Rasheeda, right around Dre's big holiday, Daddy's Day. Daddy's Day was a new holiday sweeping the nation, spearheaded by Dre. Rasheeda thought anybody was better than her own dad, who followed her on Instagram, but hadn't liked her pictures yet. She had great suggestions of her own regarding Dre's holiday. If he moved it to Colombus Day (which Rasheeda said was quite racist), he'd have a three-day weekend.
7. Rashida Jones
Rainbow's sister Santamaria (formerly Santamonica) was one lucky lady. Unlike Rainbow, she managed to navigate her way in life through chance. She hardly put in the hard work and wasn't particularly close to her sister when they were growing up. Santamonica thought God had bigger plans for Junior, who was 'very talented'. She needed a new assistant, who could help her navigate religious waters, and Junior looked like the perfect fit. Though Junior would have loved to work for Santa Monica, he felt overwhelmed by duties at home. His mom agreed to have him work for Santamaria. She and Devante (August Cross) would be just fine.
6. Octavia Spencer
In 2019, Octavia Spencer joined the Black-ish cast in honor of Black History Month. The episode was one of few directed by Tracee Ellis Ross and had Spencer giving facts about important names in African American history. In introducing the greats, including Lebron James, Spencer ended their accomplishments with a signature phrase, ' And that's a black person you should know'.While at it, the Hidden Figures star did not forget to reference her very much deserved Academy Award.
5. Babyface
Dre and Charlie (Deon Cole) had a friendship that extended beyond work, but when it came to Charlie's wedding to Vivica Fox, it was just his 'work friend's wedding.' Dre was demoted from being Charlie's best man and had to watch his wedding from the sidelines. More surprising than the fact that Charlie was marrying Vivica was the fact that Babyface was officiating the wedding. None but Jack managed to point that out while everyone else watched in amazement.
4. Regina Hall
Regina Hall played the role of a Vivian, a nanny who knew how to put the Johnson children in their place. Zoey and Diane were about to destroy another girl's reputation on the internet and the Nanny wouldn't let them. She told them they were being mean, and if Diane was going to be class president, she needed to act like a leader. Zoey, on the other hand, was too pretty to be a mean girl. While Vivian called the Johnson girls out, Dre and Bow, who were eavesdropping from the kitchen, couldn't help but be proud.
3. Tyra Banks
Tyra Banks played Gigi, Dre's childhood friend who'd found success as a pop star, but hadn't lost a piece of the old times she shared with Dre. Bow wasn't particularly fond of Gigi because Dre treated her like a best friend. Moreover, the children idolized Gigi because of her stardom. In the end, Gigi and Bow agreed that they should support each other, though Ruby (Jennifer Lewis), thought differently because Bow and Gigi were both 'failures.' Nevertheless, Bow apologized for being too judgy.
2. Amber Rose
Amber Rose played the role of Charlie's love interest, and he had the Johnson children as his wingmen. The pair had met a few years back and lost touch. When Charlie and Amber Rose reconnected, he had to show her that his life had improved. Jack, Diane, and Junior pretended to be Charlie's children. Junior had him covered, complete with champagne, cheese plate, and homemade lavender ice cream just like 'Meryl Streep when she has insomnia'. Amber Rose walked in wearing Dominique, By Dominique, By Dominique, while Charlie was dressed in Neck, by Turtle.
1. Michelle Obama
When Rainbow and Dre announced that they would have company on a Saturday night, the rest of the Johnsons didn't care much for the announcement. Jack (Miles Brown) and Diane were quick to give the excuse that they would be attending a party that night until they heard who the guest would be. "Michelle Obama is coming to dinner," Junior (Marcus Scribner) announced. All of a sudden, Diane (Marsai Martin) and Jack were free. Together with the rest of the family, they promised to be scarce on Michelle Obama's arrival, but Dre, Bow, and their guest found themselves on the receiving end of a Pops' (Laurence Fishburne)-driven invasion. Junior wanted to take a picture with the former First Lady, Zoey( Yara Shahidi) told her of a new fashion line she thought would look perfect on Sasha and Malia, and the twins suddenly came to the realization that dinnertime with their parents would be the perfect movie time.
Tell us what's wrong with this post? How could we improve it? :)
Let us improve this post!