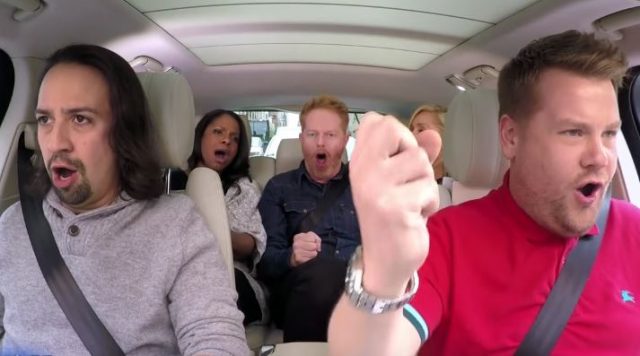 James Corden assembled quite the team for last night's Broadway Carpool Karaoke on The Late Late Show. Ahead of hosting the Tony Awards this coming Sunday, June 12, Corden enlisted the help of Hamilton creator and star Lin-Manuel Miranda, Audra McDonald, Jesse Tyler Ferguson, and Jane Krakowski to help him get to the Beacon Theatre, and the results were pretty magical.
The video begins with just Miranda and Corden driving together, singing what else but songs from Hamilton. Corden even got to do a bit of rapping as the two men dueted together, but after they finished up that song, they brought in the rest of the Broadway crew and things started getting really fun.
After Corden and Miranda picked up McDonald, Ferguson, and Krakowski, the five of them almost immediately dove into "Seasons of Love" from Rent with all of them audibly expressing an "aww" as soon as the opening chords began to play. They then followed that up by taking on "Can't Take My Eyes Off of You" by Frankie Valli and the Four Seasons, which is also from the musical about the famous music group, Jersey Boys.
However, Corden and his Broadway friends didn't just sing the entire time. The five of them also had some very fun exchanges, such as when the Late Late Show host brought up Ferguson and Krakowski's TV shows, Modern Family and Unbreakable Kimmy Schmidt, and asked them what they liked better: theatre or money.
But all the banter and back-and-forths eventually led to a wonderful final song that gave all five members of the Broadway Carpool Karaoke team their time to shine. I won't spoil exactly what the song is here, but I will say that's it from Les Miserables and that everyone in the car does an incredible job performing it.
Watch the full Broadway Carpool Karaoke below, and comment to let us know what your favorite moment from the video was.
[Photo via YouTube]