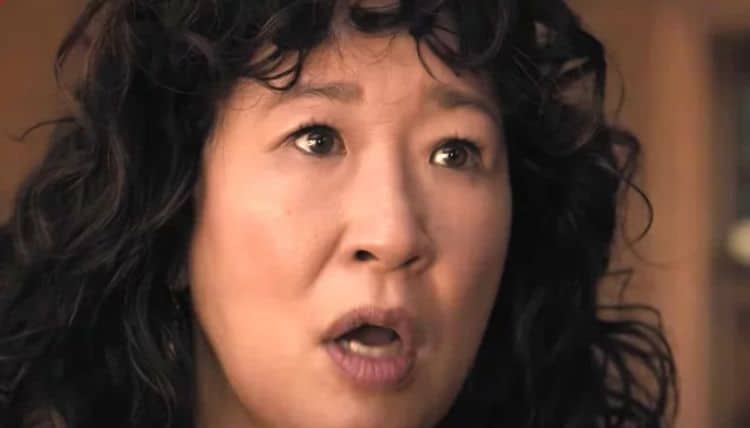 The Chair premiered on Netflix last year to mostly positive reviews. While the performances of its main cast, headed by Sandra Oh, were well-received, many critics found the storytelling lacking, as well as its critique of wokeness in academia uncalled for. The Chair tells the story of an English professor who takes over a fictional college's English department as its program chair. The protagonist then deals with college politics as well as the harsh realities of the state of academia in the present day. USA Today's review of the show took note of how The Chair borrows some of its absurd storylines from real-life events. "If some of these antics feel a bit too over the top to be realistic, you need only to look at recent higher-education headlines to find that it's not all that outrageous." If haven't seen The Chair yet, here's an introduction to its cast members.
Sandra Oh
Sandra Oh plays Professor Ji-Yoon Kim, the newly appointed program chair of the English department at the fictional Pembroke University. The New Yorker described Oh's performance in the show as "masterful," writing: "What makes "The Chair" worth watching is Oh. Much has been written about her slow path to stardom, as she navigated the limitations imposed on Asian performers in American film and television. She has made a career out of reacting to others and playing complementary roles. Without a lane of her own, she mastered the performance of empathy, working off the energies of those around her. Were this real life, these are precisely the qualities that would make her a good chair." Already an established actress prior to joining The Chair, Oh is most notably known for her role as Dr. Cristina Yang in the Shonda Rhimes drama Grey's Anatomy, appearing in the show from 2005 to 2014. Aside from The Chair, she currently stars in Killing Eve, playing the role of Eve Polastri. Oh is a multi-award-winning actress, having snagged trophies from the Golden Globe Awards and the Screen Actors Guild Awards.
Jay Duplass
The younger brother of actor Mark Duplass, Jay Duplass plays Professor Bill Dobson on The Chair, Ji-Yoon's love interest. Before The Chair, Duplass has mostly been active behind the camera, working as a writer or executive producer for shows like Togetherness, Animals, and Room 104. In an interview with Variety, Duplass explained how he became involved with the show. "When that show ended a little early for us, Amanda and I knew we weren't done working together, so we started to think about what we might do next. There were various iterations, but they evolved into this project. I guess I was baked into the show from the beginning. I knew I'd be excited about any role that she created. The other thing was at the time I was starting to act seriously on "Transparent," which was her favorite show, so we were just disgusting, gross fans of each other's work." Duplass' other acting credits include Pinkwall, Phil, and Horse Girl.
Bob Balaban
Bob Balaban plays Elliot Rentz on The Chair, an aging faculty member of the English department who used to be a superstar scholar. A veteran of the entertainment industry, Balaban has worked both in front and behind the camera on multiple occasions, most prominently winning an Academy Award for Best Picture for the movie Gosford Park, which he produced. We've seen Balaban in movies like The Grand Budapest Hotel, The Monuments Men, and The French Dispatch. He also plays a lead role in Condor and The Politician, another Netflix drama.
Nana Mensah
Nana Mensah plays Yaz McKay on The Chair, an up-and-coming junior professor who works in the English department alongside Ji-Yoon. Mensah has appeared in movies like Farewell Amor, The King of Staten Island, and After Yang as well as TV shows like Madam Secretary, New Amsterdam, 13 Reasons Why, and Bonding. In an interview with The Hollywood Reporter, Nana Mensah explained how she snagged her role in The Chair. "This is "Six Degrees of Kevin Bacon," but for the theater. I did a Tracy Letts play called Man From Nebraska, and Tracy used to date Sarah Paulson. Sarah Paulson is best friends with Amanda Peet. Amanda Peet came to see Man From Nebraska and really loved my performance. Fast-forward to this past fall and I sent in a tape and [Peet] was like, "That girl from Man From Nebraska, she absolutely has to be in the show."
David Morse
David Morse plays Paul Larson on The Chair, the dean that oversees the English department at Pembroke University. Another veteran of Hollywood, Morse has a long list of movie and TV projects under his belt. On the small screen, he is most notably known for his role in St. Elsewhere as Dr. Jack Morrison, appearing in the show for more than 100 episodes. He also made appearances in House as well as Outsiders. On film, he played roles in blockbuster hits like World War Z, Concussion, and Passengers.
Holland Taylor
Holland Taylor plays another aging professor on The Chair, Joan Hambling, a senior faculty member of the English department who struggles to connect with her students. Taylor has had notable roles on TV prior to joining The Chair, most prominently as Judge Roberta Kittleson in The Practice and Evelyn Harper in Two and a Half Men, a role for which she was nominated for four Primetime Emmys. Her most recent movie credits include Bill & Ted Face The Music and The Stand In. Alongside her role in The Chair, she also stars in another Netflix drama, Hollywood, as well as the Apple TV drama The Morning Show, appearing in a recurring role. In an interview with Vulture, Taylor revealed that she is actually not familiar at all with the poet Geoffrey Chaucer, her character's main expertise in The Chair. "Not at all. I did nothing with medieval studies when I was in school. Just trying to read passages from Chaucer was challenging. Of course, Joan says, "you just sort of feel your way into it and soon enough it feels natural to you." Well, not to me! I have a friend Jack O'Brien, a wonderful Broadway director, who still can recite those first lines from the introduction."
Tell us what's wrong with this post? How could we improve it? :)
Let us improve this post!