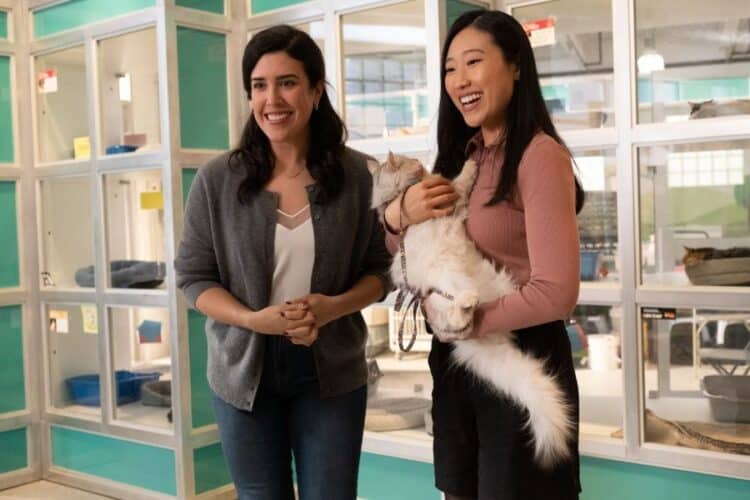 Kim's Convenience concluded in 2021 after five seasons, but a spin-off recently launched featuring one of its most beloved cast members. The title of the spinoff is Strays, and it focuses on the character of Shannon Ross. There has been quite a controversy surrounding the end of Kim's Convenience and the development of Strays, with some cast members coming out to bring forth to the public some behind-the-scenes drama that occurred throughout the series. Nevertheless, despite the controversies and the delays caused by, among other things, the surging COVID-19 pandemic, CBC Television has been able to premiere Strays last year, featuring one familiar face and a whole cast of new characters. If you'd like to learn more about the cast members of Strays, we got you covered. While we can't expect folks from Kim's Convenience to make appearances in the brand-new series, we're sure to find entertainment among those that have been newly cast in the spin-off. Strays is developed by Clara Altimas, Anita Kapila, and Kevin White. Here are the cast members of the CBC Television sitcom Strays.
Nicole Power
Nicole Power reprises her role as Shannon Ross in Strays. However, unlike in Kim's Convenience, Power is the star of the show. Strays focuses on Shannon's move to Hamilton, Ontario, to manage an animal shelter, a far cry from her previous job managing a car rental business. Aside from her prominent role in Kim's Convenience, Power worked on stage productions of West Side Story, Bonnie and Clyde, Legally Blonde, La Cage aux Folles, Dog Sees God: Confessions of a Teenage Blockhead, and the stage retelling of the classic Canadian tale Anne of Green Gables: The Musical. In an interview reported by TV-Eh, Power divulged how the idea of the show came about, saying: "At the end of Season 3, I was approached with the opportunity to start developing an idea for a show that would be a companion piece to Kim's Convenience. It would be an expansion of the universe and explore a different side of Shannon and Shannon exploring something new." Power also talked about how the character will remain constant in the new show, saying: "She is always trying to manage that everyone else is good, so what you'll see in Strays is just an extension of Shannon's desire to have the best of the situation be the reality."
Frank Cox-O'Connell
Another stage veteran, Frank Cox-O'Connell plays the role of Kristian in the TV series Strays. According to his IMDb, he is an award-winning actor and theatre director who hails from Toronto. His performances include Hamlet and Hedda Gabler, Hand to God, and Spoon River. Amusingly, Frank started off as a musician, according to his bio: "Frank started as a drummer in the rock group Boys Who Say No. He studied directing at the Soulpepper Academy with his mentor Daniel Brooks, acting at The National Theatre School of Canada and music in the arts programs of the Toronto District School Board. Frank began working regularly in television in 2020 when Toronto's theatres went dark."
Tina Jung
Actress Tina Jung plays Joy in the spin-off Strays. Previously, Tina appeared in shows like Suits and Nine Films About Technology. On her personal Instagram page, which has around 5,000 followers, Jung frequently posts about Strays, as well as the game Riders Republic, which she's also involved in.
Nikki Duval
Nikki Duval plays Nikki on Strays. The actress has worked on projects like Workin' Moms and New Eden. She's also worked behind the scenes as an assistant director.
Kevin Vidal
Kevin Vidal portrays Liam on Strays. The actor most notably worked as the star of Sunnyside, for which he and his cast members won the Canadian Screen Award for Best Performance in a Variety or Sketch Program or Series. Amusingly, Vidal appeared on Kim's Convenience but played a different role. He's also worked in Workin' Moms, like Nikki Duval, and appeared in a few web series, like But I'm Chris Jericho!, Gary and His Demons, and Soul Decision. On the big screen, he's appeared in The Parting Glass and The Bet. On stage, he's played a character on Come from Away. Talking about his theater experience with CBC, Vidal took note of the pressure of acting on stage, saying that, unlike on TV and film, if you make mistakes on stage, the show is not going to stop. "If you forget something, the show's not gonna wait for you," said Vidal. "Nobody can wait for you. There's an undercurrent, a pulse, that just carries the show. So if you forget anything, you either make something up or continue because there's no looking back."
Tony Nappo
Tony Nappo plays Paul on Strays. The Italian-Canadian actor has worked on projects like The Rainbow Kid, Born to be Blue, Zombies, Zombies 2, Lie Exposed, From the Vine, and The Christmas Chronicles. In an interview with Horror News, the veteran actor gave some words of wisdom to aspiring actors, saying: "First of all, train and learn what you're doing. Beyond training, do something everyday to become a better actor. Watch TV and films, especially things you may be auditioning for. Do something every day. I worked really hard, and I paid attention. Don't sit around and wait." It's probably something he's been able to tell the younger actors on set of Strays.
Paula Boudreau
Actress Paula Boudreau plays Aunt Peggy on Strays. Aside from her work on the spin-off, she's also appeared on projects like Doc, The Prodigy, and Warehouse 13.
Emily Piggford
Last on the list is Emily Piggford, who plays Lara on Strays. The actress has made appearances in The Sounds, Hemlock Grove, and Warigami. According to her IMDb page, Piggford found her passion for acting at the age of 11: "She grew up on a farm by the sea in East Sooke, British Columbia, finding her passion for acting at the age of 11 when she took to the stage. After completing her BFA studies in Acting and Theatre from the University of Victoria, she moved to Toronto. A graduate of the Canadian Film Centre's prestigious Actors Conservatory Program, Emily has appeared in several major TV and film productions including Lost Girl, The Girlfriend Experience, Hemlock Grove, and the Listener to name a few."