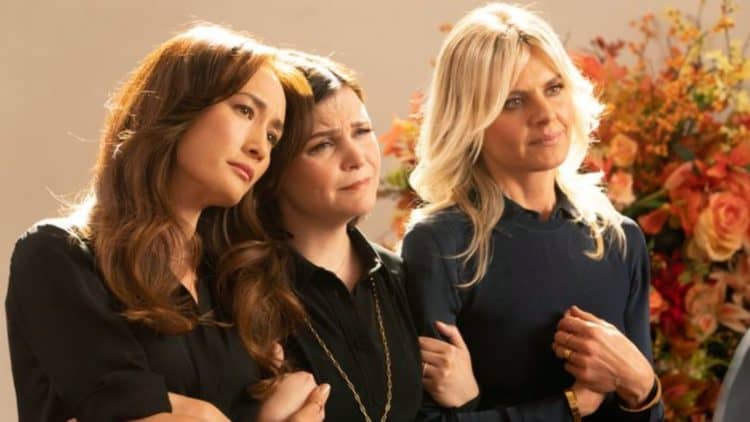 A brand-new comedy series that debuted in January this year, Pivoting is Fox's latest offering. The TV show is created by Liz Astrof and has received generally positive reviews. A review by The Hollywood Reporter praised the single-camera comedy, describing it as charming but, just like most new TV shows, needs a bit of work. "It's the loosest and silliest the show gets in the first three episodes, and also the most charming. Pivoting would do well, it seems, to borrow a page from its own characters, and remember to let itself screw around or screw up in pursuit of true self-actualization." Pivoting stars some of the most prominent actors working in Hollywood, all gathered together for the ultimate TV show about figuring your life out. Here are the actors appearing in the Fox series Pivoting.
Eliza Coupe
Eliza Coupe stars in Pivoting as Amy, who works behind the scenes of a local morning talk show. Seemingly chained to her desk at work, she commits to spending more time with her children. Coupe is no stranger to TV series. She's most famously known for playing a lead role in Happy Endings, costarring Elisha Cuthbert, Zachary Knighton, Adam Pally, Damon Wayans Jr, and Casey Wilson. Often touted as a series canceled too soon, Happy Endings has since built a cult following and even revived talks of a reboot. Eliza Coupe has appeared in Superstore, Quantico, and Wrecked. On film, she's worked on Naked, Making Babies and The Estate. In an interview with Consequence, she talked about whether there are already plans for her character in Pivoting a few seasons ahead, saying: "I can speculate the trajectory we're on. What I would love is for it to be… as these women are coming into their truth. To see people finally living their truth that is their highest choice, getting away from all the stereotypes of what they think they should be doing. Actually living life? That's exciting. That's what we should all be doing. It shouldn't take 'til death to do that."
Ginnifer Goodwin
Ginnifer Goodwin plays the role of Jodie, a mother of three who starts to fall for her trainer. Goodwin is a well-known name in Hollywood, having appeared in some of the most successful TV and film projects. Goodwin is perhaps best known for her roles in Mona Lisa Smile, Walk The Line, He's Just Not That Into You, Ramona and Beezus, and Something Borrowed. She also appeared in the biopic Killing Kennedy. She lent her voice to the hit animated movie Zootopia, providing the voice for Judy Hopps. In an interview with On TV Today, she described her character in Pivoting. "I feel like she's sort of in such a messy place that I couldn't define her while I was like working with her, and that's not something I'm used to …," Goodwin says. "(Co-star) Maggie Q and I were discussing this … (and I said) to her, 'I don't know who this woman is. I don't know what I'm doing.' And Maggie said she didn't know either, and we decided that that just must be where the characters were in their lives. We have no idea what we're doing."
Maggie Q
Maggie Q is also a part of the cast of Pivoting, playing the role of Sarah, a surgeon who abandons her career to work as a cashier at a grocery store. More popularly known for her work in action movies, Maggie Q played characters in Mission: Impossible III, Live Free or Die Hard, and Fantasy Island. In 2010, she starred in a thriller drama series titled Nikita, playing the titular character. She also played lead roles in Stalker and Designated Survivor. Playing a role in the comedy Pivoting is a breath of fresh air for Maggie Q, whose filmography is dominated by more serious roles. In an interview with Third Coast Review, she talked about her role in the series. "I'm living the dream on this new project, honestly, because my co-stars are so talented and funny and such good people, and we just laugh all day. We start shooting the series in a couple of weeks; it's a mid-season show. They're doing like the cable model, so we're doing 10 episodes, which is perfect. Nobody wants to do 22 episodes any more. I've done that, and they're too exhausting for someone. And if you want a varied career, you don't want to be busy nine months out of the year on a show." She also talked about how she chooses her roles, saying that she uses fear as a guiding light to take on the roles she plays. "I would say the nice thing is that anything I fear is a healthy fear, because it comes with excitement. I think everyone wants to be challenged in some way, no matter what you do for a living. For me, that unexpected thing of "That's something I've never done before" and to even find that is really hard. Nothing is original, we all know that. It's about what your take on it is. I like fear because it's motivating and somewhat exciting, and even with this movie, yes, it's action, but I've never done action like this before. I've never jumped off a four-story building. Even if it's not original, there's always something new within."
Tommy Dewey
Tommy Dewey plays Henry, Amy's husband, in the comedy series Pivoting. Before Pivoting, he's appeared in Curb Your Enthusiasm, Four Weddings and a Funeral, The Guest Book, Great News, Royal Pains, Code Black, and Casual, where he played a lead role alongside Michaela Watkins. On film, he's appeared in She's In Portland, The Front Runner, and Book Club.
Robert Baker
The actor Robert Baker plays the husband of Jodie, Dan, in Pivoting. He's made a career for himself appearing in film, television, and even video game projects. Before Pivoting, he's appeared in Magnum PI, Supergirl, and Wrecked. He also had guest-starring appearances in Santa Clarita Diet and Modern Family. His most prominent video game work is 2016's Call of Duty: Infinite Warfare.