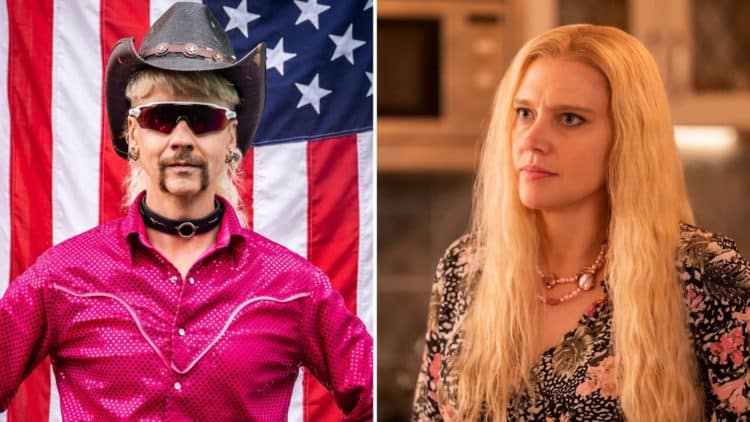 If you thought the hype about the drama between Joe Exotic and Carole Baskin ended with Tiger King, you're in for a surprising treat. Joe vs. Carole, a series set to stream exclusively on Peacock, has been recently announced. The show dramatizes the events between these two tiger careers and the controversies that were involved in their feud. The series is based on the second season of a podcast titled Over My Dead Body, which documents the criminal case of Joe Exotic. If you enjoyed the Netflix docuseries Tiger King, then you'll surely like Joe vs. Carole, which is set to premiere on Peacock soon. If you want to learn more about the actors who will be portraying your favorite Tiger King characters, then read ahead to learn the performers who are set to appear in Joe vs. Carole.
John Cameron Mitchell as Joe Exotic
Actor John Cameron Mitchell has been tapped to portray Joe Exotic, the showman owner and operator of the Greater Wynnewood Exotic Animal Park in Wynnewood, Oklahoma. Much of the controversy surrounding Joe Exotic is about his allegedly poor treatment of his animals as well as his attempt to have Baskin killed in a murder-for-hire scheme. Exotic was convicted to 21 years in prison and is currently serving time. John Cameron Mitchell is the perfect actor to portray Exotic. Based on the trailer, Mitchell has been able to accurately capture the flamboyance and eccentricities of Joe Exotic. In an interview with People, John Cameron Mitchell talked about playing the former zoo owner. "You see them battered as children. You see the homophobia. It honors the 15-year marriage he had, that this docuseries didn't mention, with his husband dying of AIDS, and the homophobia forming him and making him into this harsh figure who is sympathetic in one way but megalomaniacal in another," Mitchell said. "What a great role. It's like playing Richard III crossed with, I don't know, the other Shakespeare character who was… Pericles. He's beaten all the way through his life." John Cameron Mitchell has also appeared in shows like Shrill, The Good Fight, and Girls.
Kate McKinnon as Carole Baskin
Kate McKinnon is set to portray Carole Baskin in Joe vs. Carole. Baskin is widely considered to be Joe Exotic's greatest nemesis. An animal rights activist, she is the CEO of Big Cat Rescue, a non-profit that takes care of big cats. McKinnon showcased her eerily uncanny portrayal of Carole Baskin in the latest trailer of Joe vs. Carole. The actress was able to get even the most subtle mannerisms that made her an excellent choice to portray Carole Baskin on screen. It's no surprise that McKinnon was able to nail down the role very well. One of Saturday Night Live's most prominent cast members, Kate McKinnon is known for her various impressions on the live sketch show. The actress has also appeared in Bombshell, Yesterday, and Family. In an interview with Metro, Baskin revealed that she's actually eager to watch the show, saying: "My husband and I look forward to seeing Kate McKinnon and Kyle McLaughlin's portrayal of us, even though we expect it will be a parody based on the trailer. Both are talented actors and I expect Joe vs Carole will be a lot more entertaining than the situation was in real life."
Kyle MacLachlan as Howard Baskin
Kyle MacLachlan is set to play Howard Baskin, the third husband of Carole Baskin. Carole Baskin's marriage to her second husband, Don Lewis, is one of the sources of major drama in the original documentary, given that Lewis had been missing and presumed dead since 2002. Baskin then married Howard in 2004. MacLachlan is best known for his role as Dale Cooper in Twin Peaks. He also appeared in the original Dune as well as Blue Velvet. Most recently, he had roles in Atlantic Crossing, Agents of SHIELD, and Carol's Second Act.
Dean Winters as Jeff Lowe
Dean Winters is set to portray Jeff Lowe, who is associated with the Tiger King zoo. In 2018, after Joe Exotic's conviction, he came to the possession of the zoo, but in 2020, a court awarded the ownership of the zoo to the Baskins. To casual TV watchers, Dean Winters is perhaps best known for his recurring role as The Vulture in Brooklyn Nine-Nine. He's also appeared in Divorce and 30 Rock and played a main character in the 2004 series Rescue Me.
Brian Van Holt as John Reinke
A former employee of Joe, John Reinke was featured in the documentary Tiger King. Cinemaholic wrote a summary of what has happened to Reinke since his time working at the zoo. "The authorities also interrogated John in relation to Joe's case, but he came out of it unscathed. These days, John works multiple jobs: mowing yards, as an auto mechanic, and part-time at zoos." In the series, he will be played by Brian Van Holt. The actor is best known for playing roles in House of Wax. He also played the role of Bobby Cobb on the TV series Cougar Town.
William Fichtner as Rick Kirkham
Actor William Fichtner will be portraying journalist Rick Kirkham on Joe vs. Carole. The actor, usually known for his villainous roles, appeared in projects like Prison Break, Empire, and Crossing Lines. In an interview with David Spade (via Unilad), Kirkham revealed his thoughts about Joe Exotic and the entire Tiger King drama. "I don't know how all of this has come about over one documentary series, especially one that really didn't get to show you just how bad it was. You know, you kind of had a little bit of a heart for the guy, but you really didn't realise or get to see how evil he really could be. Not only to animals, but to people."
Natt Wolf as Travis Maldonado
Natt Wolf will be playing the role of Travis Maldonado on Joe vs. Carole. Maldonado was an employee of the Greater Wynewood Exotic Animal Park and the second husband of Exotic. Natt Wolf has appeared in The Fault in Our Stars, Paper Towns, and most recently, Murder at Emigrant Culch.
Tell us what's wrong with this post? How could we improve it? :)
Let us improve this post!