The Ellen DeGeneres Show has been one of the most popular daytime talk shows since its premieres back in 2003. The gab show which will be back for a 12th season next month has been renewed through 2017. Ellen was in the news recently when it was revealed wife Portia De Rossi had been admitted into a rehabilitation center after a fight escalated between her and Ellen. The couple have no plans of separating and Ellen will stop drinking in support of her wife's battles with alcohol. Here are fifteen facts you may not know about The Ellen DeGeneres Show.
Photo by Valerie Macon/Getty Images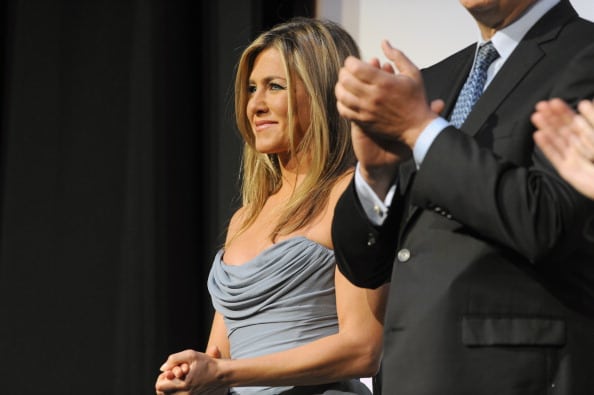 1. The Ellen DeGeneres Show premiered on September 8, 2003. The very first guest on the show was the lovely and talented Jennifer Aniston. She visited to discuss the final season of Friends that would be begin airing on NBC a few weeks later. Macy Gray was the musical performer and cake decorator Betty Kuyper also appeared. Other guests that appeared that week included: Justin Timberlake, who came to discuss his new album Justified; Betty White; Sherry Shepherd; Will & Grace's Megan Mullally; Alias' Michael Vartan; Dennis Quaid; and Lisa Marie Presley.
Photo by Jag Gundu/Getty Images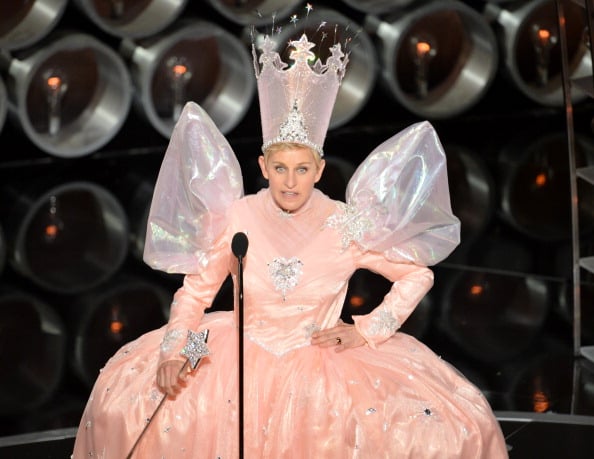 2. One of the ongoing themes on The Ellen DeGeneres Show is Ellen dancing with the audience and on stage. Since the dancing became popular with the fans and audience members, the routine stuck. One of Ellen's famous dance moves is dancing over the table on stage. She will straddle it and then dance from one end to another. One April Fool's Day 2009, the staff placed an extra large table top on the table. When Ellen went to perform the move, she had to get on her tip-toes in order to dance over the table. In 2009, the show was sued by four major record labels for songs she used while dancing.
Photo by Kevin Winter/Getty Images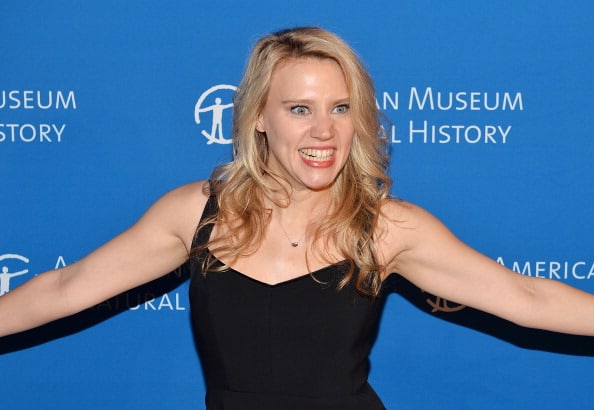 3. Saturday Night Live fans are probably familiar with Kate McKinnon. The actress was recently nominated for an Emmy award and does an excellent impression of Ellen. In April of 2013, the actress appeared on The Ellen DeGeneres Show and discussed some of her impersonations, which also include Justin Bieber and Ann Romney. When McKinnon sat down will Ellen, she was given the task to impersonate the comic later on in the show. When she returned to the stage she did the Ellen dance with DeGeneres then proceeded to crack DeGeneres up with her dead on mannerisms.
Photo by Andrew H. Walker/Getty Images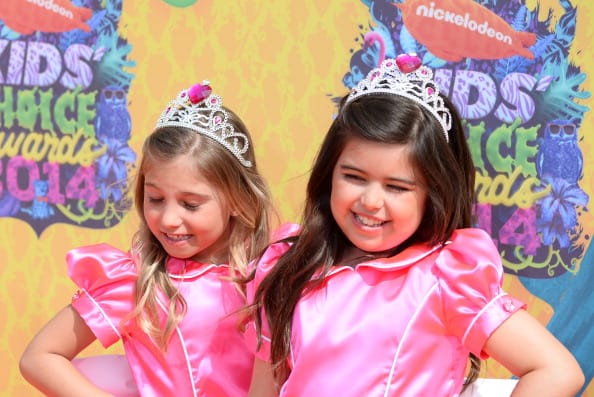 4. Sophia Grace Brownlee and Rosie McClenlland made their first appearance on The Ellen DeGeneres Show back on September 19, 2011 when the girls were 8 and 6. Ellen invited them on the show after seeing their YouTube video performance of Nikki Minaj's Super Bass. The girls have their own segment on the show where they have interviewed Katy Perry, Taylor Swift, and Reese Witherspoon. The duo have also become red carpet correspondents at such events as the MTV Video Music Awards, The Grammy Awards, and the Billboard Music Awards.
Photo by Frazer Harrison/Getty Images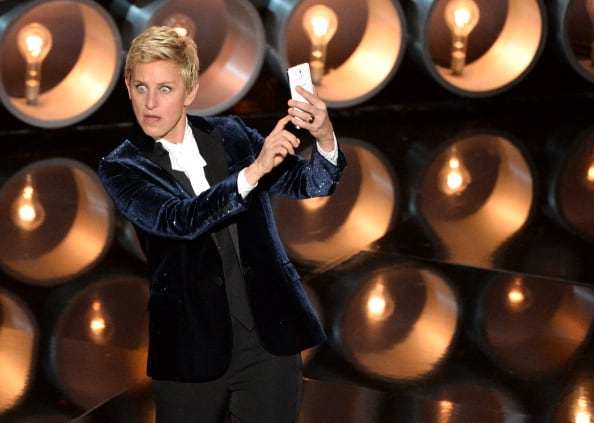 5. Ellen DeGeneres is a member of the Writer's Guild of America. The host showed her support when the writer's strike occurred in 2007. On November 9, 2007, DeGeneres would cross the picket lines to continue work on The Ellen DeGeneres Show. DeGeneres said she continued work on the show because of the 135 employees she had on staff who rely on that paycheck every week. The show ran as normal, with the exception of no opening monologue. The Writer's Guild of America said DeGeneres was not welcome in NYC, even though she would have been in breach of contract if the show did not continue.
Photo by Kevin Winter/Getty Images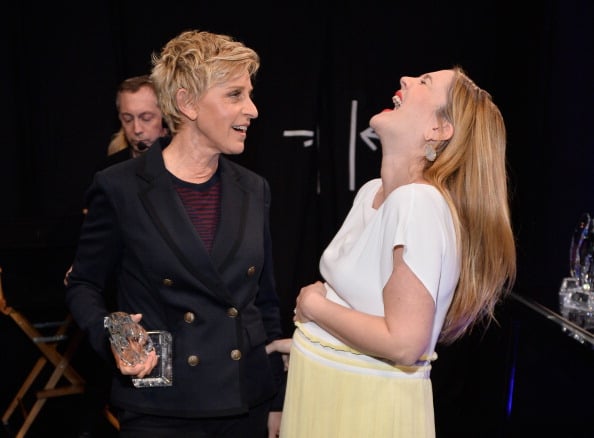 6. There have been several special episodes that have aired of The Ellen DeGeneres Show. In 2006, the show aired a reverse episode, which meant the show began with the closing comments and the opening monologue ended the show. In 2007, an entire episode took place on a Delta Airlines flight with Deltalina providing safety instructions. There was also a Thanksgiving Special that was taped in the Ed Sullivan Theater, which is located in New York City. A special of the show aired following the broadcast of the Academy Awards, which DeGeneres hosted in 2014.
Photo by Frazer Harrison/Getty Images for The People's Choice Awards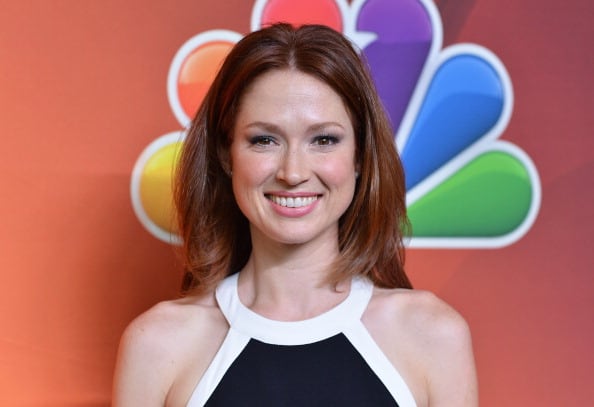 7. To date, there have been a total of 1,875 episodes of The Ellen DeGeneres Show. That averages to roughly 170 episodes a season. Since there are five episodes a week, that equates to the show running on average 34 weeks a year. In all of those episodes, Ellen has only not appeared once. On January 24, 2014, Ellen was stricken with the flu and unable to make the taping. Actress Ellie Kemper was the Guest DJ and filled in as host. Neil Patrick Harris and Hunter Hayes were the guests that day. Kemper would be interviewed by Ellen the following Monday.
Photo by Slaven Vlasic/Getty Images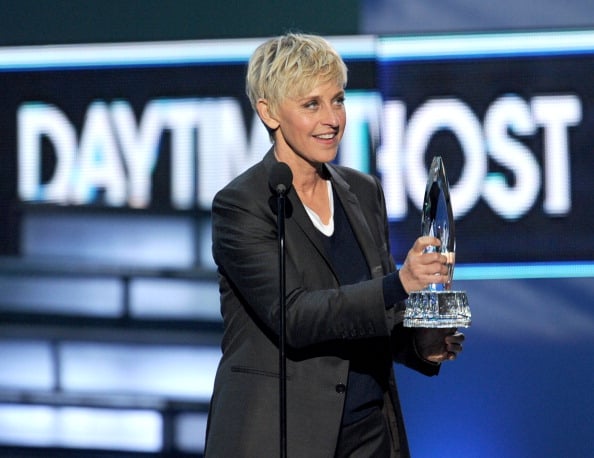 8. The Ellen DeGeneres Show has received the Daytime Emmy Award for Outstanding Talk Show in 2004, 2005, 2006, 2007, 2010, 2011, 2013 and 2014. Other Daytime Emmy Awards the show has won include Outstanding Achievement in Lighting Direction, Outstanding Special Class Writing, Outstanding Talk Show Host, Outstanding Directing in a Talk Show, among many others. The show has been nominated for five GLADD Media Awards from 2009-2013. It would take home the prize in 2009 for the episode "Ellen and Portia's Wedding Day."
Photo by Kevin Winter/Getty Images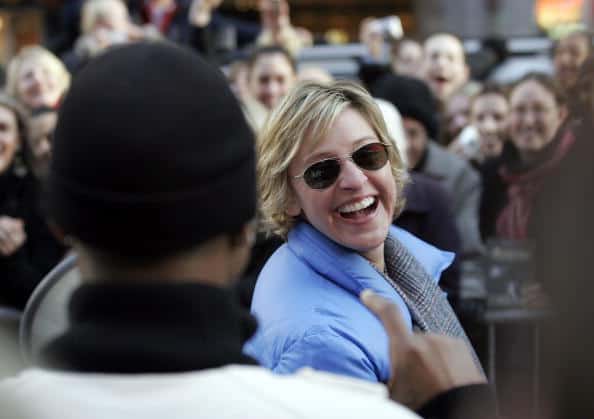 9. The Ellen DeGeneres Show broke ratings record in March of 2014. Ellen hosted a post Oscar episode the following Monday that delivered a 4.8 household rating/11 share. That averages out to be over 5 millions viewers. This is a full rating point higher than the previous most watched episode from 2004. The episode featured interviews with Oscar winners Cate Blanchett, Jared Leto, and Lupita Nyong'o. Ellen also interviewed Edgar Martirosyan, the pizza delivery man who dropped off the pizza during the Oscar ceremony. The 2014 Oscars drew in 43.7 million viewers.
Photo by Fernando Leon/Getty Images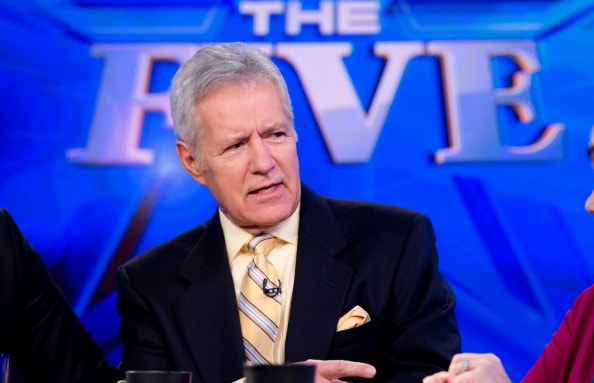 10. Ellen DeGeneres is not only the host of The Ellen DeGeneres Show, she also is the host on an attraction at EPCOT located at Walt Disney World in Orlando, Florida. The name of the ride is Universe of Energy: Ellen's Energy Adventure and has been in operation since 1996. The show also features Jamie Lee Curtis, Bill Nye The Science Guy, and Alex Trebek. It centers on how energy is created and the search for new sources of energy. It was originally called Ellen's Energy Crisis, but was changed because it was perceived in a negative way.
Photo by Noam Galai/Getty Images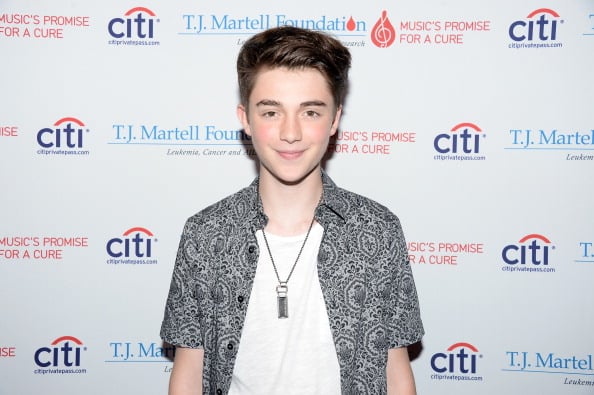 11. Aside from her work on The Ellen DeGeneres Show, Ellen is also a record producer. DeGeneres has a love for music and this is why she started her own record label in 2010 called eleveneleven. The first person she signed to the label was Greyson Chance. She discovered him after watching his video singing Lady Gaga's Paparazzi went viral. Chance's debut album Hold 'On Til the Night was released on August 2, 2011. DeGeneres will generally sign unknowns to the label, many of whom are discovered online. Plus, Jessica Simpson was signed in 2010.
Photo by Theo Wargo/Getty Images for T.J. Martell Foundation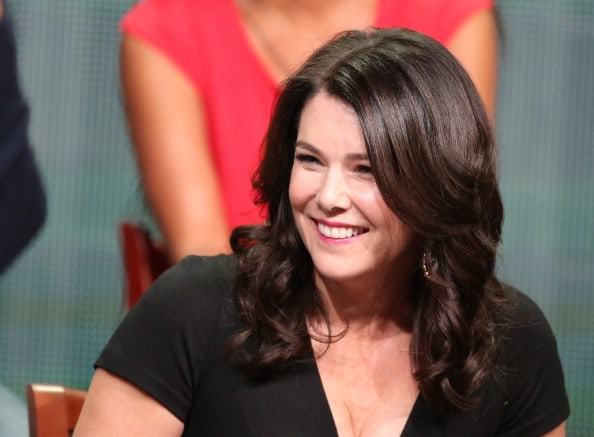 12. According to Internet Movie Database, Lauren Graham is the actress to have appeared the most times on The Ellen DeGeneres Show. Graham has appeared 17 times between 2003-2013, though she has yet to show up in 2014. Actress Allison Janey is close behind with 16 appearances between 2003-2014. Other celebrities with at least 11 appearance on the show include: Howie Mandel (15), Heidi Klum (14), Jimmy Kimmel (13), Wanda Sykes (13), David Space (13), Justin Bieber (13), Paris Hilton (12), Ryan Seacrest (12), Jennifer Love Hewitt (11), Justin Timberlake (11), and Keith Urban (11).
Photo by Frederick M. Brown/Getty Images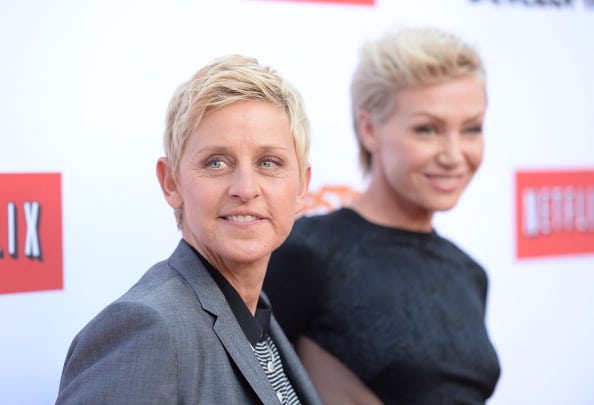 13. Ellen DeGeneres graduated from Atlanta High School in 1976. She would then head to New Orleans to study Communications at the University of New Orleans. She would leave college after one semester to perform clerical work at a law firm. Other jobs Ellen had included working at J.C. Penney, being a waitress at restaurants inlcuding T.G.I.Friday's, a house painter, a bartender, and a vacuum salesperson. She would not start her stand-up comedy career until 1981. That year she was the emcee at Clyde's Comedy Club located in New Orleans.
Photo by Jason Merritt/Getty Images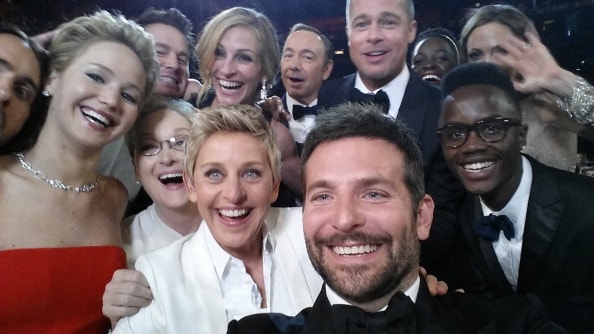 14. Ellen DeGeneres took on the task of hosting the 2001 Primetime Emmy Awards. The ceremony was pushed back two times due to the September 11th attacks on the United States. The network thought it was best to postpone such a lavish ceremony after Americans had time to cope with what had just occurred. The ceremony was held in November of that year and had a more somber tone compared to ceremonies in the past. Humor was still included in hopes that viewers would get a few hours to forget the horrific events from two months earlier.
Photo credit Ellen DeGeneres/Twitter via Getty Images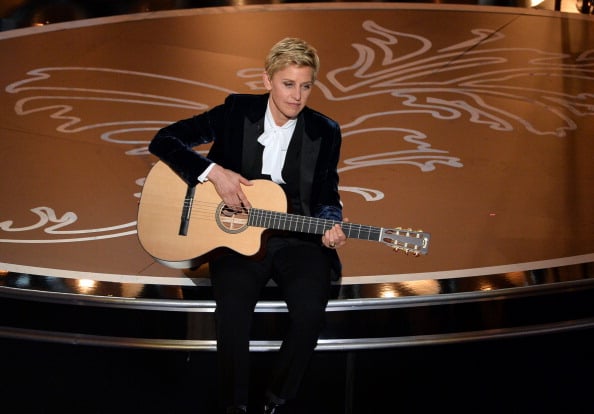 15. Ellen DeGeneres has been the spokeswoman for many different brands in recent years. In 2004, she began her partnership with American Express. Her last commercial aired in 2006 and was a two minute black and white advertisement and would win the 2007 Emmy for Best Commercial. DeGeneres was the focus for the 2009 campaign of Cover Girl, even though their animal testing practices did not coincide with her animal friendly views. In 2012, DeGeneres became the spokesperson for J.C. Penney, which angered the group One Million Moms because of her sexuality.
Photo by Kevin Winter/Getty Images
Tell us what's wrong with this post? How could we improve it? :)
Let us improve this post!