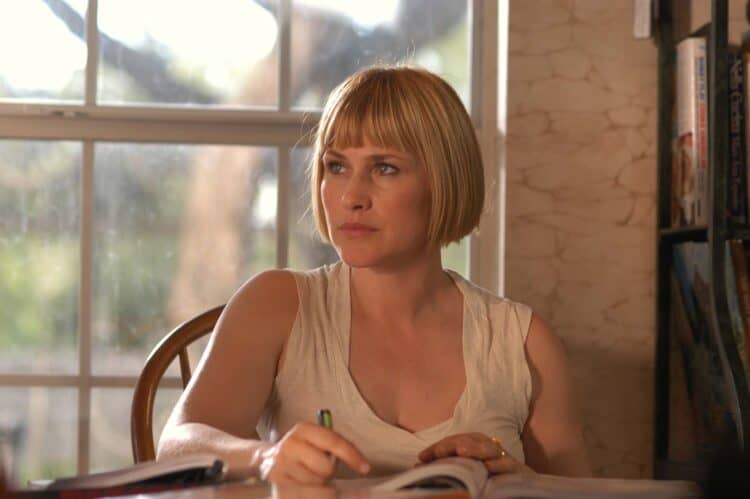 Apple TV+ is set to drop a comedy TV series starring some of the biggest TV stars of the past few decades. High Desert is an upcoming comedy television series created and written by Nancy Fichman, Katie Ford, and Jennifer Hoppe-House. Fichman is best known for her work on Nurse Jackie and Damages. Ford worked on the hit blockbuster movie Miss Congeniality as well as the TV shows Lucy, Little House on the Prairie, and Prayers for Bobby. Hoppe-House, a frequent collaborator of Fichman, lent her talents to shows like Grace & Frankie, Get Shorty, Nurse Jackie, and Damages. Here's a description of the plot of High Desert, according to TV publication Deadline: "The series follows Peggy, played by Arquette, a former addict, who decides to make a new start after the death of her mother with whom she lived in the small desert town of Yucca Valley, California, and makes a life-changing decision to become a private investigator." High Desert boasts an intriguing list of cast members, mixing veterans and relative newcomers to breathe life into this upcoming comedy. If you want to learn more about the actors set to appear in this show, read ahead. Here are the cast members of the upcoming comedy television series on Apple TV+ High Desert.
Patricia Arquette
Patricia Arquette stars in High Desert as a character named Peggy. Arquette will be playing the lead in this show, hot on the heels of her critically acclaimed performance in another Apple TV+ series Severance, starring Adam Scott and Zack Cherry. Arquette is a multi-awarded actress, having snagged accolades including an Academy Award, a British Academy Film Award, two Primetime Emmy Awards, three Golden Globe Awards, and two Screen Actors Guild Awards. For her role in Boyhood, portraying a single mother, Arquette won the Academy Award for Best Supporting Actress. Arquette's earlier works include such classics as A Nightmare on Elm Street 3: Dream Warriors, Pretty Smart, Far North, and The Indian Runner. Later in her career, she performed in movies like Permanent, Waves for Water, Toy Story 4, Otherhood, and The Wannabe. On TV, Arquette appeared on shows like CSI; Cyber. Escape at Dannemora, The Act, and Severance. High Desert will be the actress' second project on the streaming service.
Arquette is one of the most accomplished actresses of her generation, but she did experience her fair share of acting struggles. In an interview with Backstage, Arquette shared an audition horror story that she experienced: "I was auditioning for this movie, it was about a girl band, and [the character] was a drummer and Italian or something. I thought, Maybe I'll look more Italian if I dye my hair dark. So I put in a temporary rinse. And I was like, "I don't know how to play drums." They were like, "No, no, they'll teach you if you get the part." So I go to do the audition, and I'm wearing a white tank top, and they're like, "Now for the dance part of the audition." These people are real dancers, but I'm turning the wrong way and I'm bumping into people. I'm pouring sweat, it's boiling hot. And I go to meet the director to do the audition part with so much sweat pouring off my face, and I realize all the temporary dye started pouring down my face and my tank top. It looked pretty bad. But those are the little moments where it's our humility and it's our humanness. I couldn't grasp that at the time, when I was a teenager [and] everything is such a distortion and you feel so weird in yourself anyway. It's such a brutal kind of time where everyone is picking on each other and belittling each other. Later, these are all the human things that I think are beautiful to observe."
Matt Dillon
Another highly celebrated actor joining the cast of High Desert is Matt Dillon, who is set to portray the role of Denny. Some of Dillon's early film work include Over the Edge, which is his movie debut, as well as My Bodyguard, Little Darlings, The Flamingo Kid, Kansas, A Kiss Before Dying, and The Saint of Fort Washington. His more recent film appearances include The House That Jack Built, Running for Grace, Head Full of Honey, Proxima, Capone, Land of Dreams, and more recently, American Dreamer. Dillion is set to appear in an upcoming movie titled Asteroid City, which is currently being filmed. High Desert will be Dillon's first starring role in a streaming series. He's previously worked on shows like Wayward Pines and guested on popular TV shows like Modern Family and The Simpsons. Matt Dillion received an Academy Award nomination for Best Supporting Actor in the crime drama movie Crash.
Rupert Friend
Rupert Friend is set to appear in High Desert as Guru Bob. Friend is best known for movies and TV shows like Pride & Prejudice, The Boy in the Striped Pajamas, The Young Victoria, Starred Up, Homeland, The Death of Stalin, At Eternity's Gate, and Strange Angel. Friend's more recent work includes The French Dispatch, Last Looks, and Infinite. Friend is set to appear in two upcoming movies, Asteroid City and The Wonderful Story of Henry Sugar. Friend is a TV veteran. He starred in Homeland for 55 episodes, subsequently receiving nominations for various TV show awards. He's also appeared in two episodes of Dream Corp, LLC. On Strange Angel, he played a lead character named Ernest Donovan. He's also worked on Anatomy of a Scandal and Obi-Wan Kenobi.
Weruche Opia
Weruche Opia will be playing Carol in the upcoming comedy series High Desert. A Nigerian film and stage actress, Opia is best known for her roles in Just a Couple, Sliced, and I May Destroy You. As an entrepreneur, Weruche manages Jesus Junkie Clothing
Brad Garrett
Brad Garrett will be playing the role of Bruce in the upcoming comedy series High Desert. A popular actor and comedian, Garrett is most prominently known for his role as Robert Barone in the hit CBS sitcom Everybody Loves Raymond. He also portrayed Jackie Gleason in the TV movie Gleason, which earned him an Emmy nomination. Garrett's more recent works include Single Parents, Penny Dreadful: City of Angels, To Tell The Truth, Big Shot, Amphibia, Bubble Guppies, and Hell's Kitchen, where he appeared as himself. In movies, Garrett worked on Christopher Robin, Finding Dory, Ralph Breaks the Internet, Gloria Bell, Night at the Museum: Secret of the Tomb, and the upcoming Cha Cha Real Smooth, which is currently in post-production.
Recurring cast
Actors expected to appear in High Desert in recurring roles include Bernadette Peters as Rosalyn, Christine Taylor as Dianne, Carmine Giovinazzo as Nick Gatchi, Carlo Rota as Arman, and Jeffrey Vincent Parise as Roger.Severance
Tell us what's wrong with this post? How could we improve it? :)
Let us improve this post!