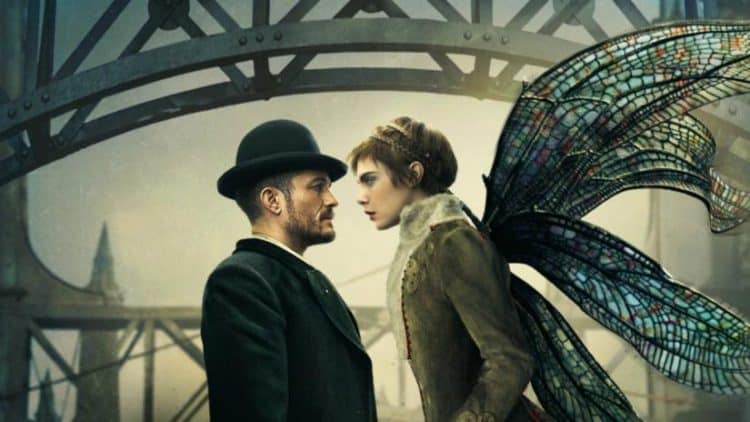 'Carnival Row' is an upcoming Amazon Prime original series in the neo-noir fantasy genre, with some political elements. It is created by Rene Echevarria and Travis Beckham. The series follows mystical creatures that have gathered in a city as they have fled their homeland. Tensions arise due to the growing immigrant population and a string of unsolved murders are investigated. 'Carnival Row' is set to premiere on August 30, 2019, and Amazon has already renewed the series for a second season. This series has an impressive cast list as it features many famous entertainers who are well established in the film and television industries. Here is a look at some of the main cast members from 'Carnival Row' (https://en.wikipedia.org/wiki/Carnival_Row).
Orlando Bloom
In 'Carnival Row', Orlando Bloom plays the lead role of Rycroft Philostarate. English actor Bloom made his breakthrough in 'The Lord of the Rings' series of films in which he played Legolas. This is a role that he reprised for 'The Hobbit' series of films. Orlando Bloom is also known for playing Paris in 'Troy' and Will Turner in the 'Pirates of the Caribbean' series of films. He was married to supermodel Miranda Kerr from 2010 until 2013, and the couple has one son together.
Cara Delevingne
Originally a model, Cara Delevigne has now also established herself a career in the film and television industries. Her first film role was in the 2012 film 'Anna Karenina'. Cara Delevingne has since played the Enchantress in 'Suicide Squad', Margo Roth Spiegelman in 'Paper Towns', and Laureline in 'Valerian and the City of a Thousand Planets'. Delevigne is gender fluid and bisexual. She has had relationships with many high-profile celebrities, including St. Vincent and Ashley Benson. In 'Carnival Row', she plays the role of Vignette Stonemoss.
Tamzin Merchant
The character Imogen Spurnrose is played by Tamzin Merchant. This English actress is best known for playing Georgina Darcy in the 2005 film 'Pride & Prejudice'. She is also known for playing Catherine Howard in 'The Tudors', a Showtime series, and Anne Hale in 'Salem', a WGN America series.
David Gyasi
Actor David Gyasi plays Mr. Agreus in this series. Born in London, this English actor began his career in 2003. He has appeared in multiple television series and films throughout his career. However, he is best known for his roles in 'Interstellar', 'Dream Team', 'Cloud Atlas', 'The Dark Knight Rises', and 'Annihilation'. David Gyasi also played the lead role of Lex Carnahan in The CW miniseries 'Containment'. Although he is from London, his family is from Ghana.
Andrew Gower
Ezra Spurnrose is played by actor Andrew Gower in this Amazon Prime original series. Gower is a British actor who works in both television and theater. In terms of his television career, he is best known for playing Prince Charles Stuart in 'Outlander' and for his recurring role in 'Being Human'. IN 2010, this actor won the Spotlight Prize for Best Actor. Gower will also appear in several other roles during 2019, including a role in the short film 'Ark' and playing series regular Rupert Parker in 'Miss Scarlet and the Duke'.
Karla Crome
Crome takes on the role of Tourmaline. You might recognize Ford from her appearances in 'Hit & Miss' on Sky Atlantic' or from her role as Jess in 'Misfits' on E4. She was also in the 2012 crime drama series 'Murder'. Her performance in this series led to her being as one of the 'UK Stars of Tomorrow' by Screen International.
Caroline Ford
Caroline Ford is portraying the character Sophie Longerbane. Born in Hertfordshire, England, this actress studied at both the Carol Kristian Theatre School and St. Andrew's University in Scotland. From the latter, she graduated with a Masters in History of Art. Ford has a diverse heritage, as her father is English, while her mother is of Trinidadian, Scottish, and Chinese heritage. Ford is best known for her role in 'Free Rein', in which she played Sam Myers.
Arty Froushan
Arty Froushan is the actor playing the part of Jonah Breakspear. This actor's first name is actually Artemas, although he goes by the name Arty. He didn't begin his career in television until 2016, although he is now rising in prominence. He is known for his roles in 'Knightfall' and 'Laid Bare'.
Indira Varma
In the role of Piety Breakspear is actress Indira Varma. This actress made her film debut in the 1996 film 'Kama Sutra: A Tale of Love', which was also her first major role. The television series with which this actress is associated include 'Luther', 'Rome', 'The Canterbury Tales', 'Game of Thrones', and 'Human Target'. She also played DS Nina Suresh in the series 'Paranoid, which was aired on IV and was available for streaming on Netflix. She is the only child born to an Indian father and a Swiss mother, and she was born in Bath, Somerset. Varma is married to Coin Tierney and has one child.
Jared Harris
Absalom Breakspear is played by actor Jared Harris. This actor is from Hammersmith, London, and he was born in 1961. His career in acting began in 1989, and he has appeared in a diverse range of films and television series. He is known for playing Lane Pryce in 'Mad Men', Anderson Dawnes in 'The Expanse', David Robert Jones in 'Fringe', Valery Legasov in 'Chernobyl', King George VI in 'The Crown', and Francis Crozier in 'The Terror'. The films in which he has had supporting roles include 'Allied', 'The Curious Case of Benjamin Button', 'Mr. Deeds', 'Lincoln', and 'Sherlock Holmes: A Game of Shadows'. Harris is from an acting family, as he is the son of Richard Harris and Elizabeth Rees-Williams. He has been married three times, including a four-year marriage to actress Emilia Fox, but has no children,
Waj Ali
In 'Carnival Row', Waj Ali plays the role of Constable Berwick. In the past, he has had roles in 'Witless' in 2016 and in the 2013 film 'RED 2′. His role in 'Carnival Role' is this actor's biggest role to date.
Tell us what's wrong with this post? How could we improve it? :)
Let us improve this post!