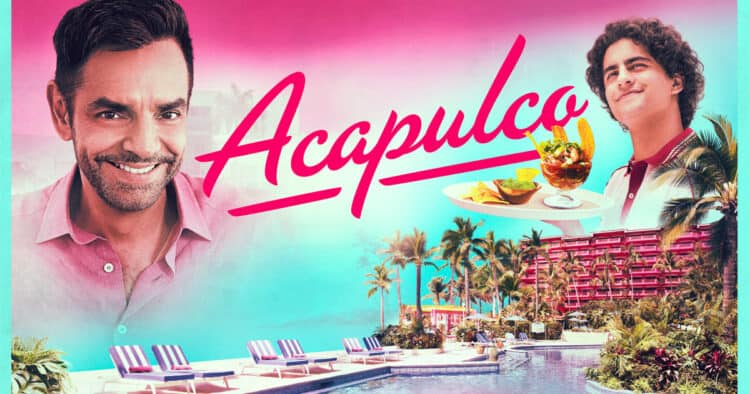 Apple TV+'s hit series Acapulco was recently renewed for a second season. The show, a Spanish and English-language comedy series created by Austin Winsberg, Eduardo Cisneros, and Jason Shuman, is inspired by the highly popular comedy movie How To Be A Latin Lover. It's no surprise that the streaming giant is backing the show once again; Acapulco is a hit with reviewers and regulars audiences alike. The Guardian posted a glowing review of the series last year, writing: "Drama aside, the overall effect is gentle, sunny and laidback, and the show wears its easy charm well. Acapulco doesn't reinvent the wheel, but Las Colinas is a most pleasant place to spend some time." Acapulco's success comes from a combination of masterful directing, compelling storylines, and an ensemble of cast members who know exactly how to breathe life into the TV series. If you want to learn more about the who's-who of this streaming series, read ahead. Here are the cast members of the freshly renewed hit Apple TV+ series Acapulco.
Eugenio Derbez
Actor Eugenio Derbez stars in Acapulco as present-day Maximo Gallardo Ramos, a mogul from Malibu who rose from poverty to become a highly successful entrepreneur. The Mexican actor is a veteran of both Mexican and American projects He's appeared in movie projects like Miracles from Heaven, Sandy Wexler, and How To be A Latin Lover, from which the show took inspiration and where he also portrays the same character. Most recently, he appeared in the highly acclaimed CODA, another Apple TV+ project that earned the Academy Award for Best Picture and the Academy Award for Best Supporting Actor. In an interview with Show Snob, Derbez explained how he became involved in Acapulco, saying: "In my case, it was an idea we created because when we were developing the movie, How to Be a Latin Lover, we thought it would be cool to do a prequel. We thought about those stories that happened before this guy became a billionaire and the people he met at the resort when he was young. We decided to create the series based on that. It changed a lot, and now it's slightly based on the movie, but it's completely different. The character is way kinder, a nice soul, and a good guy, but still, he's working at his dream job of being a cabana boy at Las Colinas, and everything is different from what he thought. He has to face a lot of trouble, and the series is basically about the price you're willing to pay to achieve your dreams."
Enrique Arrizon
Enrique Arrizon plays Maximo Gallardo Ramos in 1984, who by then was just a working-class man who aspires to work at Las Colinas Resort. He's appeared in projects like April's Daughter, Expire, and Heroe por accidente. In the same Show Snob interview, Arrizon also explained how he got involved in the series, saying: "Since the very first day, I loved the script. When I met my fellow actors, it was incredible. I think we bonded just perfectly. I love the character. I love all the layers, all the things that happened to him and the way he sees life. He tries to succeed to help his family, to help his mother, she has eye problems, and he wants to earn more money to help her faster, but maybe there are some temptations and tough clientele. He wants to give his best, but well, it's his first job ever! I think we all have different experiences in our first job."
Fernando Carsa
Fernando Carsa plays Gullermo, Maximo's best friend who also worked at Las Colinas Resort in 1984. Acapulco is Carsa's TV debut, which he snagged right after graduating from UCLA. According to his IMDb profile, he had originally planned to pursue Broadway: "Following a seven-year stint in the program, Carsa moved to the U.S. with his eyes set on Broadway. Carsa went on to attend Fullerton College where he earned an Associate's Degree in Theatre Arts, before becoming the first transfer student in six years accepted into UCLA's Ray Bolger Musical Theater Program."
Damian Alcazar
Damian Alcazar plays Don Pablo Bonilla, the head of operations at Las Colinas Resort who Maximo looks up to and serves as a mentor to him and Gullermo. The veteran actor has appeared in Mexican and American productions. In Mexico, he played roles in Un mundo maravilloso and Fuera del cielo. In the U.S., he worked in notable movies like The Chronicles of Narnia: Prince Caspian. He is no stranger to TV. Alcazar made appearances in shows like El Dandy, 2091, Rubirosa, and Narcos, playing former drug lord Gilberto Rodriguez Orejuela.
Camila Perez
Camila Perez plays Julia Gonzales, who works as a receptionist at Las Colinas resort in 1984. Most fans would perhaps know her from her role in the Fox series Gotham.
Chord Overstreet
Actor and musician Chord Overstreet also appears in Acapulco as Chad Davies, a general manager at Las Colinas Resort. He is best known for his role as Sam Evans in Glee. He's appeared in a few movies, including 4th Man Out and Falling for Christmas. On TV, he's worked in Pickle and Peanut, The Bold Type, and Royalties.
Vanessa Bauche
Vanessa Bauche plays Nora Gallardo Ramos, Maximo's mother. She has appeared n Su nombre era Dolores, Luis Miguel: The Series, and Nosotros los guapos. In 2021, she snagged a lead role in the Mexican comedy series The War Next-door.
Regina Reynoso
Regina Reynoso plays Maximo's sister, Sara. The actress performed in projects like While the Wolf's Away, The Gasoline Thieves, and Entrenando a mi papa.
Bianca Marroquin
Bianca Marroquin plays present-day Sara in Acapulco. Marroquin holds the distinction of being the very first Mexican actress to star in a Broadway show.
Jessica Collins
Actress Jessica Collins plays Diane Davies, the owner of Las Colinas Resort and the mother of Chad. Collins is a veteran of soap operas, having performed in Loving and The Young and the Restless.
Other cast members
Other cast members playing roles in Acapulco include Raphael Alejandro, Rafael Cebrian, Carlos Corona, Regina Orozco, Lobo Elias, Julian Sedgwick, and many others. Guest actors in past episodes include Sally Pressman, Steve Monroe, Caleb Foote, Simon Templeman, and others.Narcos