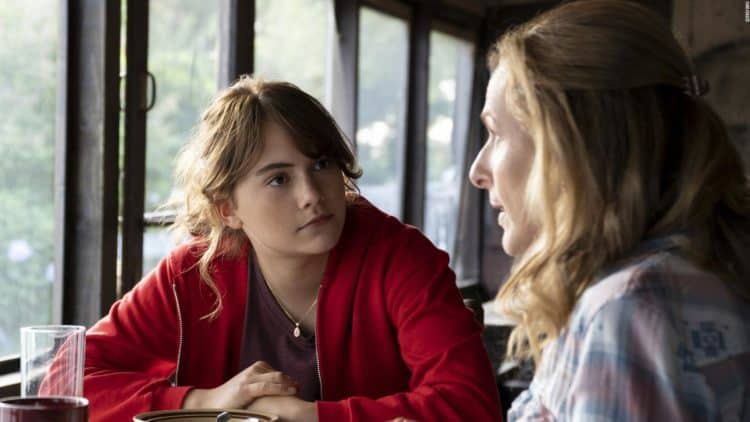 CODA is a 2021 coming-of-age comedy-drama film written and directed by Sian Heder. The film's title stands for Children of Deaf Adults, which refers to hearing children raised by one or more deaf parents or guardians. They learn ASL as a first language and often serve as interpreters for their parents. The film stars Emilia Jones as 17-year old Ruby, the only hearing member of her deaf family. Eugenio Derbez, Ferdia Walsh-Peelo, and deaf actors Troy Kotsur, Daniel Durant, and Marlee Matlin, are also featured in supporting roles. The film is an English-language remake of the 2014 French film La Famille Bélier. CODA premiered at the 2021 Sundance Film Festival last January 28 2021 and was released in the theaters and through the streaming service, Apple TV+ last August. The film garnered positive reviews and several accolades including the U.S. Grand Jury Prize, U.S. Dramatic Audience Award, and a Special Jury Ensemble Cast Award, as well as Best Director in the U.S. Dramatic section during the Sundance Film Festival, and was nominated for Best Motion Picture – Drama and Best Supporting Actor (for Kotsur) at the 79th Golden Globe Awards.
It also received three nominations at the 94th Academy Awards, including Best Picture, and Kotsur for Best Supporting Actor, making him the first male deaf actor to be nominated for the Academy Awards. At the 28th Screen Actors Guild Awards, Kotsur, Matlin, and Durant received a nomination, along with Jones, Derbez, and Walsh-Peelo, for Outstanding Performance by a Cast in a Motion Picture, making history as the first disabled performers to receive a nomination for the said award. Variety published a review of the film and wrote, "In many ways, it's a highly conventional film, with tailored story arcs that crest and resolve just so, and emotional peaks and valleys that touch big fat rounded chords of inspiration." If you enjoyed watching the heart-warming film CODA, here are five other movies you must watch that share similar tones as well as some featuring ASL in the film.
Children of a Lesser God
Children of a Lesser God is a 1986 American romantic drama film directed by Randa Haines with Hesper Anderson and Mark Medoff serving as screenwriters. The film is based on Medoff's 1979 play of the same name. The film stars William Hurt, Marlee Matlin, who appeared as Ruby's mom in CODA, Piper Laurie, and Philip Bosco. The film follows the story of James Leeds (William Hurt), an instructor at a New England school for the deaf, and Sarah Norman (Marlee Matlin), a deaf woman working at the school as a custodial staff. The two develop a romantic relationship but struggle to understand each other's world. Children of Lesser God received five nominations at the 59th Academy Awards including Best Picture, Best Actor (William Hurt), Best Supporting Actress (for Piper Laurie), and Best Adapted Screenplay. The film being Marlee Matlin's debut, gained her the Best Actress title, at the age of 21 becoming the youngest winner in the category as well as the only deaf winner in Oscar history. In an archive film review of the movie, New York Times praised the film saying,"There's scarcely a single moment in it that seems to be spontaneous. It depends on our preconditioned responses to emotional stimuli, not of the first freshness. It rewards us with humorous, Broadway-type dialogue designed to show us that the deaf, after all, have the same feelings as you and I."
Sound of Metal
Sound of Metal is a 2019 American drama film directed and co-written by Darius Marder. The cast features Riz Ahmed, Olivia Cooke, Paul Raci, Lauren Ridloff, and Mathieu Amalric. The film follows a heavy-metal drummer who begins to lose his hearing. He finds out that his condition will worsen and struggles to accept his condition and fears the end of his music career. The film was critically acclaimed and was nominated for Best Picture, Best Original Screenplay, Best Actor (Ahmed) and Best Supporting Actor (Raci) at the 93rd Academy Awards, and won Best Sound and Best Film Editing. The Guardian praised actor Riz Ahmed in the film in their review saying, "From the wall-of-noise ambiance of Ruben's rock performances (shot live, in front of real crowds) to heated group debates conducted in American sign language (ASL), Sound of Metal finds universal appeal in the specifics of detail, rooted in Ahmed's thrillingly committed performance."
Tallulah
Tallulah is a 2016 American comedy-drama film written and directed by Sian Heder, who also directed CODA. Tallulah stars Elliot Page and Allison Janney, who worked together previously in the film Juno, and Tammy Blanchard in a supporting role. The film follows the story of a babysitter who takes a baby from an irresponsible mother. She pretends to be the baby's mother and being a drifter with no place to stay, she decides to go to her ex-boyfriend's mother and tells her the baby is her granddaughter. In the New York Times' review of the film they wrote, "But the film, a Netflix release receiving a theatrical run, is a deft mix of emotions: heart-rending, occasionally funny, even harrowing as the police get involved. And if there were an Oscar for best performance by children too young to know they're in a movie, the twins playing this baby (Liliana and Evangeline Ellis) would be a shoo-in."
La Famille Belier
The French film La Famille Bélier from which CODA was adapted is a must-watch too. The film was directed by Éric Lartigau and it received six nominations at the 40th César Awards with Louane Emera who played the lead role winning Most Promising Actress. The film also stars Francois Damiens, Karin Viard, and Luca Gelberg. The film shares a similar plot with CODA but instead of fishing, the Bélier is a farming family. The Hollywood Reporter praised Louane Emera for her performance in the film and wrote, "The star of the show, however, undeniably is newcomer Emera, a former The Voice France contestant who does her own singing, is extremely natural and for whom it's practically impossible not to root as an audience."
Sound of Fury
Sound and Fury is a 2000 documentary film about two American families in Long Island with young deaf children, cousins Heather and Peter Artinian. The film follows their journey of deciding whether or not to give cochlear implants that can improve the children's ability to hear. IndieWire published a review of the film and wrote, "Sound and Fury" starts off a bit like some clinical medical documentary exploring an innovative new surgical technique — something you might find yourself watching on the Discovery Channel. But it confounds expectations and raises fascinating new questions about cultural identity in general — and not merely among the deaf."
Tell us what's wrong with this post? How could we improve it? :)
Let us improve this post!