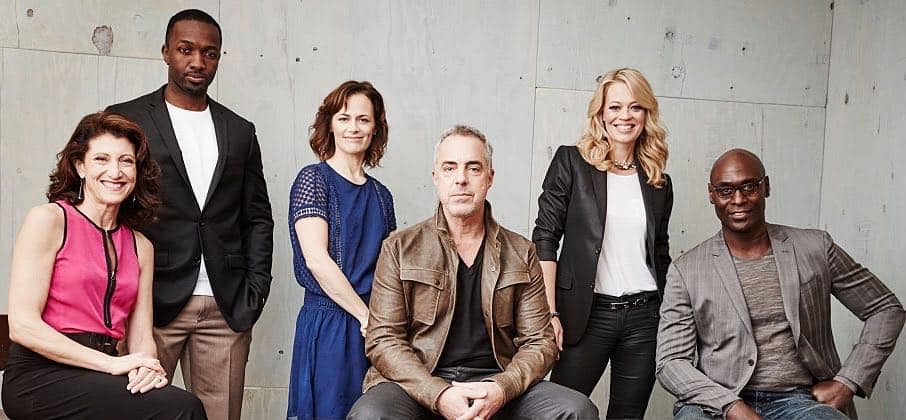 The television series "Bosch" centers around a Los Angeles Police Department detective in the homicide division who investigates the killing of a thirteen year old boy, in an attempt to solve the crime and find the real murderer. In the meantime, he is standing trial himself, accused of murdering a serial killer. The show premiered in 2014 and is still running. For those of you who are not familiar with the cast, here is a complete rundown of the top 10 members of the cast off "Bosch."
1. Titus Welliver
Welliver is the lead male actor who plays Harry Bosch. The actor and producer is a native of New Haven Connecticut. He's the son of Neil Welliver, famed landscape painter and fashion illustrator Norma Cripps. He was born in a creative family and has been influenced by their individual and collective creativity.
2. Jamie Hector
Jamie Hector is Jerry Edgar in the series. He is an actor and a producer and has served in miscellaneous crew jobs in the entertainment industry. He's a native of Brooklyn, New York. He's best known for his role as Marlo Stanfield in the HBO Series "The Wire." Jamie is a seasoned actor who has been in the business since graduating from high school. After an audition for a community theater company, he had found his niche and continued acting ever since.
3. Amy Aquino
Actress Amy Aquino portrays Lt. Grace Billets in "Bosch." She has been in the show since it premiered in 2014 and is an integral part of the cast. Aquino is a Teaneck, New Jersey native who is well-known by fans for previous roles in "Working Girl," "Picket Fences" and "White Oleander." The actress married Drew McCcoy in 1995 and the couple is still together. She's a hard hitting cop with an inherent toughness that makes her a favorite on the series.
4. Lance Reddick
Actor Lance Reddick is another fan favorite who has been with the show since 2014. He is a native off Baltimore Maryland and has also served as producer. He is best known for his role in "John Wick" which was released the same year that he began working as cast of "Bosch." He went on the star in other popular films including "John Wick: Chapter 2" and "White House Down." He's appeared as Deputy Chief Irvin Irving in the show.
5. Madison Lintz
Actress Madison Lintz joined the show in 2015 as Maddie Bosch. The Atlanta Georgia native is a veteran actress who started acting at the age of 6. She's appeared in commercials as well as lending her talents for voice overs.
6. Troy Evans
Actor Troy Evans appears in "Bosch as detective Johnson. Fans remember the Missoula, Montana native for his roles in "Fear and Loathing in Las Vegas," "Ace Ventura: Pet Detective" and "Under Siege."
7. Gregory Scott Cummins
Gregory Scott Cummins is an American actor who portrays detective Moore in the "Bosch" series. He's been a staple on the show since 2014. He was raised in the East Bay area of Northern California. He began acting after finishing his education earning his MFA in Acting from the prestigious UCLA. He worked as a performer in the theatre and has played many roles in film and television as lead, supporting lead and also in a variety off supporting roles.
8. DaJuan Johnson
American actor and composer DaJuan Johnson is detective Pierce in the television series "Bosch." He is a veteran actor who is known for both acting and composing, and has been a member of the "Bosch" cast since 2014. He is also known for his roles in "The Downward Dog" and "Agent Carter."
9. Scott Klace
You may remember actor John Klace from the popular television "Seinfeld." He appeared in the series in 1989, before joining the cast of "Bosch" is 2017. In the show, he plays the part of Sergeant John Mankiewicz.
10. Sarah Clarke
American actress, writer and producer Sarah Clarke joined the "Bosch" cast in 2015 and has become an important character in thee show. The native off Missouri was born to an engineer dad, Ernest Clarke and mother Caroly. She majored in Italian and Fine Arts in College and was privileged to study in Bologna for a period of time. She plays the role of Eleanor Wish in "Bosch," and has been a supporting actress that has given noteworthy performances.
Tell us what's wrong with this post? How could we improve it? :)
Let us improve this post!