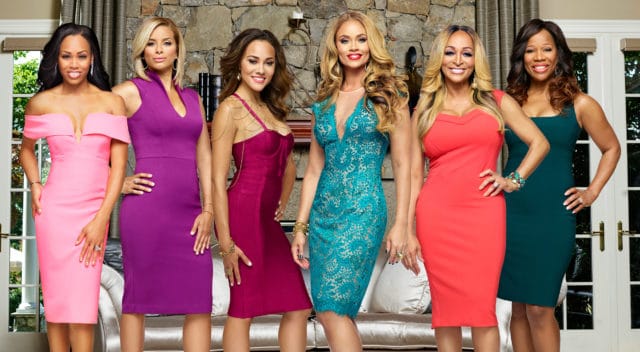 "The Real Housewives of Potomac" is back for its second season. The eighth installment of Bravo's realty show follows the personal and professional lives of socialites living in Potomac, Maryland. The women interact as they work and socialize around the Washington DC area. Meet the cast of "The Real Housewives Potomac" season 2.
Gizelle Bryant
Gizelle Bryant returns to "Real Housewives Potomac" as she is ready to launch her skin care brand "Every Hue Beauty". The sophisticated and outspoken socialite grew up with prominent parents who worked for the United States government and participated in charitable causes. Gizelle graduated from Hampton University and moved to Baltimore. She was married to "megachurch" pastor and activist, Jamal Bryant, for 7 years. They have 3 daughters, Grace and twins Angel and Adore. After the divorce, Gizelle moved back to Potomac. She works with charitable causes that generate funds for revitalization of major cities.
Ashley Darby
The Marilyn native has a powerful drive to succeed and has a strong personality. Ashley Darby has a strong work ethic and worked through high school and college to help her single mom and younger siblings. While attending the University of Maryland, Ashley worked as a bartender and was discovered and asked to participate in the Miss District of Columbia Pageant. She won the title in 2011. After dating for a few years, Ashley's life changed when she married Australian millionaire, Michael Darby, who is 29 years older. She became stepmother to his 23 and 25 year old children and was swept up into an extravagant life of travel and social and charity events. Ashley opened Oz Restaurant, an authentic Australian restaurant in Washington DC.
Robyn Dixon
Robyn Dixon graduated from the University of Maryland with a business degree. She married her high school sweetheart, Juan Dixon, a professional basketball player. They have 2 young children, Corey and Carter. Although divorced, Robyn and Juan are still close. Robyn has started a career as a publicist and event manager and founded Visionary Events. She supports charitable causes that help women, children and families.
Karen Hugor
Karen Hugor learned a strong work ethic from her parents who have a large Virginia farm. After college, Karen quickly rose in the social scene of the Washington DC area. Her husband Raymond is the CEO of an IT company. Karen has a 29 year old son, Brandon, who graduated from Morehouse College and Georgetown University. The Hugor's daughter, Rayvin is a sophomore in college. Karen launched a beauty and fashion boutique, Ikon Enterprises, and is known for throwing lavish parties.
Charisse Jackson Jordan
Charisse Jackson Jordan also returns for the second season of "Real Housewives of Potomac". She is a large part of the DC social scene and is known for throwing lavish parties. Charisse was married to Eddie Jordan, an NBA player and now coach. They divorced but have 2 teenage children, Jackson and Skylar. Charisse is known on "Real Housewives of Potomac" as a good friend and confidante.
Monique Samuels
Model and socialite Katie Rost appeared in the first season of "Real Housewives Potomac" but did not return for the second season of Bravo's reality show. Season 2 introduced a new housewife, Monique Samuels. Monique grew up in Pleasantville, New Jersey. She was a tomboy and her father taught her to be strong and independent. Monique was salutatorian of her high school graduating class and received a full academic scholarship to Michigan's Duquesne University.
Monique pursued a career in music that led her to the Washington DC area. She married Washington Redskins pro, Chris Samuels, and entered the world of high society. The Samuels have a 4 year old son, Christopher, and a 1 year old daughter, Malani. Monique is pursuing a business degree through the University of Alabama and writes "Not for Lazy Moms", a blog providing information on holistic and natural remedies for adults and children. She also manages her husband's real estate investment company and the charitable Chris Samuels Foundation.
Tell us what's wrong with this post? How could we improve it? :)
Let us improve this post!