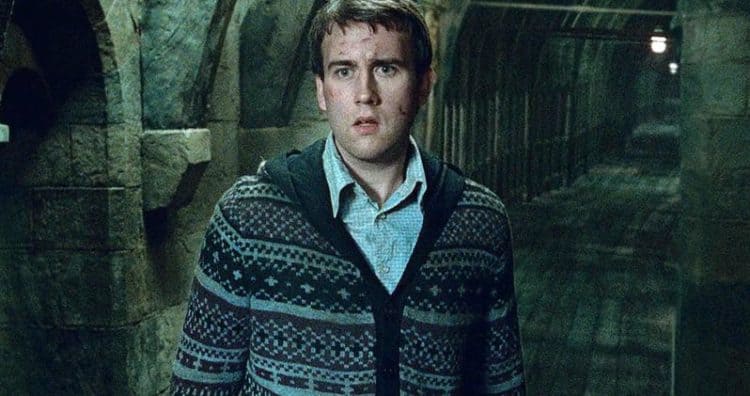 Without trying to offend Matthew Lewis, since that's not what we're all about, it's really hard to dredge up any sympathy for his plight when it comes to his feelings concerning the fact that he's still known as Neville Longbottom. The truth is that Lewis has done plenty following the movie franchise and it's obvious that he's been proud of it, but the role of Neville is one that a lot of people grew up with and, sorry to say, it's one that he's not going to be able to shake until he does something so monumental that he'll be able to toss off the role and put it behind him, hopefully, with the respect it deserves. As of now, the frustration isn't too hard to comprehend since Lewis wants to be just as known for the work he's done in the decade since he last starred as the hapless Neville, who at the end of the franchise wasn't so hapless any longer. Does anyone recall how Neville ended up versus how he started? When you really look at this kid and how much of a transition he went through from the first movie to the last, it's hard to feel sorry for him over this matter simply because the guy was actually one of the more vital characters in the story, even if he was also one of the unluckiest of the bunch.
Seriously, Neville just couldn't catch a break, apart from the time he fell from the roof and broke his arm, yeah it was a bad joke but get over it. Through everything though Neville was actually one of the best friends that Harry Potter could have had since despite being a little bit witless, he was one the bravest and most stoic allies that Potter hung out with and the guy that ended up being one of the toughest of the bunch since he did manage to withstand torture in the last two movies when the school was taken over by Snape and his fellow Death Eaters. On top of that, Neville had to face down an entire army of Snatchers on the bridge leading to the school, and he had to somehow outrun them while collapsing the bridge. And let's not forget he stood up to Voldemort, who could have used the Avada Kedavra at any given moment, and last but not least, he did kill Nagini. Neville wasn't just a goofy kid that we watched grow up through the years, he was one of the characters that couldn't have been lost or replaced without upsetting the entire story.
This is likely one reason why a lot of people still think of him as Neville, because he hasn't played a part that's nearly as important as Neville was, and he hasn't managed to find anything else that's been nearly as epic as the Harry Potter franchise was, which means that people are going to fall back on the most successful part of his career and keep paying attention to it as long as they can. One thing that Lewis should be grateful for is that he still has a career that's moving forward since plenty of kids that were a part of the franchise aren't likely doing so well and might have even dropped off the map to be realistic. He's not wrong for being frustrated, especially since everyone wants to be given the attention they desire for the projects they take on and successfully complete, but seeing as how Neville changed in front of the audience with every movie it wasn't too hard to think that people were going to notice how he went from being a goofy-looking kid to a very handsome man that was built in a way that would make a lot of young women swoon over him. Neville became such an iconic character within Hogwarts that trying to forget about him wasn't exactly possible given that he was usually pretty close by unless the story was focusing entirely on Harry, Ron, and Hermione. But Matthew has become a rather skilled actor over the years, and thinking that the Harry Potter franchise and the character of Neville are holding him back isn't entirely fair since he's been doing his own thing for a while now. But he does want more recognition for his other projects, which isn't unfair but might be a little hard to come by.
It's going to take a stellar bit of acting for Lewis to overcome Neville, there's really no other way to say it since trying to move past this role wasn't hard for Lewis in terms of acting. But as far as his reputation goes, he's going to have to come up with a role that will be monumental and widely recognized as being superior or at least on par with Neville, since otherwise, this claim to fame is going to last for a while.