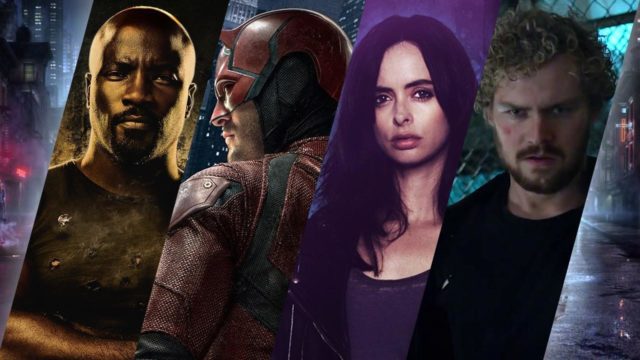 Perhaps because of the backlash that Iron Fist received, I feel like Marvel and Netflix have slowed down their marketing for their comic book related series. I could be wrong but I'm not seeing all that much about The Punisher. And now we're gotten our first look at The Defenders which I also feel we haven't heard too much about. But remember how much press Iron Fist was getting? Perhaps just trailers and a few posters is all the money they should be spending. Let the audiences decide after viewing whether or not it's worth it rather than try to blow up the series before it's even released. Who knows? Anyway…
Marvel's The Defenders follows Matt Murdock/Daredevil (Charlie Cox), Jessica Jones (Krysten Ritter), Luke Cage (Mike Colter) and Danny Rand/Iron Fist (Finn Jones), a quartet of singular heroes with one common goal — to save New York City. This is the story of four solitary figures, burdened with their own personal challenges, who realize they just might be stronger when teamed together. The series follows the releases of Marvel's Daredevil, Marvel's Jessica Jones, Marvel's Luke Cage and Marvel's Iron Fist.
Marvel's The Defenders premieres globally on Netflix on August 18, 2017 at 12:01am PT.
https://www.youtube.com/watch?v=4h3m7B4v6Zc