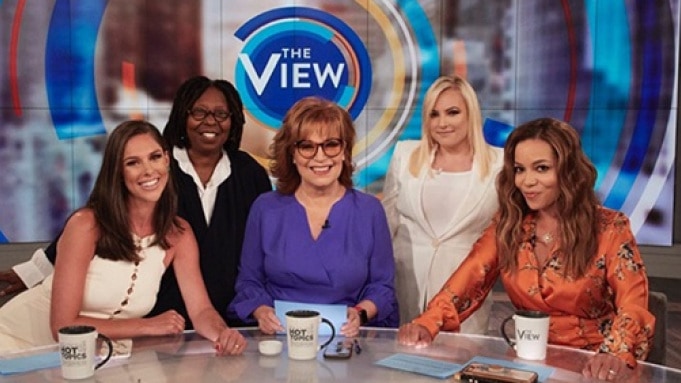 "The View" is an American daytime talk show that is hosted by a group of women who offer diversity in backgrounds and culture which makes the program more interesting to a broader segment of the viewing population. The program aired for the first time in 1997 and has enjoyed a 22 year run, showing no signs of ending in the near future. Whether you're a regular viewer or are just considering tuning in, here are 10 things about "The View" that you probably didn't know.
1. There is a best-selling author in the group
Meghan McCain is a cast member of the show who has an impressive literary career to her credit. She spent a great deal of time assisting her father, and she gained a lot of significant life experience as the daughter of a politician. She has actually written two books on her own. She collaborated with Michael Ian Black on a third. Her writing has been successful enough to distinguish her as a New York Times best-selling author. Before joining the cast of The View in 2017, Meghan McCain had already begun making her mark in the world. Far from limited to the world of television, some people may not realize that early on in her life she helped her father. In addition to that, she is also an accomplished writer who has authored two books and co-authored another book with comedian and writer Michael Ian Black.
2. Abby Huntsman was a child actor
Not that many fans of "The View" are aware that Abby Huntsman began her professional acting career when she was just 7 years old. She appeared in a part in "A Christmas Carol." She had auditioned for multiple plays prior to landing this part. Her parents had their hands full with her as she admitted that she was strong-willed when she was younger, and she talked them into allowing her to audition. She grew up to become a successful lawyer so that really makes sense.
3. Joy Behar liked Kate McKinnon's portrayal of her
Kate McKinnon delivered a comedic parody of Joy on SNL. Most people don't enjoy being represented in an SNL sketch because this is a group who knows how to take the most unflattering aspects of a person's physical characteristics as well as their speech patterns, mannerisms or other defining characteristics and blow them horribly out of proportion, sort of like acting out a bad caricature. Instead of being offended by the skit, Joy enjoyed it with a humorous outlook on the whole affair.
4. Whoopi Goldberg's name comes from an unflattering habit
The name that Ms. Goldberg was given at birth isn't Whoopi Goldberg. She earned that nickname from a few experiences she had with flatulence when she was younger. Her given name is really Caryn Elaine. According to Whoopi, she passed gas on the stage on several occasions and she was referred to as a human Whoopi cushion. This was how she got the nickname and it stuck. Now it's the only name that her adoring fans recognize her by.
5. Abby Huntsman was a champion tennis player
We also learned that when Abby Huntsman was in high school she was one of the best tennis players in the school. From what we can gather, she had to be the best in the region as well. She won two state championships in the sport, beating all of the other players in her division to win first place. Huntsman doesn't talk much about it though, because that was a long time ago, and she confessed that she isn't confident that she could even hit the ball at this point in her life.
6. "The View" failed a fact check by Factcheck.org
It seems that during a discussion about Sarah Palin's spending as governor, she took some earmark spending. This comment was made by Barbara Walters and Joy Behar chimed in with an agreement. McCain shot back with "Well, not as governor she didn't." Factcheck went through the information passed back and forth and confirmed that Meghan McCain got that one wrong. Although Palin cut back on earmark requests, she had, in fact, sent a letter on gubernatorial stationery with an earmark request.
7. Barbara Walters created "The View
Walters is a veteran journalist who spent decades doing her research and reporting on the news. She is the creative force behind the development of the talk show "The View." It's surprising how many viewers are not aware of this fact.
8. "The View" can get heated at times
If you're the type of person who enjoys listening to commentaries and discussion on the hottest topics in current affairs, then this might be a good show to check out. Discussions do get heated through. When you bring together a group of women with different views on current affairs, it's easy to slip into a rational debate that turns into a heated discussion.
9. "The View" has had an extensive cast
This is a program that has had its share of diversity when it comes to the guests who join the ladies to share their opinions on hot topics. We've seen Susan Sarandon, Rand Paul, Kelly Clarkson, Patrick Stewart, Rob Lowe, Anne Hathaway, and more guests than we could possibly list here. You get a good mix of politicians, celebrity singers, actors, dancers, businessmen and women and a good variety of people from all backgrounds.
10. "The "View" is an evergreen show
"The View" is one of those talk shows that will never lose its relevancy. Just as society changes, evolves and is besieged with new issues for each generation, the show gears its direction towards addressing trending topics. Although the hosts of the show don't always get their facts straight, there is an open and honest discussion about the problems and what needs to be done to address them.
Tell us what's wrong with this post? How could we improve it? :)
Let us improve this post!