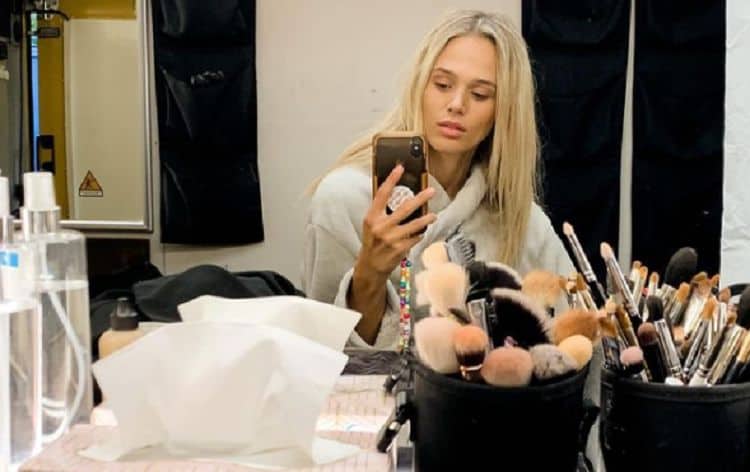 Marloes Stevens is a woman who made a lot of headlines as 2020 came to a close. She is formerly known as the "mystery blonde" who made headlines after photographs of her kissing famed singer Cody Simpson went viral in December. He's famous for dating very famous models and singers (think Gigi Hadid and Miley Cyrus) and people wanted to know who he was kissing. It was recently verified that the mystery blonde is, in fact, Marloes Stevens. She's a model, she's a looker, and she's someone people want to know more about. Is she a new girlfriend? Is she someone we should know? We will let you know.
1. She's a Model
She is a model, and she's working hard. She's been in the business for some time now, and we understand she's done campaigns with some big clients. She also recently moved to LA to work with her LA-based model management company, NTA Model Management.
2. She's Friendly With A Bachelorette
Some people might recognize her from a photograph that was published in the fall of 2017. She was with a group of women, including former Bachelorette Andi Dorfman, decorating pumpkins. It seems that the former reality star and the model might be very friendly with one another.
3. She's 28
According to a photo on her own Instagram page, she is 28. She celebrated her 28th birthday on November 30, 2020. We know this because she posted a photo that day in 2015 saying it was her 23rd birthday and she wished her parents a happy 23rd year of being the best parents in the world.
4. She Was Living in NYC
We don't know where she's from, but we can make some assumptions she lived in New York City for a while before she moved to Los Angeles to be closer to work. She spent a lot of years there doing her thing, but where she was born and raised remains a mystery to us.
5. It Might Be Serious
In many instances, people don't just introduce someone to their families if they are not serious. They also don't invite them to spend the holidays with their families if it is not serious. However, this is something that we think might mean they are serious. They spent the holidays together, and Simpson's own mother is the one who posted the first official photo of the couple.
6. She Loves Summer
If the photographs she puts on her Instagram page are any indication about how she feels for summer, it's clear to us she loves the season more than any other. She makes references to wanting to be a mermaid, to wanting to spend more time on the beach, to wanting to hold on to the season when the fall arrives. She clearly loves a summer season.
7. She's A Traveler
Another thing we learned from her by perusing her social media platform is that she really enjoys travel. She's been all over the world, and we imagine that her career as a model is only allowing her to travel more than she would otherwise.
8. She's Got a Lazy Eye
While it doesn't look lazy to us, she claims she has a lazy eye. She said that someone gave it to her when she was 14. They kicked a coke can in her face, and now she has a scar that does not allow her eye to fully open. We can only say that we hope it was an accident, and that we definitely hope it was not an act of rage or bullying. Kids make poor choices, so we are going to tell ourselves that someone was being silly and kicked it, it accidentally hit her face, and it was not intentional.
9. She's Very Private
You won't learn much about this young model on the internet. She doesn't talk much about her private life or her personal life. In fact, she doesn't share much of anything, and you might not learn much about her if you don't take the time to go through her captions – when she creates them.
10. She's Also Managed By A Famous Modeling Agency
We were able to figure out that she is also managed by Elite Models, which is one of the most famous modeling agencies in the world. They're the ones responsible for the careers of some of the most famous models in the world. Thing Naomi Campbell and Gisele. We'd say she's in good hands working with them.
Tell us what's wrong with this post? How could we improve it? :)
Let us improve this post!