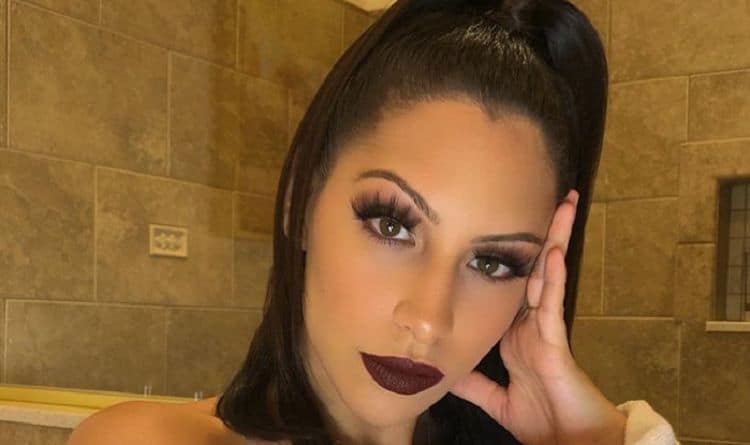 There's plenty of beauty in Rhode Island, and Alexa Papigiotis is part of it. Until recently, we had never heard of her, but Alexa is one outspoken personality that certainly deserves some attention. She's hilarious, unafraid to say exactly what she means even if someone else doesn't want to hear it, and she's dating one of the best known psychic mediums in the country. Their new show Meet the Frasers is already out on E! and it promises to be a visually dynamic roller coaster of laughs, drama, and beauty. Here are ten things you didn't know about Alexa Papigiotis.
1. Pageant Queen
Alexa has always had an eye for beauty, whether it's coming from within or not. She participated in pageants and even won the title or Teen Miss Rhode Island in 2017. Along with the other pageant contestants, she strutted her stuff, answered the tough questions the judges lobbed at her, and showed off her talents in front of a crowd.
2. The Perfect Couple
We're not sure how she met Matt Fraser, but we're sure we'll find out more as the show airs. However, what we do know is that she thinks they're the perfect couple. Matt very nearly agrees though he's not sure about 'perfect' when he still gets so nervous around her that he can't go to the bathroom in front of her. We didn't know that was a requirement, but it's hilarious.
3. Not Psychic
While Matt has his incredibly unusual talent, Alexa is unique in her own way. You might expect a medium to date a fellow psychic to find someone who truly 'gets' them, but that's not how love works. Alexa openly admits that she's not even a little psychic. In fact, this beauty queen is glad she's not psychic. She can easily see how difficult it makes life for the man she loves, and Alexa is happy just being herself.
4. No Filter
Doubtless, you're probably expecting a show about a beauty queen who puts on a big fake smile for the whole world. In that, you'll be very disappointed. Alexa isn't afraid to show her emotions, and just like her boyfriend Matt, she has zero filters when it comes to saying what she means. That's probably part of why they love each other so much. The couple is known for saying whatever comes to mind, even when it's NSFW. We suspect there may be a lot of bleeping in the show when it airs, but it's not all swear words. They don't mind people knowing what they think, whether it's raunchy, bawdy, sexy, or simply blunt.
5. Family Planning
Alexa surprised her psychic boyfriend when she told EOnline that she wanted four kids. Before you make a joke about how that 'obviously' means he's not psychic, we just want to point out that, regardless of what you believe, psychics aren't supposed to be omnipotent, and this one talks to the dead. Matt doesn't read the minds of the living, which was evident by how surprised he was. She also said she wants to start a family early and have kids soon, though that didn't seem to surprise him at all.
6. Fashion Lover
This should come as no surprise, but Alexa is a bit of a clothes horse. She loves all things fashionable. However, Alexa also gives credit where it's due, saying that Matt is just as stylish as she is. Moreover, she has a fashion blog, which she shares with her younger sister. Alexa dreams of becoming a stylist and fashion designer someday.
7. Matchy Matchy
One thing you'll notice in virtually every single image of Alexa and Matt is matching. They always dress in a way that makes it even more apparent that they're a couple. Alexa doesn't like anyone to wonder if 'her man' might be available, because he's not. Matt calls them Malexa and told his sister that they're 'building a brand' in the first episode of the show. Naturally, this got more than a little eye-rolling, but one thing is obvious, Alexa and Matt look great together.
8. Interesting Family
Entertainment must run in both families. Alexa's mother, Sharon Ciolli, is known for being hilarious and for giving unsolicited sex advice to the couple. She has a personality as big as her daughter's and Sharon doesn't care if the camera is rolling or not, she speaks her mind. Meanwhile, her stepfather Anthony says he's a 'former mobster.' We can't confirm or deny that, but we do know that he's a retired nightclub owner, and we hear he only has eight toes. Were the other two toes lost in some mob activity? We can't say, but anything is possible.
9. Social Media
If you're looking for more Alexa, you don't have to go very far to find it. She is on top of her social media game. You can see pictures of the brunette beauty at Instagram and read all about what she thinks on Twitter when you're stuck between episodes.
10. Advocacy
Every pageant girl reps their particular charitable cause. Some choose cute animals, but that's a bit obvious. Not Alexa. She advocates for anxiety and mental health awareness. Philanthropy and giving back to the community is a substantial part of what pageant judges look for in a prospective queen because, despite the way it looks from the outside, pageant girls need more than a pretty face and a trim waist to take home the prize.