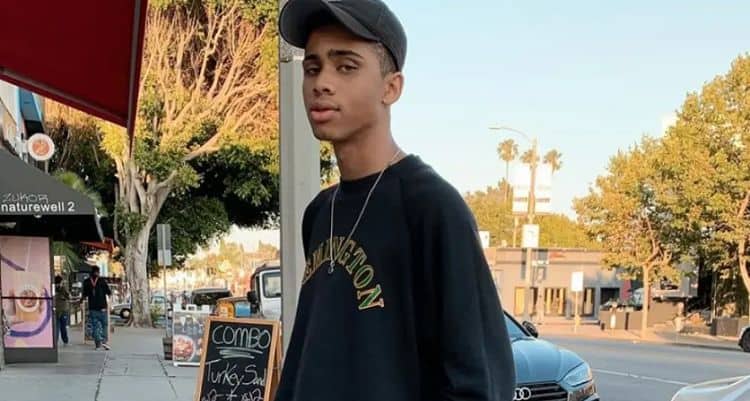 Teenagers often get a bad reputation for being lazy and self absorbed. However, there are lots of teens who are actively working against that stereotype; Bryce Xavier is one of them. Thanks to his many talents, Bryce has become a star on the internet and in real life. Some people may be familiar with Bryce due to his strong social media presence. He has nearly 630,000 followers on Instagram and nearly 3 million on TikTok. Outside of his social media posts, he is a successful musician and an actor, and he's really just getting started. If he stays on this path, there's no doubt we'll be hearing a lot more from Bryce in the future. Keep reading for 10 things you didn't know about Bryce Xavier.
1. He's A Poet
Bryce loves expressing himself through the arts. He has been writing poetry for most of his life. His love for poetry eventually transformed into songwriting. His talent as a writer has helped him have more creative control over his music. He has written the majority of the songs he sings.
2. He Was In The Disney Orchestra
Most of Bryce's followers are familiar with the music he's created as a singer. However, what many people don't know is that he also plays several instruments including the piano and the guitar. Most notably, he's also a talented violinist. In fact, he's even performed with the Disney Orchestra.
3. He Wants To Inspire Others
Bryce has built a very large platform on social media, but his success hasn't gone to his head. He has remained humble and his social media presence is all about spreading positivity and joy. Bryce hopes to use his popularity as a way to help inspire other people to be themselves and create good vibes.
4. He Has Strong Faith In God
Bryce doesn't really speak about his religious beliefs but according to his Facebook page God has played a major role in his life. His bio on the page describes him as a "lover of God". His belief in God is part of what keeps him grounded and motivated to do his best.
5. He Knows Sign Language
If Bryce had a secret talent it would be that he's good at learning new languages. Bryce is well versed in American Sign Language and can communicate fairly seamlessly. On top of that, he also knows Spanish and French although he isn't fluent in either language.
6. He's Always Wanted To Be An Architect
Becoming a social media star wasn't always Bryce's plan. Like most other influencers, he started posting for fun and was pleasantly surprised when people started liking his posts. Now it seems clear that his future will consist of something in the social media/entertainment realm. However, outside of that, he says he's always wanted to be an architect because he is intrigued by the process of designing and building homes.
7. His Mom Is His Manager
Bryce is represented by his mom, GiGi Harville. GiGi has been working in the music industry for years. She is actually the person who helped Bryce discover his love for music. As a child, Bryce would spend a lot of time in the studio with her. The two have a very close relationship and Bryce considers her to be his biggest role model.
8. He Genuinely Loves His Fans
Bryce's fans are the most important part of his success. Without them, he literally wouldn't have hit platform. This isn't something that he ever takes for granted. When talking about his supporters, Bryce said, "they mean the world to me. Every like Every comment Every edit… every time walk up to say hi or take a pic it's all means the world to me. I couldn't accomplish all of this by myself so thank you for supporting me and supporting all that I do and thank for the interview I appreciate it."
9. He Loves Ariana Grande
Ariana Grande is one of the biggest pop stars in the world, and Bryce Xavier is one of her biggest fans. Not only is Bryce a fan of what Ariana brings to the music industry, but she's also his celebrity crush. One of his goals as an artist is to get the chance to work with her some day.
10. His Ex Is A Dance Moms Star
Bryce appears to be single at the moment, but he was in a relationship with Nia Sioux who gained popularity as a cast member on the reality TV series, Dance Moms. Like Bryce, Nia also has a very large following on social media and she is also involved in acting.