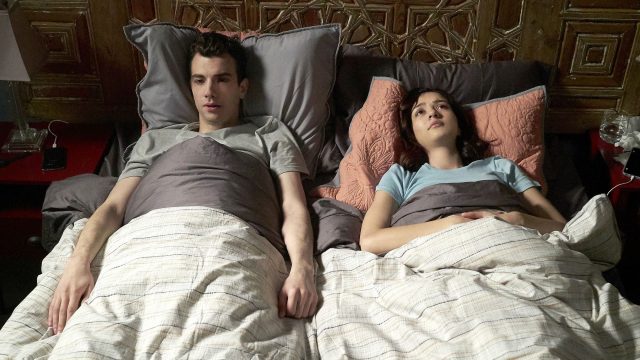 Man Seeking Woman has been a show about progression, and more specifically the long term growth of a man who wants nothing more to find a woman who loves him and he can spend his life with. The show has been one of the most unique takes on the romance and comedy genres but really stays down to Earth and nails each topic it tries to cover related to relationships. Season three has shown a big leap for Josh, who has suffered some of the most awkward dates and some of the most heartbreaking ends to a relationship ever, but the truth is that these stories have landed with such an impact because they are so honest and real. Last week, "Pad Thai," revealed that Josh and Lucy have been together for over a year now, which is a huge positive step for their relationship and is the calmest relationship that Josh has been in since the show's inception; however, Josh is a creature of habit (for the most part), so naturally, his next idea is to propose.
"Bagel" opens up with Mike stumbling upon an article on Josh's phone about how to approach and prepare for anal sex with your partner. The segment is a typical Man Seeking Woman way to cover this type of a topic but does a nice job of opening the episode to analyze how proposals have altered throughout the years but also the types of things people make a big deal out of. For Josh, the alternative type of sex is considered a big step for him and Lucy that shows their comfort with one another as a couple and that they have reached a point where they want to try new things with one another. The characters begin to make a big deal out of Josh asking Lucy's father for his approval on this, which sounds ridiculous, but in reality, it could be one of the many things that comes with marriage. The small opening bit is kept short and sweet, but does a nice job of setting up the episode and the idea of what really goes into asking and accepting a marriage proposal.
While a marriage proposal might feel somewhat more laid-back compared to what men in past generations had to go through, it still becomes a big deal for both of the individuals involved. For Josh, he is nervous because he wants it to be perfect and feels Lucy deserves nothing but the best. His initial idea is cute and romantic but begins to feel a little underwhelming for someone he holds so close and highly. Then at dinner, the nerves get the best of him and again, it doesn't seem perfect. Josh's charm only goes so far in certain situations, especially when a non-oblivious Lucy is waiting for him to pop the question. Man Seeking Woman never fails to make things enjoyable, but always nails how all characters involved in a story are feeling. Last night's episode has a lot of fun with Josh's nerves, but gets a lot more interesting when the focus shifts to Lucy.
Lucy has been an amazing addition to this show, and "Bagel," is another display of that. Women aren't dumb and can clearly tell when something is strange with their significant other. Watching Lucy put together all the different signs is cute but her reaction to Josh's missed proposal are actually surprising. The character immediately begins to doubt herself and the insecurities she deals with instead of just chalking things up to Josh's lack of confidence for his grand gesture. She immediately questions herself instead of Josh, which reveals how much she truly does care about him, enough to blame herself for something that is completely out of her control. Even for the receiving side of a marriage proposal, whether they know or not, want it to feel special for the person asking; Lucy dresses up and brings her charm to dinner because, for her, this is a way to reassure Josh that he is making the right decision.
It's really sweet, and Man Seeking Woman just nails showing true love for these characters. Their confrontation about everything is really a result of both Josh and Lucy simply overthinking everything. People begin to freak out and get so caught up in things that they make a huge deal about them, but really simple is what works best. Lucy doesn't need some fabulously massive proposal gesture from Josh, she just wants to brag and show off about finding the guy she wants to spend the rest of her life with. There will always be a fear about marriage; not necessarily wondering whether or not the person is actually "the one," but whether or not you are good enough for them, and once Josh and Lucy are able to communicate that fear, it goes away.
"Bagel" excels in it's final arc because it shows what proposals are actually about. While you are asking someone to spend their life with you, it's more of a way to show that Josh loves going through each day with Lucy and he appreciates all of the small things. Simple things such as going to get bagels, going to the sunglasses store or even smoking a joint and going to the movies could all be completely irrelevant to the entire rest of the world, but for Josh and Lucy, if it's something the other one wants to do they will both jump head first with no questions. That's what love really is though, you're not trying to scare somebody by asking them to spend their life with you, but really, the gesture is letting your significant other know that you just want to experience everything in life with them, no matter how big or small. Man Seeking Woman has always done a near perfect job of telling small stories about romance, and Josh's character has grown immensely since the first season, but things with Lucy feel right, and it's been so fun to watch.
Other Thoughts:
* The excitement over Josh getting freakier in the bedroom is hilarious.
* Lucy's exchanges with Watson were hilarious. Poor guy…. has to clean up Josh's mess (nice reconnection there at the end.)
* "Will you smoke a joint with me and go to the movies?" haha so simple, so hilarious, but shows that Josh is still the same guy from when the show began.
* So it will be interesting to see the fate of Man Seeking Woman after season three. This season has felt like everything the show has been building towards, so it would be fitting if the creators wanted it to finish with Josh finding happiness. Yet, I could also see them exploring the first year of marriage if the show does well enough to receive a fourth season. I think there would still be a lot of fun stories they could explore, but either way, I'm happy.
Man Seeking Woman Season 3 Episode 7 Review: "Bagel"