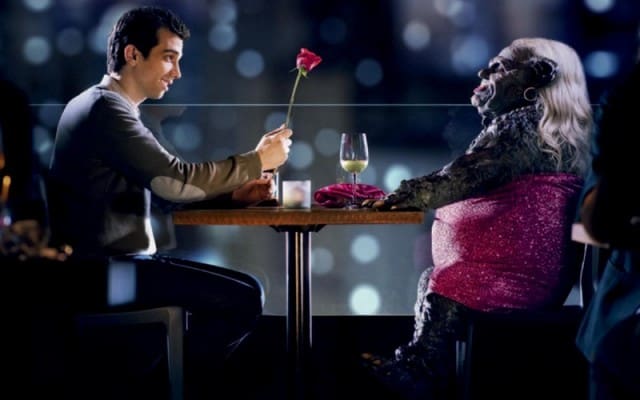 Man Seeking Woman has done a great job with its second season and found more clever ways to continue the shows creative surrealness while also giving us a more concrete story. We knew that Josh wouldn't find a serious girlfriend so soon, but the position he's been put in because of Mike and Rosa's developing relationship has been a great longer-term scenario for him to deal with. Similar to last season, the show decided to give us an episode solely focused on something that wasn't Josh, which is a nice change up. In season one, it was an episode from Liz's point of view, but this week, it was an episode dedicated to Mike and Rosa's relationship.
The episode is titled, "Eel," to describe Mike and how a relationship will unfold with him. Mike is a super easy-going and fun guy who girls love to have a good time with, but never really lock down in the end. Rosa has been different, and it has felt like her relationship with Mike has been getting relatively serious for the time span that they've been together. However, Rosa realizes that the two of them have never actually discussed that the relationship is a relationship and they are full on boyfriend and girlfriend. Whenever Rosa tries to confront Mike, he gracefully avoids answering by slipping out of the situation like a ninja. Mike is the eel, a slippery creature that is hard to catch, but might not be so appealing once you lock it down, so be careful in trying to do so.
After many attempts, Rosa actually outsmarts Mike into admitting she's his girlfriend, and they become an official couple. Like every relationship, it starts out with the honeymoon phase and things are great. For Mike and Rosa, something as simple as getting coffee together is an enjoyable new experience and the pair don't mind being attached at the hip. Yet, Rosa quickly learns Mike doesn't know how to handle a relationship and is clearly insecure about things. She has a lot more going on in her life that takes up time; she can't text at work, she wants to focus while at the gym, she wants time to play volleyball or hang out with her friends, and Mike doesn't give her the space. For Mike, when there are no strings attached, he can get close to a girl but by never putting labels on the relationship it allows him to move on easier or care less.
He has a hard time functioning as a boyfriend, and Rosa clearly gets annoyed by how attached and clingy he becomes. She has to use a service to try and make herself look crazy so she can easily get out of the relationship without hurting his feelings and coming across as mean. She ends it but quickly realizes that she misses the attachment and fun that came with being with someone. The coffee stand is now bland and colorless, work is boring and long with no texts to break up the day, and life just isn't as fun for Rosa. Relationships are a really great thing to have when they are balanced and true; you always have someone to rely on and do things with and you realize how much better it is than being alone. There is still a need for space and personal time, and a relationship will never always be perfect, but in the end, it's worth dealing with some slight annoyances for the long-term companionship. Rosa fails to realize what she might have had in Mike and is now feeling it.
Mike might or might not have been the right guy for Rosa, but she gave it up before she truly knew, but now the consequences seem like they are going to come into play. Maybe Rosa realizes that Josh was the guy she should have gone out with, or maybe he is just going to be a rebound. Regardless, it's going to put some tension between Mike and Josh which will probably result in neither of them getting Rosa. I think it will be good for them to deal with a situation like this though, and teach both of them a good classic lesson of not letting a girl get in the way of their friendship. I thought this episode was a nice change and it was neat to see the show's style transition to other characters. It's sad that the show has one episode left but this has been another solid season.
Man Seeking Woman Season 2 Episode 9 Review: "Eel"