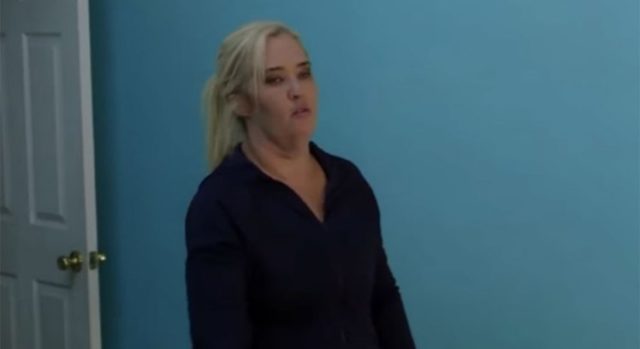 Everyone's been kept in the dark about Mama June's dramatic weight loss. There were rumblings that we wouldn't actually be able to see it until the very final episode of Mama June: From Not To Hot. Looks like the producers knew this would be a humongous mistake because yesterday June's weight loss and new look were revealed. Her newly slim appearance has been seen for the first time in a trailer for the show which aired on Entertainment Tonight — and now she looks like the photo you see above (and in the trailer below).
The reality star underwent a gastric sleeve procedure and the 37-year-old has lost a whopping 460 lbs. Obviously it wasn't just the surgery that did it. June has been changing her eating habits as well as working with a personal trainer to improve her health and aesthetic.
Her new reality show follows her weight loss journey, after she decided she needed to get a 'revenge body' for her ex and Honey Boo Boo's dad, Sugar Bear (Mike Thompson) who is getting remarried. This is the first time viewers have gotten a glimpse of the slimmer June.
While I think this show is a complete waste of time (at least Honey Boo Boo was entertaining) I will say "good for her." Anyone who can drop 400 lbs has my respect. However I will say gaining 400 lbs in the first place should have been avoided.
Save