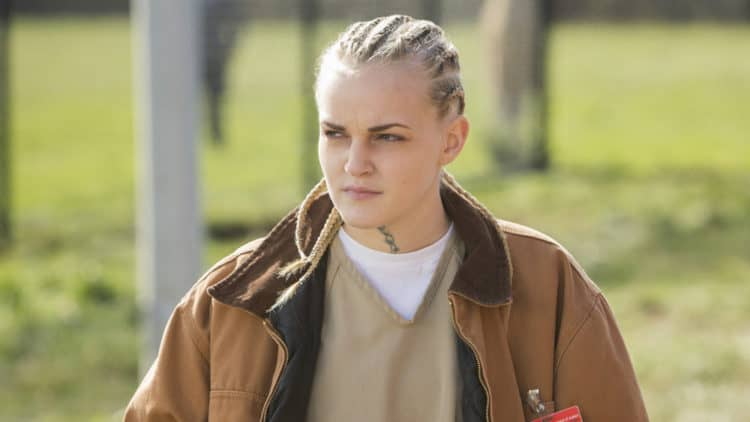 Despite having a small frame and a pretty face, Madeline Brewer has become famous for her ability to play the 'bad girl'. Initially best known for her role in Orange is the New Black, Madeline made it very clear that she wasn't afraid to play a character whose strength was often perceived as something else. Since then, Madeline has kept the momentum going by playing a string of other uniquely strong characters. First Janine in Hulu's The Handmaid's Tale and then Dawn in the 2019 movie Hustlers. Madeline's range as an actress and her dedication to every character she plays is the kind of thing you don't see often. Not only will The Handmaid's Tale be back before we know it, but Madeline's fans will also be excited to know that she has a role in an upcoming film called Separation. Continue reading for 10 things you didn't know about Madeline Brewer.
1. She's A New Jersey Native
Madeline was born and raised in New Jersey and she's very proud of her roots. Her father is also a very creative person and has worked as an actor and musician. Although Madeline will always have love for her home state, she knew that she needed to relocate if she was going to have a chance to break into the industry.
2. She Started Acting As A Child
Madeline realized she wanted to be a performer when she was still in elementary school. Working towards a career in acting quickly became her focus. During an interview with Schon Magazine, "I got into acting at the age of seven. I did a play for a local theatre company and was completely hooked – I loved it!"
3. She's A Formally Trained Actress
After high school, Madeline knew that she wanted to sharpen her skills by furthering her acting education. Madeline graduated from American Musical and Dramatic Academy in New York in 2012. Not long after graduation, she landed a role in a musical called Liberty.
4. She's A Singer
Acting may be Madeline's main focus, but most people don't understand that she is truly a multi-talented creative. In addition to being an actress, Madeline is also a classically trained singer. However, it doesn't appear that she has ever pursued music on a professional level.
5. She Loves To Read
People who enjoy reading know that there's no better feeling than getting lost in a good book. Madeline would definitely agree. She loves to read and she has a whole highlight section on her Instagram profile dedicated to books she recommends to her followers. At the moment, there are more than a dozen books on her recommended list.
6. She Learns Something About Herself Through Each Character
Every actor has different things they enjoy about acting. For Madeline, one of the best things is being able to learn more about herself. Madeline told Vulture, "I'm very lucky that each and every one of these characters has forced me to confront something about myself. Alice forces me to confront my own feelings about my body, and forces me to confront my own performative femininity in a way. Janine forces me to confront my perpetual pessimism, and I learn through them."
7. She's A Dog Mom
Madeline doesn't have any children, but she's still getting the chance to use her maternal skills thanks to her role as a pet parent. She has a dog named Ruki who has become her best friend. While Ruki doesn't have his own Instagram account, he does have a highlight section on Madeline's profile that is entirely dedicated to him.
8. She Loves To Sleep
American society is so focused on non-stop work that it can be difficult for people to admit that they're tired and need a break. Madeline, however, has no problem admitting that she loves sleep. In an interview with InStyle, Madeline said, "I'm not antisocial, I just like to sleep more than I like people. I struggle with that sometimes, when I want to go out and see people, but also, I could stay home and sleep."
9. She Isn't Afraid To Speak Her Mind
Having a large platform can be overwhelming. There are lots of people in the public eye who prefer to stay away from certain topics out of fear that they will offend people or make themselves look bad. But Madeline is more concerned with standing up for what she believes in than she is with what people think. She is a strong supporter of causes like LGBTQ rights and anti-racism and she has no problem letting that be known.
10. Orange Is The New Black Was Her First On-Screen Role
You may have been aware that Madeline was new to the industry when she was cast in OITNB, but what you may not have known is that it was actually her very first on-screen role. Although she was probably dealing with a lot of nerves, Madeline handled herself like a pro.