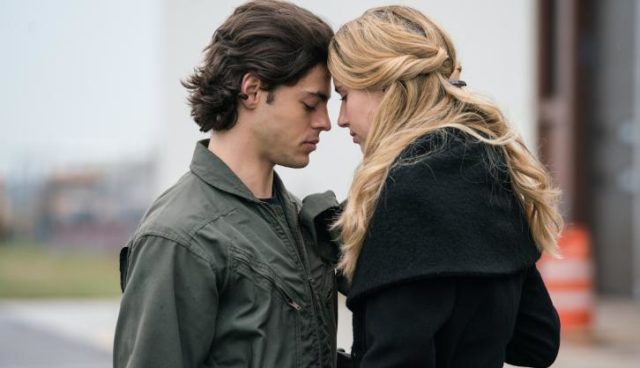 "Your promises are not my problem. National security is." Elizabeth McCord sticks it to the Vice President in this winter premiere of Madam Secretary. Stevie's secret relationship with Dmitri also comes to light when a Russian assassin is targeting the former Russian soldier. Yeah, not good.
I commend Vice President Hurst (Jayne Atkinson) for promising to bring the Russian orphans home. What I didn't like is that she used the situation to her advantage. I understand that Hurst wants to run for president, but she didn't have to go behind POTUS's back. Kudos to the secretary for not giving in to Hurst's request of announcing that she (Elizabeth) will not run for president. It's true that Elizabeth has no interest in the job, but the secretary's never one to back down from a fight. I sense a political catfight coming.
Meanwhile, Stevie's relationship with Alexander/Dmitri is out in the open. Henry and Elizabeth are both called to the CIA office where they learn of the romantic liaison. Henry, of course, is livid as he confronts Dmitri about the relationship and suspends him from the CIA. In the end, Dmitri goes to Alaska where he will continue working for the CIA. My heart goes out to Stevie that she lost another love interest though I'm sure that Mitya (Dmitri's real name) will be back soon.
Back to the Russia situation, things aren't going too well. Yes, there is a deal, but President Salnikov won't agree to it unless the United States pull their troops out of Bulgaria. It's one political hurdle over another for Elizabeth to deal with. Thank goodness she was able to use Zhukov; the assassin sent to kill Dmitri, as leverage. President Salnikov then agreed to sign the deal and sent the orphans back to their families in America.
Final Thoughts:
I rolled my eyes in amusement when Stevie came to say goodbye to Dmitri. The look she gave Henry was priceless. It was as if she was saying "A little privacy please, Dad!". Ah, young love.
The scene where they attempted to capture Zhukov near the hotel where Dmitri has been meeting Stevie was kind of anticlimactic in a way. I mean, yes, it was nerve-wracking to see if Dmitri got out of his car in time before it blew up, but the whole operation just didn't have that heart-racing, edge-of-your-seat reaction that I was hoping for. Maybe it's because I watch too many action movies.
Photo via CBS
Madam Secretary Season 4 Episode 11 Review: "Mitya"
Summary
Vice President Teresa Hurst pulls a publicity stunt to fuel her future presidential campaign platform. Elizabeth and Henry find out Stevie is dating Dmitri as the latter is targeted by a Russian assassin in this week's winter premiere of Madam Secretary.