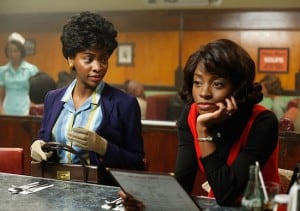 Mad Men "To Have and to Hold": An Expert Opinion
Previous seasons have seen a slow burn with a dramatic donkey-kick by the third episode. Season six has seen more developments in the opening episodes than any other year by far, but with that comes a surprising sense of early exhaustion in "To Have and to Hold". Matthew Weiner's decision to include a swinging couple hitting on Don and Megan Draper (made ickier by the fact that it is the head writer and lead actress duo from the soap opera), Mad Men comes perilously close to feeling by rote, as if the series has become an exercise in checking items off a zeitgeist shopping list (like Billy Joel's "We Didn't Start the Fire" but, you know, mildly enjoyable). Some may think that the inclusion of Ted McGinley (Happy Days, Married with Children) is a harbinger of doom as he is long considered a sure sign of a series jumping the shark, but with a lot of dramatic water-treading this week was a hollow experience.
To that end, what I imagine might have appeared on Weiner's desk during this most recent writing session:
Matthew's To Do List for Season Six:
| | |
| --- | --- |
| √ | Drug use (including weed and LSD: P.S. when do I bring in cocaine?) |
| √ | Swingers |
| √ | Give an African-American character a scene with another African-American character: also, include dialogue |
| √ | Existential dread of post-WWII economic ascendancy expressed through serial adultery (like Nausea but sexy!) |
| | Bring a real-live dirty hippie into the SCDP office |
| | Bongos: have we had bongos yet? |
| √ | Napalm and "baby killer" sentiment |
| | Hey–maybe Dawn becomes a Black Panther! |
| | Early hints at the evolution of the elevator shoe |
| | Women's Lib: Steinem writes a scathing piece on advertising; Draper totally tries to bang her anyway but she's all like, "Nuh uh." |
| √ | Smothers Brothers |
| | Saccharine and cancer scare (maybe we give that to Bert Cooper) |
| | Woodstock/Altamont juxtaposition: Don goes to one and plays it cool but is deeply moved; Pete goes to the other and is kidnapped by bikers |
Hopefully we'll see more excitement next week. Harry Crane standing up for himself can only gas the dramatic engine for so long.
Like what you've read? Sure you did! Jump over to Amazon to get my book Kings of Madison Avenue: The Unofficial Guide to Mad Men
And you can always find me at on twitter @kungfugripe