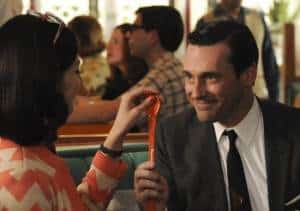 Mad Men has used the drug counter-culture of the 1960s in previous episodes and "Far Away Places" takes this a step further by adding LSD into the mix. The trippy qualities this week don't just come from the drugs that are consumed and the same day is played out three times; from Peggy (Elizabeth Moss), Roger (John Slattery) and Don's (Jon Hamm) point of view. Each character experiences facing 'truths' whether it is ones that are aided by drugs or not and things that seem ok on the outside have a habit of not being that way under the surface; something that Mad Men is so good at conveying.
Starting with Peggy who begins her day searching for some candy that she believes to be a good luck charm and an argument with Abe (Charlie Hofheimer) and it all goes downhill from there. Despite giving another excellent pitch for Heinz, Raymond (John Sloman) is once again not satisfied with the work. Instead of doing what is expected of a woman, Peggy fights for her pitch in a way that if Don did there would be no issue. Instead Peggy loses her place working on this account and ditches work to go to the movies. Peggy is one of the hardest workers at SCDP (a fact that she likes to bring up at parties) so this is out of character for her to respond this way. The film she goes to see is Born Free, a film that chronicles a lion cub that is raised in captivity and then released into the wild when it is old enough; this could be considered on the nose but is this a fair representation of Peggy?
Peggy takes this act of rebellion a step further by sharing a joint with a stranger and then giving him a handjob in return. Upon returning to work Peggy has a couple of other odd encounters including a frantic phone call from Don and a strange conversation with Ginsberg (Ben Feldman). The phone call from Don is explained later in the episode, but in Peggy's timeline is jarring in the abrupt and worried tone of Don's voice and this isn't helped by the fact that she has just woken up.
The conversation with Ginsberg is surreal in that he is mixing a science-fiction origin story with his real one, in which we find out that he was born in a concentration camp and the man that he lives with is not his real father. In amongst this painful truth is a fantasy lie about being from Mars and seems like an understandable childhood coping mechanism after being born in such horrific conditions; it is an easy make believe way to tell the story. It also goes a far way to explain his disgust at the others lapping up the nurse crime scene photos. With Ginsberg it really feels like we have barely scratched the surface of who he is and how he interacts with those around him.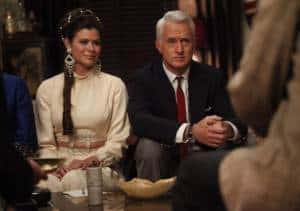 Roger's relationship with Jane (Peyton List) has always seemed like a flight of fancy, a spur of the moment declaration of love that was always superficial. This is reflected in how often Roger tells Jane how beautiful she looks; there is that and nothing else. The fact that he doesn't remember Jane telling him that this dinner party would involve taking LSD shows just how little he listens to her (and just yells at the TV). This night for Roger turns out to be an eye opener and thankfully not in a bad trip kind of way. There are fun moments like the bottle of vodka playing a rather grand tune when he opens it and a rather surreal mirror image where Roger has half grey and half black hair with Don giving him some advice.
What this night on drugs does for Roger is that it allows him to speak openly about his dissatisfaction with Jane and how he once loved her but no longer does; something that Jane also feels and understands. The only issue here is that in the morning Roger can remember this with clarity and Jane has suppressed these feelings all over again, but it's too late and Roger is moving into a hotel. Roger ends the episode on a high and declares that "It's going to be a beautiful day" a sentiment that he alone seems to share.
There are no drugs during Don and Megan's (Jessica Paré) road trip but that doesn't stop it from turning into a nightmare journey. So far this season we have seen that Megan can hold her own against Don, she is not from the same mould as Betty (January Jones) when it comes to her role as a wife. Megan has her independence in some respects but when she wants to stay at work Don can easily pull the 'I'm your boss' card to get her to leave work with him. Don can't seem to understand why this is an issue for Megan and doesn't see that he is being unfair by exerting his authority.
Even though Megan is an adult, there are a few parent/child moments during this trip from the gift that Don got Megan being the same as he got Bobby (but nothing for Gene, poor Gene is he going to be the most messed up Draper kid?) to the argument that led to a tantrum over desert. The moment where Megan refused to get in the car was a test that you might expect from a child and Don totally failed by leaving for real instead of just pretending he was going.
This leads to the nightmare scenario of not being able to find Megan and Don faces some sage advice from the waitress, an awkward phone call to Megan's mother with an excellent spur of the moment reason as to why he was ringing and a stressful and lonesome drive back to Manhattan. During this miserable journey we get one bittersweet moment as Don recalls the journey home from last season's finale after he has just proposed to Megan.
Megan is fine and at home but their reunion isn't a happy one, in fact it might be the most terrifying we have seen Don (aside from fever dream murders) as he kicks the door in to enter and then proceeds by chasing Megan around the apartment and tackles her to the floor. There have been a lot of violent undertones this season, especially with the real life crimes that have been mentioned so this was rather disturbing. Don ends up on his knees desperately and pitifully hugging Megan who seems to forgive him and warns him that "Every time we fight, it just diminishes this."
Other observations
-Abe calls Peggy such a Catholic for needing to find her good luck omen but having superstitions is against the Catholic faith.
-Bert Cooper's (Robert Morse) face on the $50 bill was a touch of LSD induced genius.
-Bert Cooper may just seem to sit out in the lobby reading the paper but he has his eye on everything and tells Don that he has been "on love leave" and needs to snap out of it as he has a business to run. We are reminded here that Bert is way more than an eccentric old man and his observations are correct.
-Nice nod back to when Roger and Don had a bit too much after work fun (or rather when Roger indulged too much) "I remember twins and a hospital."
-Always good to see a My So-Called Life cast member and Angela's mother Patty (Bess Armstrong) pops up here as Jane's therapist Cynthia who is the host of the LSD party.
-Jane Sterling will be missed if not just for her ridiculous outfits that costume designer Janie Bryant does A+ work with including this ensemble that she was wearing for the dinner party (and complained about).
-Megan lands a pretty strong blow in her argument with Don when she tells him to "go call your mother." The look of shock and disgust on Don's face shows that this truly hurts and reveals that Megan probably knows all about who his mother was.
-Bold claim time: this could be the subtextiest episode of Mad Men yet and the whole LSD dinner party debate about 'truths' is key to the series as a whole.
This is a week of revelations and nightmare scenarios and a really strong episode that could be bringing Don's attention back to work. Now that Roger is a single man will he pursue a certain redhead in the office? Will Peggy ever get the recognition that she deserves?
Let us know your thoughts in the comments below.