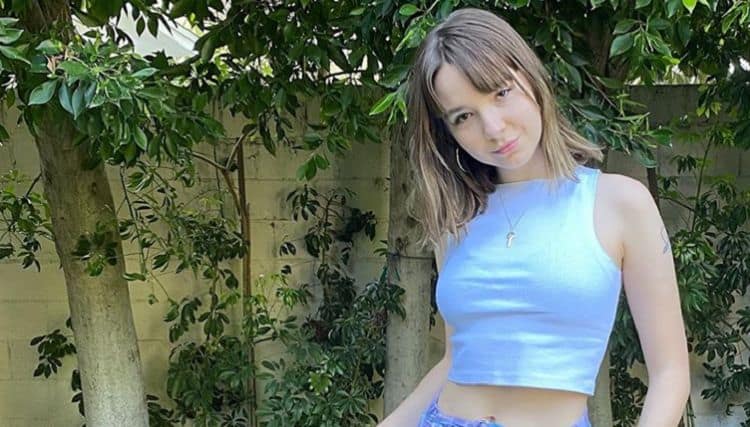 Lydia Night is only 19-years-old, but she's already been in the music industry for over a decade. As a talented singer and songwriter, Lydia has found success as a member of several different bands. Her unique skills and immense creativity have helped her find success in an industry where very few people are able to sustain themselves. However, despite all of the things Lydia has accomplished during her career, things haven't always been easy. Lydia recent opened up about some of the negative experiences she's had which includes an encounter with Joey Armstrong in which Lydia alleges that she was sexually assaulted. Keep reading for 10 things you didn't know about Lydia Night.
1. Her Father Is Well-Known In The Entertainment Industry
Lydia's love for music and entertainment was instilled in her at a very young age. Her father, Morgan Higby Night, is a well-known writer, director, and DJ. He began his career as a DJ in the late 80s and he played some of the biggest clubs at the time. He has also directed music videos for several popular artists such as Joan Jett.
2. She Encouragers Up And Coming Artists To Put Themselves Out There
The music industry isn't an easy one to break in to. Not only is the competition fierce, but listeners have a short attention span and an even shorter memory. This can be discouraging for people who are just starting out, but Lydia has some advice for them. She says, "When you're starting out, you don't have much to lose. So don't be scared to start conversations with people. I know that going up to people at a show or making friends with other bands can feel like a weird, "being pushy" kind of experience but it's so important to make those connections. It's about putting yourself out there and trusting and being confident that you are worth someone's conversation…"
3. She Supports Black Lives Matter
Lydia has never been afraid to speak her mind. She always makes it a point to stand up for the things she believes in, and she isn't too concert with what anyone thinks about it. She has recently used her social media presence to show her support for the Black Lives Matter movement and the fight to end racism and injustice.
4. Her Boyfriend Was In 13 Reasons Why
Lydia may be young, but that doesn't mean she doesn't know what she wants. She has been in a relationship with actor, Dylan Minnette since 2018 and the two seem very happy together. Dylan is best-known for his role as Clay Jenson on the popular Netflix series, 13 Reasons Why.
5. She's Struggled With Insecurities About Her Body
The entertainment industry as a whole is notorious for promoting unrealistic expectations when it comes to body image and other things having to do with appearance. When she was 16, Lydia opened up about how these expectations impacted her view of herself. In article she posted on Medium, Lydia said that she had always been a bit insecure about her body, but being in the spotlight made it worse. Attending therapy proved to be a great way for Lydia to recognize that her self worth and her appearance don't need to go hand in hand.
6. She Loves 50s and 60s Music
In lots of ways, Lydia is an old soul. Despite being a teenager, some is heavily influenced by music that came out during the 50s and 60s. While a lot of things have changed since those days, many of the songs released during that time period have gone on to become timeless classics.
7. She Was Inspired By The Donnas
The Donnas are a California based rock band that gained prominence during the 90s. When Lydia was a kid, her father took her to one of their concerts, and she instantly fell in love with what she saw. For her following birthday, Lydia received a guitar as a gift and she quickly started teaching herself how to play.
8. She's A Beyonce Fan
When it comes to the type of music they make, Beyonce and Lydia Night are worlds apart. However, that doesn't mean that Lydia doesn't appreciate Queen Bey for the royal entertainer that she is. Lydia is a big Beyonce fan and cites her as one of her influences. She's also a fan of SZA and Cardi B.
9. She Loves To Cook
Lydia spends a lot of her time working on music, but she also has other interests. When she's at home, one of her favorite things to do is cook. Cooking has proven to be beneficial to Lydia in more ways than one. On top of keeping her fed, cooking has also helped calm her anxiety by helping her feel more in control.
10. She Spends A Lot Of Time Outside
If there's one thing technology can't replace, it's the beauty of nature. Sure, you can look at pictures from your phone or computer, but nothing compares to actually being there. With that being said, Lydia loves to spend time outdoors taking in everything that nature has to offer. She enjoys doing things like hiking and swimming.
Tell us what's wrong with this post? How could we improve it? :)
Let us improve this post!