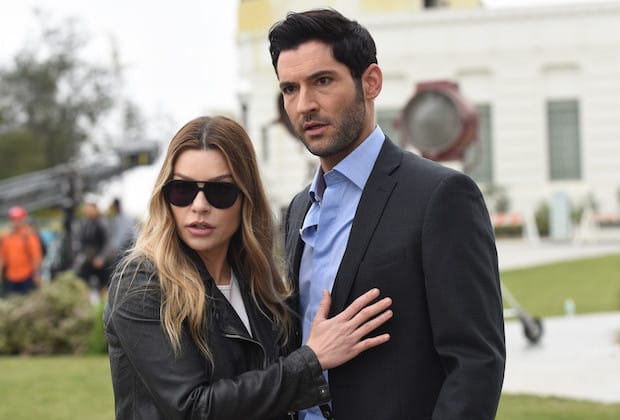 If we have different choices, different circumstances, would we still be the same person on the inside? In this second part of the Lucifer double-feature, the Devil gets the freedom of choice. The choice to make whatever decisions he wants without Daddy Dearest getting in the way. So what if he and Detective Decker never met the way that God intended? Would Deckerstar still rise or will they brush past each other like ships in the night?
The great Neil Gaiman serves as the voice of God in this fairytale-like narrative. I had figured they would bring back Timothy Omundson as God, but I suppose the creator of the Lucifer comics is the better choice. It would also be awesome if they were to get Morgan Freeman, but the man is busy enough as it is with filming commercials for Visa and Mountain Dew, recording announcements for TransLink (has that happened yet?) and producing Madam Secretary.
The second hour of this back-to-back episode begins with Detective Decker filming an action movie. She is still playing the role of a police officer, but without an official badge or gun. Our favourite Devil is, of course, the ridiculously wealthy club owner of LUX while Maze dons her comic book look as his bartender. I quite like this particular look for the demoness. I have a feeling that this cuts down the time needed in the makeup chair when they have to do her other face, but that's just me.
The case for the hour is the murder of a film director named Stryder. The place? LUX. Sound familiar? I had a brief sense of déja-vu when Lucifer discovered Stryder's body in one of the booths in the club. Typically, this would prompt Detective Decker to come in and question the club owner, but seeing as this is an alternate dimension of what-ifs, it's Detective Espinoza who meets the Devil first. However, Dan is not the goody-two-shoes cop that we have come to know. In this, he is a corrupt cop who steals money from the evidence locker and runs away with Charlotte Richards when they took money from Lucifer's safe up in his penthouse.
Later, the golden duo of the LAPD comes together when Chloe sneaks into a NASCAR racetrack to find out who killed Stryder. Lucifer, about to do the same, didn't get to question anyone (aside from the security guard) as Chloe took charge. From the look on his face afterward, I knew that he is once again, intrigued with the detective. First, it's Lucifer likes; then it slowly becomes Lucifer loves.
In the end, Deckerstar apprehends the person who killed Stryder. It turns out it was Ben Rogers, the stunt coordinator on the set of Chloe's movie. He and Stryder planned to steal something valuable from the set, presumably the six-million-dollar Aston Martin. Stryder backed out at the last minute despite Ben begging him not to, thus leading to Stryder's unfortunate end. Chloe then confided in Lucifer that she would like to play detective for real rather than on the silver screen. The latter, of course, wants to tag along and we all know that the Devil always gets what he wants.
Closing Thoughts:
The scene where Chloe wanted Lucifer to work his desire trick on Erika, I had a feeling that he would have intercourse with her. I face-palmed when Lucifer came out of Erika's trailer looking dishevelled and lipstick all over his chest. Oy vey, Luci-boy. Oy bloody vey. Oh, loved the rendition of Sinatra's My Way by the way! Old Blue Eyes would be proud.
A shout-out to actor/musician John Tague who played Chloe's partner at the beginning of the episode. It was a great scene albeit the briefness of it all.
I had thought that when Chloe showed up at LUX, it was to meet Lucifer. Then I realized that she's there to meet up with Stryder and only passed the club owner as he took a smoke break. Well, Deckerstar still came together at the end so win-win yes?
It's also interesting to see Ella and Dr. Martin pursue different career paths as a mechanic who steals cars and a TV therapist. Though Dr. Martin is still helping people, she does it on her show instead of in an actual psychiatrist's office. Another intriguing aspect is letting John Decker live and make it to Lieutenant at the LAPD.
This episode is Kevin Alejandro, aka Detective Daniel Espinoza's directorial debut. I'm not an expert in this particular field, but he did a decent job so kudos to him.
My heart went out to Amenadiel. He feels guilty over the fact that he can't convince Lucifer to return to Hell. That and he wants to interact with humans but doesn't quite know how to begin. At least he is redeemed in the episode before the season finale.
Photo via FOX
Lucifer Season 3 Episode 26 Review: "Once Upon a Time"
Summary
We dive into fairy-tale like alternate dimension where Lucifer has never met Chloe but is granted the freedom of choice in this second part of the Lucifer double-header. Neil Gaiman serves as the voice of God.