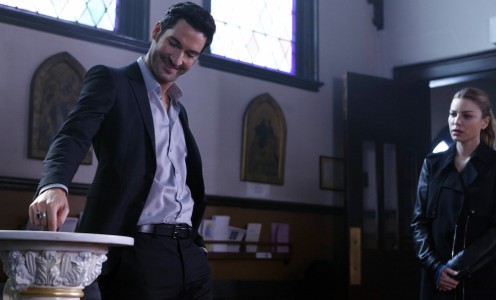 Priests often turn to the Big Guy upstairs for help and guidance in times of need. Though in this week's episode of Lucifer, a priest turns to our favourite Devil for help in taking down a local drug operation that's stemming out of the neighborhood youth center. As Lucifer said, "It's an ironic kick in the cossacks." Couldn't have said it better myself.
The episode began with a pizza delivery guy delivering pizzas to Lucifer's penthouse where a party is taking place. The former Prince of Darkness took the stacks of pizzas from him and handed him a small stack of what I believe are hundred dollar bills. Must be nice to be rich. You never have to worry about when your next paycheck is going to come and you can spend as much as you want without having to pinch every penny. Then again, it's all bound to run out sometime.
Lucifer then asked the pizza guy if he's ever come across a scenario where his deliveries end in sex like those "wonderful Internet videos". When the pizza guy answered in the negative, Lucifer dragged the pizza guy inside and introduced the latter to three girls named Brittany, who proceeded to strip the pizza guy of all his clothes and got into the jacuzzi. One of the Brittanies invited Lucifer to join them, but the Devil refused. Shocker! Maybe Detective Decker is finally rubbing off on him. Or it could be that Lucifer feels lonely and needs a friend or two. I can be your friend, Lucifer! Only friends, though, nothing more so don't go getting any ideas!
The part where the priest, Father Frank Lawrence (guest star Colman Domingo), came into Lux to ask Lucifer for help in bringing down the drug ring, I was hoping that Lucifer would help the Father out. Instead, he flat out refused and told Father Frank to deal with his problem himself. Wow, the Devil refusing to do someone a favor? Never thought I'd see the day.
Lucifer did eventually help Father Frank out after finding the man responsible for using the youth center as a front for his drug business, Lenny Arietta, is found beaten to death by a baseball bat in his office. Lucifer immediately thought that Father Frank was the one who killed the youth center director, but all the priest did was give the man a mean right hook. When he told Detective Decker to beware anyone named Keith as they looked into Father Frank's past, I was literally yelling at the television screen, "Tell that to Keith Urban, Keith Richards and Keith Carradine and see what happens!"
When Lucifer decided to play priest in Father Frank's church with Mrs. Madison to give into her desires and act on them, I was right there with Detective Decker when she opened the curtain to Lucifer's side of the confession booth and said "Lucifer, what do you think you're doing?" Way to mess with a confession, Lucifer! I hope that Mrs. Madison doesn't act on the advice of the Devil and actually go through with her infatuation with her and her husband's limo driver. For all we know, the driver could also be a married man.
My favourite scenes in this episode was the one where Father Frank and Lucifer had themselves an epic piano jam session playing the song "Mess Around". Lucifer was right, the priest's got some soul in him. I wished that they would keep playing had Detective Decker not interrupted. Mr. Ellis, you got some competition in Mr. Domingo here when it comes to playing the piano! My other favourite scene was towards the end when Detective Decker came to comfort Lucifer after the latter watched Father Frank die in his arms and the two of them played "Heart and Soul" together.
I sympathized with Lucifer when he tried to stop Father Frank from bleeding to death because the priest has more to do here on Earth and that he has "more people to annoy" as Lucifer put it but it was too late. Death isn't something that can be reversed. Unless, of course, you have been brought back to life by an angel. Speaking of which, it seems that Amenadiel over there wants Malcolm to kill Lucifer which would finally bring the Devil back to Hell. Here's hoping that the plan goes south.
My heart went out to Lucifer during the scene where Lucifer yelled toward the heavens as he ranted to his Father about how nothing people did, sinners or not, is good enough for Him. Father Frank didn't deserve to die, but he did anyway. I agreed with Lucifer when he said "Break your rules and you fall, follow them and you still lose?! Doesn't matter whether you're a sinner! Doesn't matter whether you're a saint! Nobody can win!" I'm not of religious faith, but given the history of it, and the stories I've read, I'd say it's pretty messed up.
Photo via FOX
Lucifer Season 1 Episode 9 Review: "A Priest Walks Into A Bar"
Summary
A priest asks the Devil for help in taking down a secret drug ring in this emotional episode of Lucifer.