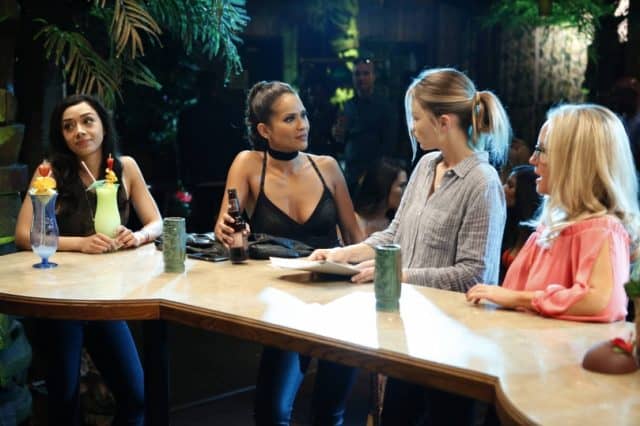 It's Girls Night Out for Detective Decker, Dr. Martin, Ella and Maze in this week's episode of Lucifer. In Detective Decker's case, she doesn't seem to understand the word relax as her mind is on the case. That and her impending divorce from Detective Douche. Lucifer decides to arrange a night of fun for Detective Decker as a result. Also, the Devil made a wager with his former right-hand demoness to see if the latter can loosen the detective up.
The scene where Lucifer was juggling the potpourri twine balls made me laugh. It seems like our favorite Devil has other talents other than playing the ivory keys and singing like an angel. That and dance like no one is watching to rock music. My eyes went wide with surprise that Lucifer has a sweet tooth as he grabbed a handful of gummy bears (which is one of my favorite candies) from the small jar. I also thought I'd never see the day where Lucifer would Facetime Maze and pour her a drink. That's definitely new. Oh, and we got to hear Maze sing for the first time this season. She's got a great voice too.
It's nice to see the ladies loosen up in this episode. Especially Detective Decker. She is a bit of a workaholic and it's great to see that she has friends who care about her. Can't believe that Maze actually stood up for the detective at the tiki bar and beat up some of the patrons when a fight broke out. Maybe Maze is starting to feel a bit human despite her demonic tendencies toward torture and violence.
I chuckled when Chloe, under the influence of alcohol, began to mimic Lucifer at the tiki bar. Her British accent needs a little work though. I really like this side of her, the fun side to Detective Decker. It was amazing that she could still think about solving the murder of Daria and Naomi while intoxicated. That woman has some major skills.
Amenadiel was kind of amusing to watch, in an awkward type of way. The archangel likes to drink Cosmopolitans, much to Lucifer's chagrin. He can also, apparently, bust a move that embarrasses the hell out of Lucifer. I would also like to point out that Detective Douche "sticks out like a sore cop" as he teamed up, temporarily, with Lucifer at the sex club. Yep, totally agree with the brothers on that. On a side note, I rolled my eyes and facepalmed when Lucifer was about to head upstairs to his penthouse with two women. He wanted to show them the "original Stairway to Heaven". It's amusing yes, but a tad annoying at the same time.
It's also interesting to know that even angels can get drunk and hungover like everyone else. I wonder if Lucifer and Maze ever went through a drunk phase? Coming back to Amenadiel, the archangel got himself a hefty hangover the next morning and spilled the last of his drink on Detective Douche's shirt. Lucifer wanted to record the whole thing which made me roll my eyes. #DoucheCam.
Meanwhile, Mama Morningstar is serving out her punishment as Charlotte Richards. The woman still can't cook anything to save her life. I feel sorry for Charlotte's kids that their Mom is not their Mom anymore. At least the husband is still clueless about his wife's true identity so I suppose it's kind of a win-win. Well, not for Mama Morningstar, of course.
In the end, the killer turned out to be Lily, who used to be part of a sorority with Daria and Naomi. The former was helping the latter get settled in Los Angeles while she doesn't seem to be heading much of anywhere life-wise. I get that she's disappointed with how her life turned out, but that's no excuse to kill her friends. There had better be a special place in Hell for women who don't value their friends!
Maze also offered to be Detective Decker's roommate so they can share expenses. Again, never thought I'd see the day where Maze would kick-ass for the detective and offer to be her roommate. Lucifer was livid at the idea of Maze living with Detective Decker. I for one, think it's a great idea. Maze can help the detective look after Trixie while the latter is busy with work. The demoness likes the little girl so it's all good.
The shocking moment where Detective Decker was rammed by an incoming car almost gave me a heart attack. I can't help but think that this might be God's way of going back on his deal with Lucifer. Though it could very well be an unfortunate coincidence. I'm hoping for the coincidence. Like fingers crossed hoping. For both Lucifer's and Detective Decker's sake.
Photo via FOX
Lucifer Season 2 Episode 4 Review: "Lady Parts"
Summary
Chloe tries to enjoy a girls' night out with Ella, Dr.Martin and, Maze. Lucifer tries his hand at being distracted to forget his problems in this week's excellent episode of Lucifer.