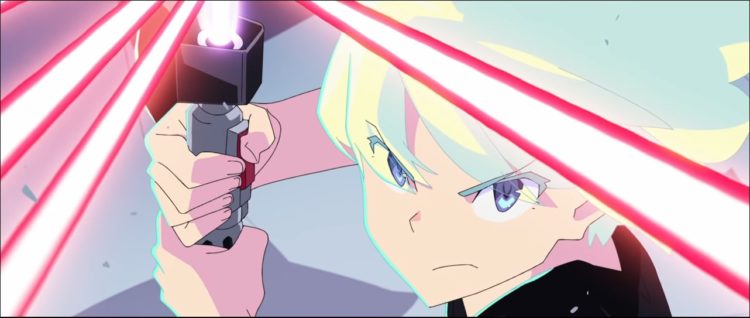 Fans of both Star Wars and anime have been begging for a Star Wars anime for as long as I can remember, and now with Disney Plus, Disney is finally giving us all exactly what we wanted: Star Wars anime. That's right, Disney has brought on a whole bunch of Japanese animation studios to fully write, direct, and animate a series of short films, set in the Star Wars universe, in a beloved Japanese animation style. I can't tell you how excited I was when they made the announcement about this, and now we have our first official look at what Star Wars: Visions is going to look like. I have to admit, it doesn't look like they've let us down in the slightest. So, what do we now know about Star Wars: Visions?
Release Date
One of the biggest reveals from the first look at Star Wars: Visions was the announcement of an exact release date. We knew previously that Star Wars: Visions was going to come at some point here pretty soon, but we never knew an exact date of when to expect it, well now we do. Star Wars: Visions is set to hit Disney Plus on September 22, 2021! That's a little less than three months from now! I don't think anyone was really expecting to see this at any point before probably December, so it's awesome that we're actually going to see Star Wars: Visions well before we had anticipated. The best thing about it all? According to the description on the official Star Wars YouTube channel, "All episodes of 'Star Wars: Visions' will be released on Disney+ September 22, 2021." Which means that we won't have to do any more waiting afterwards, we can binge it all on the same day if we want to! I'm extremely happy to hear that everything will release on the same day, because it would be an incredible disappointment if we had to wait a week – or even a month – between episodes, like we have had to do with Marvel projects, such as WandaVision, Falcon and The Winter Soldier, and Loki.
What are the Visions?
So, what exactly are the Visions in Star Wars: Visions? Well, they are a series of seven Japanese short films, from different Japanese animation studios, including:
Kamikaze Douga – The Duel
Geno Studio (Twin Engine) – Lop and Ochō
Studio Colorido (Twin Engine) – Tatooine Rhapsody
Trigger – The Twins
Trigger – The Elder
Kinema Citrus – The Village Bride
Science Saru – Akakiri
Science Saru – T0-B1
Production IG – The Ninth Jedi
Here's how Disney describes it, "As a first formal venture into anime, each "Star Wars: Visions" short bears a unique Japanese sensibility, which in many ways aligns with the tone and spirit of Star Wars storytelling. From the beginning, stories told in the Star Wars galaxy have counted Japanese mythology and the films of Akira Kurosawa among their many influences, and these new visions will further explore that cultural heritage through the unique animation style and perspective of each anime studio." Headquartered in Tokyo, Studio Trigger is well known for their productions of Kill La Kill, Darling in the Franxx, Inferno Cop, and is currently developing a Netflix original anime called Cyberpunk: Edgerunners (yes, based on that Cyberpunk), directed by Hiroyuki Imaishi, and is set to release in 2022. I have to say, I think I'm the most excited for Trigger's "The Twins" portion of Star Wars: Visions, because it reminds me a lot of a fan-made Star Wars anime short that I had seen on YouTube for years, which really made me realize how badly I wanted to see a Star Wars anime come to life.
Another great thing about Star Wars: Visions, is that Disney didn't force the creators to make everything tie into the larger Star Wars timeline. "We really wanted to give these creators a wide creative berth to explore all the imaginative potential of the Star Wars galaxy through the unique lens of anime," James Waugh said. "We realized we wanted these to be as authentic as possible to the studios and creators who are making them, made through their unique process, in a medium they're such experts at. So the idea was, this is their vision riffing off all the elements of the Star Wars galaxy that inspired them — hopefully to make a really incredible anthology series, unlike anything we've seen before in the Star Wars galaxy." I think this will be undoubtedly my favorite part about Star Wars: Visions, simply because it doesn't need to fit into the larger scale of what people know about Star Wars, while it would definitely be cool to see some future iterations of Star Wars acknowledge their existence, it's nice that we will be able to experience a Star Wars story that is separate from the overarching Skywalker Saga.
What do you think about Star Wars: Visions so far? Are you as excited as I am?