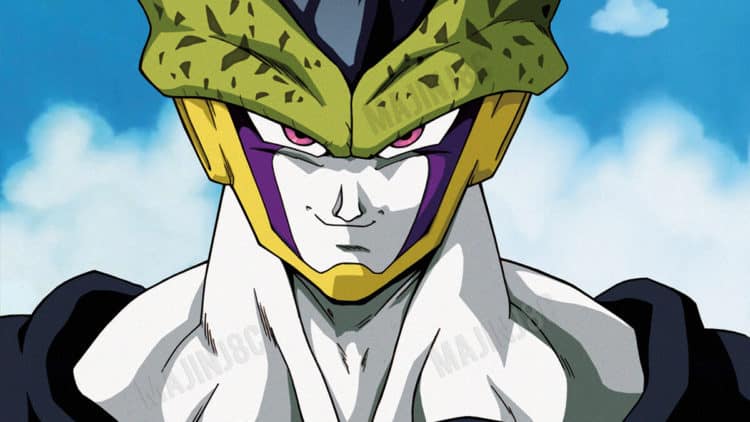 Dragon Ball Z has had some fantastically charismatic villains throughout the years, with Cell being one of the all-time most famous Dragon Ball Z villains. Like a few of the Z-Fighters, Cell has a few different ways of displaying his power in different stages. Just when the Z-Fighters thought they had Cell under control, he would consume just a bit more and enter a new form, each one growing exponentially more powerful than the last. Well….almost. With quite a few forms that Cell has taken throughout the many episodes he's been involved in, we thought that it would be fun to put them all in order from worst to best, to determine how each of Cell's forms stack up against each other. This ranking will only include Cell's forms shown in Dragon Ball Z, and will not include anything from Dragon Ball Super or Dragon Ball Heroes. So, which one of Cell's forms in Dragon Ball Z is the best? Which one is the worst? Find out today!
Second Form Cell
Cell's second form comes after he absorbs Android 17 and consumes the Android's power. This gives him the boost that he needed to take on the Z-Fighters head on and regain all of his strength. There are very few occasions in which I actually enjoy when Second Form Cell is on-screen. Most of the time, he's just incredibly obnoxious and full of himself – somehow even more so than his other forms – I think this is probably due to this being his first transformation, so he feels even more powerful, but not desperate enough to need to transform a second time to beat the Z-Fighters. Unfortunately for Cell, that was not the case and he did end up needing to transform a few more times before he had even a remote chance at beating them and overtaking Earth. I absolutely cannot stand Cell's second form, and I couldn't wait for him to either die or transform into another version of himself.
Cell Jr.
Cell Jr. is less of a form of Cell and more of a low-powered clone, but I figure that counts enough to put on the list. Cell Jr. is just a downright pain in the butt, and really only pops up when Cell can't be bothered to fight more than one person at a time. He's pretty much just a minion, which makes him incredibly annoying, and he has such a stupid laugh that gets on my nerves every single time I hear it – seriously, I have nightmares about it now. (Okay, I don't, but I could!)
Cell Bomb
Okay, so this isn't technically one of Cell's forms, or at least I don't think Cell would have considered this to be one, but I'm still putting it in here, because Cell Bomb is the most pathetic version of Cell that I've ever seen. It's quite literally just a big blob of Cell that can't do anything except blow up. This was Cell's final attempt at destroying the Earth before Goku used his Instant Transmission technique and teleported him halfway across the universe, in order to prevent the imminent destruction of the world. Unfortunately for Goku, his sacrifice was entirely pointless as Cell just reformed and became even stronger after gaining the ability to use Instant Transmission and teleport back to Gohan and the rest of the Z-Fighters. Cell Bomb is just hilariously dumb and I love to hate him.
First Form Cell
I liked Cell's first form mostly because he didn't talk too much, he was a pretty ominous villain that didn't get a whole lot of screen time for a while, and kind of had a sort of "Jaws" thing going on. He just woke up and started sucking people into his weird people-sucking tail thing, and that was that. First form Cell is pretty good, but I don't think that anything can compete with number one….
Perfect Cell
Okay, did you really expect anything other than Perfect Cell to be number one? No, because he's the best. Yes, I'm also lumping the post-Cell Bomb version of Perfect Cell in this spot too. Perfect Cell is by all means the best version of Cell that we've seen in Dragon Ball Z, and it's not even close. He's nowhere near as annoying as his second form, and he is much more powerful than his first form, and he actually has a bit of a sense of humor and, dare I say, some likeability? Perfect Cell is just really cool, and he's probably my favorite Dragon Ball Z villain across the whole show.