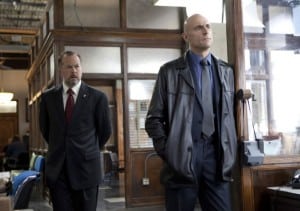 Already four episodes in, I am still not won over by Low Winter Sun. I find the concept of the show to be exhilarating, but the show's slow pace is turning me off. The latest episode, "Catacombs," contained five separate storylines. The continuous jumping around from plot-line to plot-line but never moving any of them forward made it seem like I wasted 45 minutes of my own life.
The "A Storyline" centered on Frank's search for Katia. While in Windsor, he finds a man that has a brochure filled with women men can buy for the night. Frank finds Katia's picture and asks for her to be brought to his hotel room. When the girl arrives, it is not Katia. Frank tries to find some information regarding her whereabouts, but instead he scares the young prostitute and gets clocked in the head by the pimp in the process.
Back in Detroit, Frank gets another tip that could lead him to his love. There is an underground hooker den called "The Catacombs" where Katia may be working. The tip turns out to be another dead end. However, Frank does get a helping hand from one of the many women working in this seedy playground.
Viewers also get a peek into Geddes family life after his teenage daughter, April, is caught shoplifting. This would be the episodes', "B Storyline." Geddes handcuffs her to his desk until her mother arrives. The relationship between Geddes and his ex is clearly strained. Also, April's disdain for her father is obvious, especially when she accuses him of ignoring her for the last thirteen years. This may be the reason why Geddes and his ex are no longer together. Expect to see more on Geddes' family life as the season progresses.
The drug case that Kahlil had been working on ("C Storyline") earlier in the episode turns out to be related to McCann's murder case Geddes is trying to solve. So far, Kahlil has not much luck in the drug case. This lead has both Kahlil and Geddes under the impression that Billy, the man that was killed in the first episode, is somehow linked to McCann.
It appears that Kahlil is getting closer to potentially figuring out that it is in fact Geddes and Frank that killed McCann and are trying to cover it up. If this is the direction the show is taking, Kahlil's days may be numbered if Geddes feels threatened by her. However, right now Geddes is buttering Kahlil up with the idea that she will be promoted, if she solves her drug case. The fact that Kahlil may face the same fate as McCann is upsetting since she is the only likable character on the show.
The other storylines involving the Blind Pig and Frank's connection with Sean, a cop who has turned into an addict did not need to be featured in this episode and only took away airtime from the search for Katia. Once the connection to McCann and the Blind Pig come to light, I anticipate this storyline being intriguing and making this a fast-paced drama. The preview for the next episode looks like Low Winter Sun may become a show I will enjoy to watch.
Tell us what's wrong with this post? How could we improve it? :)
Let us improve this post!