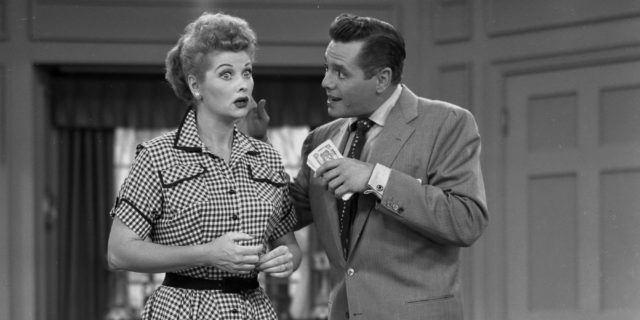 I Love Lucy is an American sitcom that started running on October 15, 1951 and continued running until May 6, 1957. However, it is so popular that it is still being shown in dozens and dozens of languages in countries situated all around the world, so much so that it is no exaggeration to say that it is one of the most influential TV shows of all time. In part, this is because of its technical innovations. However, most of the credit should go to how it set the standards for all of the sitcoms to follow. As a result, people who want to understand sitcoms must understand I Love Lucy, which was a pioneer of its medium in much the same sense that its creator, Lucille Ball, was a pioneer of her profession.
How Did I Love Lucy Change TV Forever?
To understand I Love Lucy, it is important to understand that TV cemented its place in the American household during the 1950s in the wave of consumerism that followed World War 2. I Love Lucy was not the first sitcom, which had been invented for the radio. In fact, it was not even the first TV sitcom, which was a TV show called Mary Kay and Johnny that ran from 1947 and 1950. However, I Love Lucy was the single most watched TV show in the whole of the United States for four out of its six seasons at a time when sitcoms were still new to the TV screen. Something that explains much about its lasting influence.
For a simple example, I Love Lucy was shot using a multi-camera setup, meaning that one camera is used to capture a wider shot of the entire scene while two other cameras are used to focus on the most active characters in the scene. I Love Lucy was not the first TV show to use a multi-camera setup, but it was the one that popularized the practice, meaning that all sitcoms since that time use this setup. Furthermore, it is worth noting that the show-makers came up with flat lighting for the purpose of eliminating shadows, thus ensuring that all of the footage would be usable instead of forcing them to change the lighting over and over so as make it suitable for new angles.
Another example is how I Love Lucy used a live audience as opposed to the canned laughter that was common at the time, which is something else that has become popular in sitcoms. As a result of this choice, people who watch the TV show can recognize the distinctive laughter of frequent audience members, with an excellent example being Lucille Ball's mother's mistakable "Uh oh."
With that said, it is important to point out that I Love Lucy managed to push the boundaries of what was and wasn't acceptable on the TV screen. For example, it featured one of the first biracial couples in the form of Lucille Ball and Desi Amaz, which was so controversial at the time that the real life couple had to prove that they were viable in a commercial sense by doing a vaudeville act together before TV executives would give them the go-ahead. Furthermore, it is interesting to note that the character Lucy flirted with a career from time to time, though this was no more than a pale reflection of the real person behind the character, who became the first woman to head a major TV studio.
Summed up, the popularity of I Love Lucy enabled it to shape TV for decades and decades to come. As a result, while sitcoms have come a long way since its conclusion, they could not have existed in their present form without its influence.