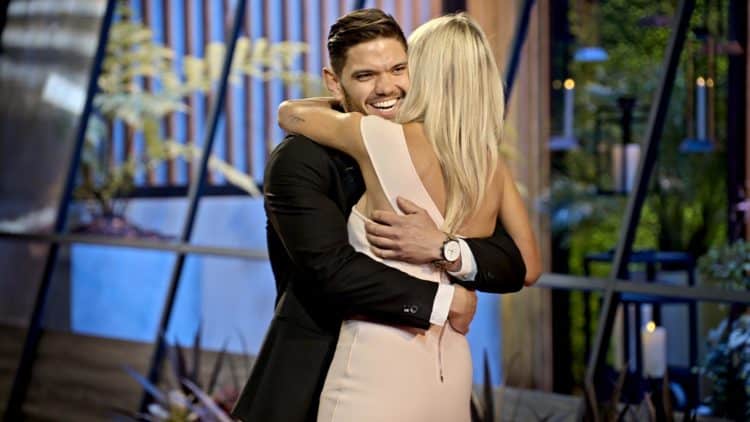 The seventh episode of Love Is Blind comes with more of the harsh realities of building a life together. With only two weeks to the weddings, a lot has happened. All while preparing for their futures, families are being met, living situations are being discussed, and there have been a couple of confrontations. After declining Kyle's proposal and returning his ring, Shaina finally got to meet the man of her dreams, Shayne, who made it clear that he is with Natalie for the long haul. Shayne wasn't too pleased that Shaina had offered to link Natalie with someone else in case things didn't work out. When we last saw them, Shaina had resorted to calling the relationship between Shayne and Natalie a fake one. Unfortunately for her, Natalie and Shayne do not think they are a hoax.
At the beginning of episode seven, Salvador has some things he needs to get off of his chest. In the past, there have been conflicts between him and Jarrette over Mallory, and since they intend on going forward with the wedding, it's best for him to settle a few scores. Right off the bat, he lets Jarrette know that he did not appreciate his comments about Mallory's ring. Jarrette owns up to it and says he's focused on making it work with Iyanna. After the subject of Nick's dog coming up in the past, it's time for Danielle to meet Nick's pet. Nick's apartment is incredibly impressive. Nick, it turns out, is a very organized person, unlike Danielle who is very messy.
Iyanna still feels like she's Jarrette's second-best option, but is encouraged by how invested he is in making it work. She meets Jarrette's parents, who are wowed by the entire process. Jarrette's dad and his stepmom have been together for more than two decades, so they know a thing or two about making love last. Jarrette's dad is a minister, and he'd like to officiate his son's wedding. Over at Sal's place, Mallory visits, and he's everything she thought he was: neat in every way. Salvador's roommate Caesar is just as much of a delight. Together, they perform for Mallory, making her fall in love with him some more. With each episode, it turns out that Mallory's weakest spot is a good old serenade. Each tune grows her affection for Sal a lot more than the last.
In many ways, Shake is the ultimate bachelor. His apartment is a bachelor's haven, complete with black and grey furniture. There are some whites sprinkled around, but they're neither here nor there. Perhaps having Deepti in his life will bring a lot more color. As to whether they'd raise children in the city, Shake is more focused on making money for them to attend good schools instead. Danielle is nervous about meeting Nick's parents. Turns out, she's not the only nervous one. A little red wine doesn't hurt when anxiety kicks in. Nick's family brings up his OCD when it comes to hygiene. It's a wonder that he's ready to get married since the topic has been a bone of contention in the past.
Natalie and Shayne are really getting into it with their wedding plans. The more they plan, the more their differences show up. Shayne is looking forward to a buffet with all the good dairy stuff, but Natalie's family is lactose intolerant. While Shayne is ready to be generous with the alcohol at his wedding, he finds out that Natalie's family doesn't drink at all. Fresh from exploring Sal's apartment and meeting his roommate, Mallory takes Sal to meet her sister, Tiffany. Tiffany, who is unfamiliar with this concept, asks all the right questions. She challenges Mallory and Sal in a way they have never been challenged before. At the end of it all, Sal is not so sure that Tiffany will show up at the wedding.
There are a lot of similarities in Deepti and Shake's dating experiences. Neither of them has been with brown people. Dating within their own race is new. In the pods, Shake says, he was looking for someone, but he ended up finding himself. That kind of thought resonates well with his mom, who is happy to meet Deepti. The topic of physical attraction still comes up. Shake wonders whether it's something that will stand in the way of their wedding, but time will tell. On Iyanna and Jarrette's camp, their differences are clear as day. He is the life of the party. He loves to go out and entertain his friends, while she likes to stay indoors and read a book. Will they work?
Danielle and Nick's differences are not light. One of them becomes clear when Nick visits Danielle's apartment. He is the Monica Geller kind, and lives in his own home, while Danielle lives in a rented apartment, and loves to host. The age difference is becoming an issue if Danielle's closet is anything to go by. She's an enthusiastic party girl, complete with costumes to show for it. Nick does not mind a little party here and there, but it can't be a break-your-dining-table kind of party. If integrating their lives is anything to go by, then one of them will have a lot of compromising to do. That eight-year age gap seems a little too big to ignore at the moment.
Throughout this process, Natalie has not mentioned a word to her parents. While her fiancé Shayne is nervous about meeting them, Natalie is also shaking. They are likely going to be cold if Natalie's prediction is anything to go by. Natalie invites her parents to her and Shayne's apartment. Her mother, in particular, is keen to know whose apartment they're at. Only then does Natalie let her parents in on the unorthodox way she met her future husband. It's almost too wild to be true. Natalie's mom is obviously shocked. Her jaw drops to the floor when her daughter flaunts an engagement ring. Almost immediately, she slaps her palm as if to say, "Get outta here." The judgment is uncanny. Her mom needs a stretcher. She's heartbroken. She's known Natalie to do some crazy things, but this is by far the craziest of them all. The seventh episode comes to an end right when Shayne is about to meet Natalie's parents.
Love Is Blind
Tell us what's wrong with this post? How could we improve it? :)
Let us improve this post!