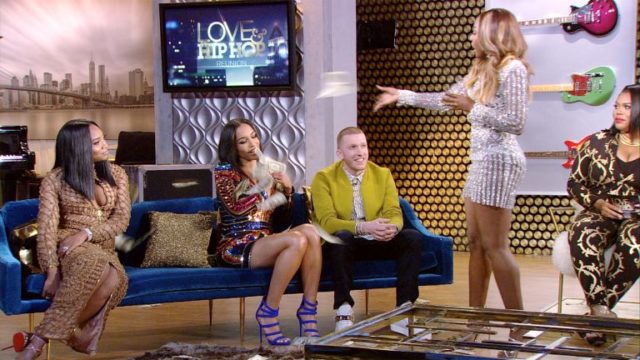 Part two of the Love & Hip Hop Reunion New York 2017 airs tonight on VH1. From the looks of it Bianca and Sky are going to get into it, and get into it hard. In the sneak peek clip you're about to see below, Nina Parker talks to Bianca about the little hotel room "encounter" with DJ Drewski to which Bianca responds, "I just said 'pull up on me." Nina then looks at Cardi B and wants to know about Bianca's motives.
Cardi says, "I mean, she knows that would bring her bad karma and if she's willing to take that karma then it's like, go ahead, friend." She then says that it's a sin to be with a married man, but there's nowhere in The Bible where it says you can't have sex with someone's boyfriend. Nina then asks Cardi if she ever sees white penis in the future for her. Cardi says, "I don't know, man, I think I'm gonna stick to black."
That's only a tiny bit of what to expect on tonight's show. If part one was any indication we're going to see some fireworks tonight. While the best part of this clip is when Bianca starts throwing money at Sky and says, "This is how we feed the birds uptown," I have a feeling this is only the beginning of what we're about to see tonight.
Tell us what's wrong with this post? How could we improve it? :)
Let us improve this post!