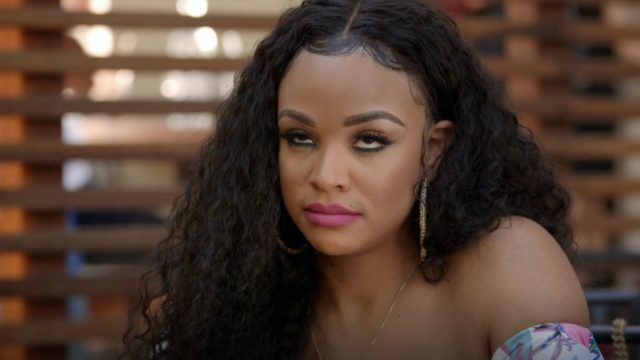 Season 4 of "Love and Hip-Hop Hollywood" is back for another round. The show just kicked off for its new year and it was an interesting episode that gave us a few insights into what we can expect this season. The drama and emotions are flowing as steadily as ever. Here are a few of the things that we learned from the recent premiere.
1. A new face to the group
There are going to be changes this season and one of them is the addition of a new and interesting cast member. Keyshia Cole is the latest R&B singer to join the group and she's not coming alone. We'll see her along with her husband Daniel Gibson, who is a former NBA player and their rather odd relationship. The couple are married, but the relationship is estranged. Although they're living together in the same house, the only reason that they are doing so is to co-parent their son Danial Hiram Gibson Jr. Cole is very free about discussing her relationship status so we're reasonably certain that there will be some drama that goes along with Cole's appearance on the show. We'll also see how she does in her endeavors to turn her life around and focus on her music career as Daniel Sr. tries to figure out where he fits into the scheme of their family.
2. Nothing has changed with Hazel E
Hazel E is one of the cast at the center of attention. Although there is a new man in her life now, she hasn't changed one bit. Wherever she goes, drama is certain to follow. Even when she makes the effort to invite Teairra, Masika and Mari to an event she's giving, we know that something is going to go awry. Hazel E thrives on drama and if there isn't anything going on already, she'll create something.
3. Ray J and Princess problems
As if we didn't know at the end of the third season, it's confirmed that the recently married couple is trying to have a baby. We don't see a lot of them in the premiere, but they're occupied with other things right now. They're both under a great deal of stress because their efforts to have a child are not going as well as they had planned. The tension has Ray avoids his wife. We learn that he is concerned because he has a low sperm count and this may be an issue as the couple move forward with trying to start their family.
4. Heartbreak for Moniece
Moniece and A.D. had been on the rocks. Things had finally gotten so far out of hand that A.D. went to a lesbian club with Zell and Alexis. She started flirting with Alexis and to be honest, she did have a few drinks prior. The bad news came when Moniece found out about it, compliments of Tiffany. This was enough for her. She is done with the relationship and A.D is preparing to move out of Moniece house.
5. Cisco is revealed for the creep he is
We learned that Teairra made effort to talk things over with Cisco, but he was too busy making the hook up with Amber. She had finally had enough and was going to go, but Cisco didn't want to lose her and asked her to stay. He just can't seem to get his act straight and it's obvious that the wants to have both women, but neither of the ladies want to have this kind of arrangement.
Save
Tell us what's wrong with this post? How could we improve it? :)
Let us improve this post!