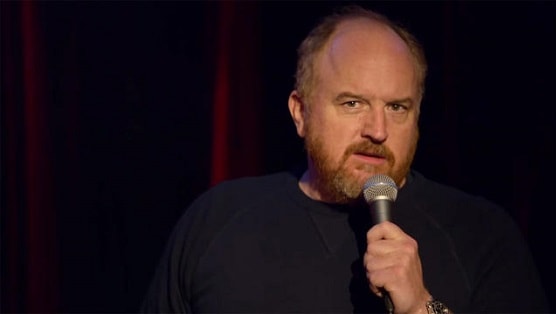 Over the years, Louis C.K.'s act – like the acts of most comedians – have grown up with him a little bit. Less fart jokes (but not too many less) and more introspection have not only fueled his stand-up, but his one-of-a-kind TV show, FX's Louie (scheduled to return in April for season five, by the way). And with maturity, comes perspective; and at least for this Louis C.K. fanatic, it's those moments that are the most rewarding. C.K. is always witty and nonsensical – but like the best material from Carlin, Pryor, or any of the other comedians in the pantheon of greats, he's at his best when he's giving his own life perspective.
His latest stand-up special, Louis C.K.: Live at the Comedy Store, quickly announces itself as lying closer to the younger C.K.'s material. Released on Louie's website yesterday (seemingly out of nowhere) for $5, Live at the Comedy Store is, first and foremost, a hilarious special worthy of its spot in any Louie fan's digital library, an hour-long special that doesn't rest on its laurels, or feel less energetic because it's being filmed in a smaller venue. However, with a short opening act from Last Comic Standing alum Jay London, Live at the Comedy Store establishes a quirkier, more informal tone than any of C.K.'s stand-up specials in recent years.
London's one-liners may seem to set an odd stage for Louie, but in retrospect, it fits quite well: this is a stand-up where Louie begins by talking in a fey voice (which he insists is just "Mexican") for two or three minutes, a typical "what if" bit of riffing from Louie. It continues from there; among his early topics are gay stereotypes, Boston accents, and his own body shape, a constant form of humor in his own specials (though one always muted given his propensity to wear a black tee during every performance). From the moment Louie steps on stage, Live at the Comedy Store indulges the Pootie Tang/Chris Rock Show side of his humor, with occasional sidesteps into cultural examinations, like a hilarious bit about babies on airplanes, or why taking advice from Mark Twain is something we might all want to reconsider.
As expected, these bits are odd, and often hilarious in their sheer absurdity; Louie's collection of accents and topics may not expand in Live at the Comedy Store, but for the most part, he's up to the task of turning that into entertaining, if not exactly necessary, material. Turning the word "vagina" into a verb (complete with Italian furniture maker, who talks about how he "vagine a nice, smooth tabletop"), trash talking a toilet, gorging on food… there aren't a lot of "new" topics being tackled here – and for those who enjoy later seasons of C.K.'s television show or recent stand-up specials, might feel things are a little lacking when it comes to jokes having depth or poignancy.
However, there are a few shining bright spots in Live at the Comedy Store, which is mostly content being funny through the lens of absurd jokes and gutter humor, two things Louie (and many other comics worth their salt) can do with their eyes closed. The best moments of Comedy Store, though, come when Louie talks about being a father – a topic that's permeated his comedy since his first daughter was born, and something that's always a highlight of his material. In Live at the Comedy Store, it comes mixed in with the ridiculousness of the rest of the special – he talks about raising his daughters gay just to be safe, or what it's going to be like having a teenager in the next 12 months – yet remain the most powerful, revelatory material in Louie's catalog. A lot of people talk about being a parent; however, few are able to do with the astute observations Louie can, able to connect and contrast the journeys of parent and child in fascinating, enlightening ways (like how a cell phone firewall might prevent him from traumatizing his children).
Louie the Father is an ever-evolving point of view for Louie's comedy, and in Live at the Comedy Store, it easily provides the show's best material. Otherwise, Live at the Comedy Store feels as small and informal as the way it was released; there's nothing in Live at the Comedy Store that will rank among Louie's best jokes – but for a smaller, more intimate show, the material of Live at the Comedy Store works quite well, less a preview of what's to come on his TV show or future specials, than a relaxing palette cleanser for one of comedy's hardest thinking (and working) comedians.
[Photo via LouisCK.net]