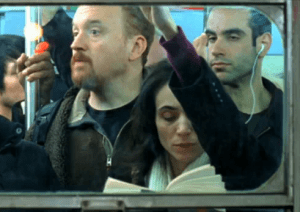 Earlier in the season, I compared Louie to Curb Your Enthusiasm because each shows center around a lovable misanthrope. Now that the season is over, I take that back. In Curb, the universe craps on Larry because he's such a jerk. In Louie, the universe craps all over the titular character for almost no reason.
In the previous episode, "Gym," a doctor jokingly tells Louie that he has a pile of feces on top of his heart, possibly from a bad marriage.
Louie is simply a victim of circumstance, trying to do the best that he can with his position in life.
At the advice of his weeping babysitter, Louie leaves for a night out. He joins some other comedians as they head to a night club but there is just one problem: Louie's friends are young(er) and charismatic, while Louie presents himself as an aging pile of awkwardness.
Louie is definitely a comedy but I really hate called it a sitcom even though there's not really another word to accurately describe it. Louie goes beyond typical sitcom corniness and becomes not only a fantastic character piece starring one of today's funniest comedians, but just great television.
If you missed out on this amazing season, two things. First, what the hell is wrong with you? And second, find it either of the FX website, Hulu or wherever you catch shows if you've missed them and get to watching.
It's a shame the season is already over. At least It's Always Sunny in Philadelphia and The League start soon.