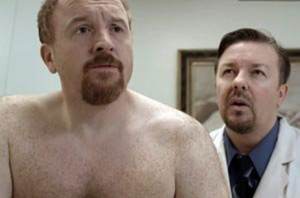 It's happened to all of us. Well, maybe not all of us but a lot of us. We sometimes over exert ourselves, push ourselves beyond our physical limits and we become dizzy or vomit or faint or do all of those at once. In "Gym" Louie passes out after a friend of his gives a little too much motivation to him while working out and wakes up the following day in the hospital with none other than Dr. Nick (Ricky Gervais) looming over him.
Gervais is brilliant once again as Dr. Nick, Louie's doctor who gives out more verbal abuse than he does medial advice. Gervais' portrayal as Dr. Nick doesn't come off as an actor in a scene. He means it when he says that Louie is a collection of "broken organs mashed into a big, sweaty, ginger skin sack."
Maybe not literally, but he's just that damn good.
Pamela Aldon also returns this week as Louie's friend and fellow parent. Her character is also a single mother who would be a perfect companion for Louie, if only she didn't think he was so gross.
I was a little excited and a little bummed out when this episode started. It was the first of two back-to-back episodes, the second of which was the season finale. Louie was a welcome challenge to my previously held belief that there's nothing good on during the summer.