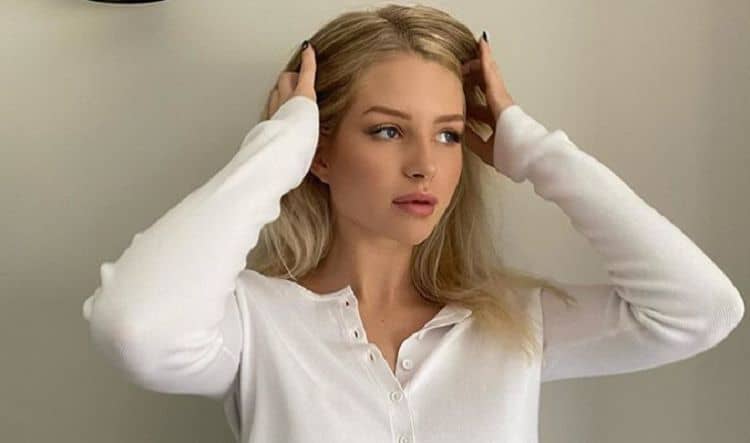 Being the younger sibling of a celebrity usually means you spend a lot of time living in their shadow. The time has come for Lottie Moss to step out into her own light. Lottie, who is the younger sister of the legendary Kate Moss, is following in her sister's footsteps. However, she's determined to do it on her own and not rely on her sister's legacy. Lottie has been working hard to make a name for herself as a model and she's already started turning heads. She has been building a solid following on social media and her numbers will only continue to grow as she gets more popular. Continue reading for 10 things you didn't know about Lottie Moss.
1. She Was One Of Her Sister's Bridesmaids
Lottie's time in the spotlight is relatively new, but the world initially caught a glimpse of Lottie Moss when she was a bridesmaid in Kate's 2011 wedding. Lottie was only 13-years-old at the time and she hadn't yet even really considered starting a career as a model.
2. She Believes In The Importance Of Body Positivity
The modeling industry is well-known for putting lots of pressure on young women to maintain a certain body type. This pressure often creates a toxic work environment and results in people doing unhealthy things so they can look a certain way. Lottie is at the beginning of her career and this is something she's already had to deal with. She believes that companies should put effort into creating diverse collections of clothing that promote body positivity.
3. She's Worked With PacSun
Lottie Moss is the type of person who practices what she preaches. She has released a line of clothing through PacSun, and she has made it a point to be inclusive. She said, "That is a part of the collection what I really wanted to get across: That not everyone is a stick-thin model and I'm certainly not. Most girls are [around] five-foot-five. Most of us have boobs. We have bums. We like to have meals, do you know what I mean? I wanted my collection to be like a true reflection of me and I'm a curvy girl."
4. Marilyn Monroe Is One Of Her Icons
Although it's been nearly 60 years since her death, Marilyn Monroe remains one of the most iconic figures Hollywood has ever seen. Lottie told Teen Vogue that Marilyn Monroe is one of her fashion icons and added, " i love her work. Her films are amongst my favorites and just stand out. I also love what she represented—she was a woman ahead of her time, a very feminine icon."
5. She Loves Sloths
Outside of modeling, Lottie has lots of other interests and one of them is certainly surprising. During her interview with Teen Vogue, she revealed that she has an "obsession" with sloths. She has done a lot of research on them and was surprised by how interesting they are. At the time, she even said she was planning on donating to a sloth charity.
6. She's Dating Roman Kemp
Lottie recently made headlines once news broke that she had started dating British TV and radio personality, Roman Kemp. This news was especially shocking because Roman just got out of a long term relationship. The two are still keeping the details of their relationship under wraps.
7. She Chose To Start Modeling Instead Of Going To College
Getting the chance to become a professional model is something that happened somewhat quickly for Lottie Previously, she had been planning on enrolling in college. However, once she realized that she had a chance to really do something with modeling, she decided to forego school and focus all of her energy on modeling.
8. She's Almost 25 Years Younger Than Kate Moss
There are lots of people out there who don't know that Kate Moss has a younger sister, and there are two reasons for that. The first reason is that Lottie is 24 years younger than Kate. On top of that, they are actually half siblings. Kate is from their father's first marriage, and Lottie is from his second.
9. Her Mom Is Also A Model
Being photogenic is something that runs on both sides of Lottie's family. Her mother, Inger Moss, is also a model although she has never pursued it as a full-time career the way Lottie wants to. Despite coming from a family of models, Lottie was never once pressured into choosing this career path.
10. London Is Her Favorite Place
Lottie was born and raised in London. Even though she's done lots of traveling, London is still a special place to her. However, Los Angeles has become a close second. She says, "London is my favourite place in the world, but I love LA, too, and I can't wear half the clothes I'm promoting with PacSun over here because of the weather!"