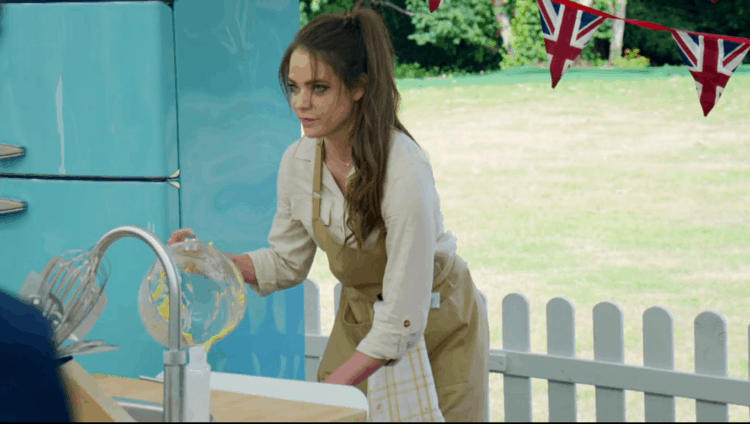 Anyone who can bake all the things is a person we want to get to know more about. Lottie Bedlow is one of the contestants on "The Great British Baking Show," and she's got incredible talent and skill in the kitchen. She can make anything look beautiful, and the judges are there to see if it tastes as beautiful as it appears. She seems to be quite good at what she's doing, so we thought we might get to know her a little more. She's a mystery to us at this point, but we do feel we can change that right now.
1. She's in Her 30s
We don't know her date of birth, but we know that she's in her 30s. She's actually around 31 right now, which makes her pretty young. She's achieved a lot in her life so far, and she doesn't seem to have any intent to slow down and take things a little easier. We respect that, too.
2. She's A Filmmaker
When she is not busy in the kitchen, she's absolutely busy doing things like making videos. She's a producer. She makes documentaries, and there's a rumor she's a pantomime producer. We don't actually know what that means, but we do think that it sounds really cool, right?
3. She's a Yoga Fan
She is a woman who loves yoga. It's more than just meditation and inner peace. The right yoga class works your muscles and your body hard, and it helps tone you and give you strength. It helps you find balance and it helps strengthen your core, but it also helps you feel more relaxed and a lot sweatier when you're done. She enjoys yoga, and so do we.
4. She's Close to Her Cousins
When she's not busy in the kitchen and doing yoga, she likes to play video games with her cousins. We just like that she's close to her family so much that she does things like this with the extended cousins. It's a big deal for so many people who just don't spend quality time with the ones that they love the most.
5. She's Always Liked Cookbooks
Growing up, she had toys. But, she really wanted cookbooks. She'd spend her time focusing on things like the way recipes could be written down and things could be done to make recipes better, easier, or more flavorful. She was a child who knew she had a love of being in the kitchen, and we have a love of that for her.
6. She's a College Grad
When she was done with school, she attended university. She went to the University of Exeter, and she graduated in 2013. We don't know what kind of degree she has from university, but we know that she later worked for a variety of different companies. She also joined a production company called Anton Benson Productions where she worked as a coordinator in production.
7. Baking is in Her Blood
Her great grandmother was a maker of cakes, and it's led Lottie to believe that she's got this in her blood and in her life for good. She's someone who has always had the culinary gene running rampant through her family, and it doesn't surprise her in the least she's so good in the kitchen.
8. She's a Perfectionist
She also calls herself frustrated, and we can understand that completely. When you are a perfectionist, you are also regularly frustrated thanks to the fact that perfection is such a myth. She's like that, and she will continue to work and work on things until she gets them right, even when she's not entirely happy with the results.
9. She's Not Married
We do not know much about her romantic life at this point, but we don't think that she is a married woman. She doesn't appear to have someone in her life who is close enough to wed, but we just don't know. She's very good about keeping her romantic endeavors to herself.
10. She's Very Private
While she might be a nationally televised baking star on the rise at this moment in her life, she does a wonderful job keeping her life to herself. She's not someone who shares too much about her personal behind-the-scenes life. She might share a snippet or two here or there, but she's keeping her private life to herself, as she should. Everyone should and could try that a little more in their lives for some greater inner peace.