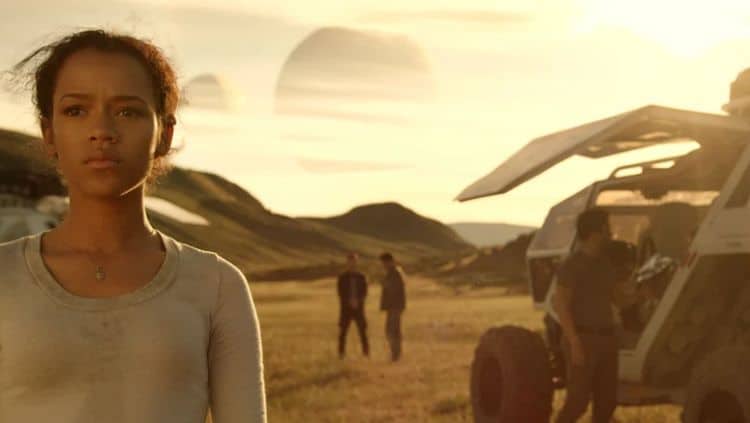 There is one upside of Lost in Space being renewed for only one more season on Netflix as Devon Forward of Screenrant reveals, and that's the fact that it was the plan from the start. Dragging out a show that has been a part of pop culture for as long as this one has isn't that great of an idea since it continually begs the question as to how to producers and director are going to keep upping the bar and how they'll meet such lofty goals on a continual basis. With that being said it's kind of regrettable that we'll see the Robinson family take a final bow after season three wraps up in 2021, but it will also be a fitting end no doubt to a series that has been an interesting version of an older story that managed to keep the attention of many a fan back in the day. Lost in Space has been a pop culture hit for a long time now no matter how it's faded and how the idea obviously needed a serious update. But all good things do have to come to an end eventually, for various reasons of course. In this case, the show might be seen as intriguing and interesting and a definite and very well-deserved nod to the scifi genre that helped to make it so popular, but dragging it out any further would be a poor idea that would only attempt to sully what's already been seen as a very enticing show that has come up with its own take on the classic idea.
Out of the few attempts at creating a compelling story out of this idea Netflix's version has definitely been one of the absolute best, though comparing it to the original is kind of unfair given the advancements in technology that have become available throughout the decades. It's very true that the original program was enjoyable and that it did in fact make use of what it had to work with, but even the 1998 movie had better effects, kind of, that people were drawn to. Unfortunately the movie's story line and dialogue was so horrible that it didn't do much for the careers of the actors, though it didn't tank everyone thankfully since several of them went on to continue their success while a few kind of slipped off and did little to nothing for a while.
But this current version has gripped a lot of people and while it hasn't been universally loved it has been different enough, while sticking to the story line, that it's been easy to get behind. The whole idea of the Robinson family becoming lost along their trip to Alpha Centauri is a classic tale, and one that's easy to enjoy since it deals with several subjects that many people can relate to despite this being a science fiction story. The fact that it will be ending after a third season might sound kind of negative to some folks, at least until they come to realize that it was designed this way and that the story arc wasn't meant to go any further, at least for now. There's no telling if someone will be bold enough to want to pick up the story again after season three and keep it rolling along, but one would assume that if the Robinson's do finally reach their goal, or at least reach some type of equilibrium along their travels, that they would come up with a way to make the story continue to make sense given that dragging it on and on would be a disservice to what's already been done and what people have come to enjoy.
People might be thinking that there will eventually be another version of this story coming or that it will be picked back up at some point, or that a spinoff might even be possible, but for now it's enough to catch up on the past two seasons and settle into the idea that it will eventually end and be set aside for a bit. The rush to pick it up again could be on the back burner for all we know but at this moment the plan to finish out the arc has yet to come to fruition, and as the saying goes there's many slip twixt a cup and a lip, so it could be that one of these days we'll see someone with enough gumption to go ahead and try it. But as of now season three will be coming, as we've discovered, as of next year, which gives plenty of time for people dish on the first two seasons and what they might be telling us leading into the third and final outing for the Robinson's. Some might want to see a happy ending, but some might actually want Alpha Centauri to remain elusive for now.