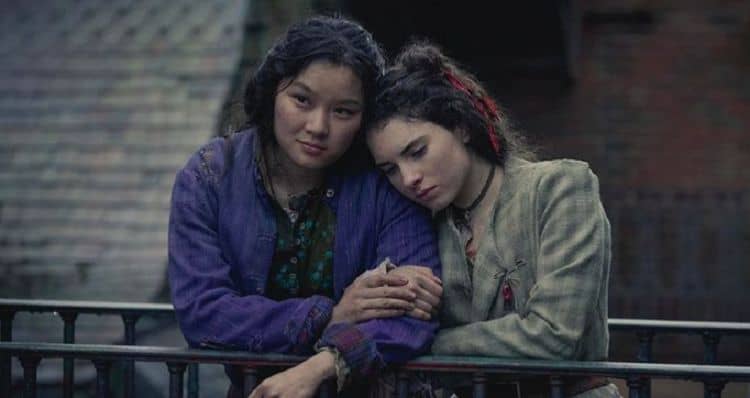 Thaddea Graham's name may not be widely known at the moment, but she's hoping that will no longer be the case by the end of 2021. She has been working hard to establish her presence as a professional actress, and that hard work is finally bringing in some benefits. After building her resume with some great opportunities over the last couple of years, she is now on the brink of stardom thanks to her role in the upcoming Netflix show, The Irregulars. The series is highly anticipated and it would end up being the break that Thaddea needs to catapult her career to another level. Keep reading for 10 things you didn't know about Thaddea Graham.
1. She Was Born In China
Since Thaddea is still relatively new to the industry, there isn't a ton of information floating around about her. We do know that she was born and China, but relocated to Northern Ireland where she has spent most of her life. We weren't able to track down any additional information about her upbringing or how her family ended up in Ireland.
2. She Is A Musician
At this point in her career, Thaddea is most widely know to the world as an actress. There may be a time, however, where she is equally as well-known for music. She is a talented musician who sings and plays the guitar and she also write some of her own music. As of now, it doesn't appear that she's released any music.
3. She Is A Formally Trained Actress
Even though Thaddea's resume doesn't have much listed on it at the moment, that doesn't mean that she hasn't been building up her experience. She studied acting at Arts Educational School in London where she graduated with a bachelor's degree in 2018. Some of the schools notable alumni include Julie Andrews and Adam Cooper.
4. She Hadn't Read The Letter For The King Books Before Her Audition
The 2020 Netflix series The Letter For The King was based on a book, but Thaddea admits she wasn't too familiar with it. She told Hypable, " I actually hadn't read the books when I got the audition, and when we did it was only a couple of sides in a scene. But instantly I was just so drawn [to it], especially to Iona because of how strong she was and how unapologetic she was about that."
5. She Loves Connecting With Fans
Thaddea has already started to build a strong fan base and she's thankful for all of the people that have supported her along her journey. Thanks to social media, Thaddea has the chance to directly connect with fans and she loves sharing the fan art they make for her.
6. She Is A Photographer
When Thaddea isn't busying acting, you can usually find her behind the camera. She loves photography and spends lots of time taking pictures and she really loves shooting with film. She's even created a separate Instagram account so she can share her work.
7. She Is Not Afraid To Take Chances
Some people are perfectly content spending their whole lives playing it safe, but that has never been Thaddea's goal. She has always looked forward to trying new things and she isn't afraid to step out of her comfort zone. Her willingness to take chances will likely come in handy during her acting career.
8. She Has A YouTube Channel
Thaddea isn't the most active social media user by any means, but she has started the foundation for a strong internet presence. She has a YouTube channel where she posts videos of herself playing music as well as webinars where she shares information on the industry. Her channel currently has more than 14,000 views.
9. She Is Passionate About Mental Health Awareness
Things have been going well for Thaddea for the last few years, but that doesn't mean that she always feels great. She goes through ups and downs just like everyone else, and she's very mindful about checking in with herself and staying on top of her mental health.
10. She Is Pretty Private
Thaddea loves what she does and she enjoys getting to connect with the people who love her work, but that doesn't mean that she wants to share every moment of her life with the rest of the world. For now, Thaddea seems completely content with protecting her privacy and keeping some things to herself. Of course, we'll all probably get to know more about her as her career grows, but she doesn't seem like the type of person who will ever put all of her business out there.