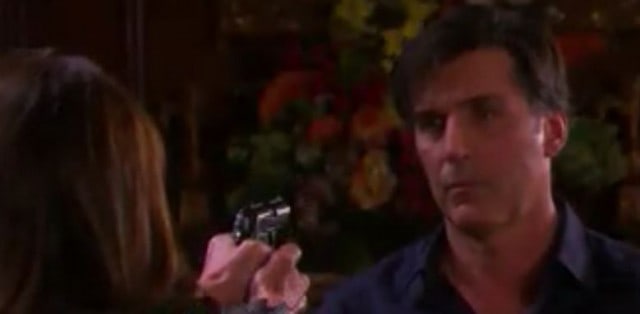 It looks like things are heating up on Days of Our Lives. For one, Deimos is still on the path to revenge when it comes to Victor. He maintains he had nothing to do with Helena's death and that he refuses to spend any more time suffering thanks to his brother's actions. He is convinced that his brother had Helena killed if he did not kill her himself, and he wants to either prove this to the world or else exact revenge on his brother to hurt him as much as he was hurt so many years ago. As a result, he finds himself working with Kate to bring him down. He will make her an offer she cannot refuse, but we think she might want to consider refusing it thanks to the fact that he is clearly not on the up and up when it comes to what he wants to do.
In other news, Marlena wants to see Abigail committed. She is convinced that Abby is not all right and that there is something wrong with her. She is convinced that Abby deliberately hurt Ben and that she is seeing things and that she is not all right. The problem here is that we all know what really happened and even we are not entirely positive that Abby is not crazy and that she did not actually do this on purpose. We have to wonder, though, if Chad is going to let something like that happen to his new wife and the mother of his son. We have to go with no, he won't. Now we simply wait and see what he will do to make sure that Abby is not going to suffer for anything he does not feel is appropriate.
Finally, the world is getting used to the fact that Eric is now in jail. His friends and family are not happy with this turn of events, but it's not like they did not see it coming. We simply have to watch as they learn to accept this and get used to life without Eric in it every single day.