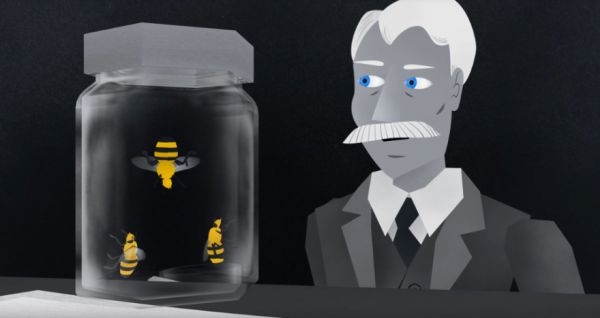 I'll be honest, even as an educated person my first reaction was "huh?". I've read Kurt Vonnegut, I've had to pay attention to his readings more than once, but The Drone King is one that I'm still shaking my head at. The implication is easy enough to understand, but the idea that anything in nature will reverse itself simply because mankind interferes is kind of silly. If you're a big Vonnegut fan then feel free to let me have it, but the guy, despite being one of the more prolific writers of his era, didn't always make the most sense.
If the premise of The Drone King is to be believed then the message is that when a drone is not a drone it is a message carrier. The idea is actually kind of interesting but doesn't seem at all sound. To start with, it is possible to train nearly anything in nature, so training bees to enter into a 'millennium club' that is exclusively male is not the most far-fetched idea in the world. But imagining that it will be this simple doesn't seem to imply any rational means of failure.
Maybe I'm just not up on the story as much but trying to coax anything to go against its nature seems like a bad idea sometimes. Yes, the saddening part of any hive is that once a drone has done their job they are ejected from the hive. And any bee ejected from their hive doesn't stand a great chance of survival. But, if drones were taken from the same hive they were ejected from, placed in a space that was all their own, had food and the type of accommodations they required, then perhaps they could be trained to do something else. At this point it's not going against nature as much as if it might be if you took the drones from the hive before their expulsion.
And yet, it still kind of is. The drone doesn't die off and isn't killed after being expelled from the hive. Instead, drones will spend their lives moving from hive to hive, laying their seed as is their nature and affecting one hive after another. They will die eventually, especially if they happen to mate with the queen, since their equipment is connected to their internals, both of which are ripped away after the act. It makes you kind of shy away from the idea of sex when you realize just how final it is for certain creatures.
But back to being against nature. Teaching drones to communicate a message between one person and another is not the most ridiculous thing ever, but it is kind of against their natural programming. They are created to fertilize a queen before dying, and if they don't then they move on until they finally fertilize a queen or die in the attempt. That's their purpose, their designation in life, and it's not always negotiable.
Kurt Vonnegut was a greater writer, but I kind of wonder how much he really knew about bees.
Save