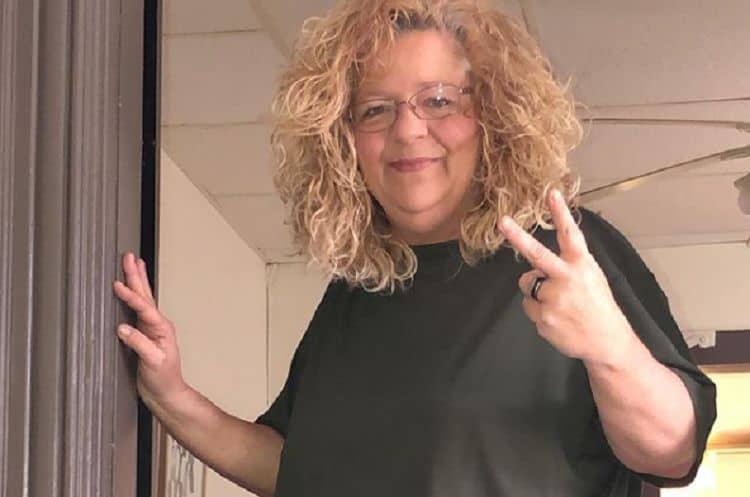 If ever there is a couple that has proven nothing lasts forever, it has to be Lisa Hamme and Usman Umar. After going through a divorce, Lisa was ready to give her heart a second chance with a Nigerian musician, but things went downhill very fast. The two have even blocked each other on social media because Lisa has become a threat to the musician's fan base. While we saw everything unfold on "90 Day Fiancé," there is still a lot more you can learn about the reality star as detailed by the facts below.
1. She had to prove she was divorced before getting married to Usman
While polygamy is acceptable in Nigeria, bigamy is not, and Lisa had to show her divorce certificate before the Nigerian marriage registry could authorize her wedding to Usman. Unfortunately, Usman had not shared such prerequisites with his bride-to-be; therefore, she was angry that after flying to Nigeria, it would be for nothing. Lisa planned on being Mrs. Usman Umar before returning to the U.S. to apply for the K-1 visa.
2. Her love life
Lisa, maybe 52, but age is not going to stop her from keeping her man interested in her. Therefore since Usman was flirtatious and kept sexting her, she was hooked to the Nigerian. Consequently, she reciprocated by chatting with Usman over video sometimes while in the nude, and her Nigerian boyfriend had liked what Lisa had to offer in the bedroom. Lisa even had a plan to make Usman stay hooked. According to CheatSheet, she told Nikki, her friend, that she would have unprotected sex with him. The reality star reasoned that since Usman had always had protected sex, unprotected sex to her would be like sleeping with a virgin.
3. She was seen as naïve by the reality show's fans
Although Lisa was excited about getting to sleep with a "virgin," fans of "90 Day Fiancé" thought she had to be naïve to believe Usman had only had protected sex. Besides being shocked that Lisa would make such a confession on television, they wondered how she fell for the lies that her boyfriend was feeding her.
4. She believes she was a victim of a romance scam
For a long time, Nigerians have been said to be scam artists, but despite not knowing her boyfriend well enough, Lisa believed they were both in the relationship for love. However, as time passed by, she has changed the tune and now claims that Usman used her, her friends, family, and the show to gain popularity. According to the reality star, Usman was so desperate to become a renowned singer that he would have done anything for fame. She said that Usman had nothing when they met; thus had only gotten involved with her to use Lisa and her daughter.
5. She met Usman through a mutual friend
As published Knowledia, Lisa and Usman met through a mutual friend from the U.K. According to the friend, Usman was looking for a female companion. However, since Lisa knew her friend's reputation, she was wary of the man she was being introduced to, thus asked the friend to connect Usman to Lisa through filtered messaging. Before long, Lisa and Usman met in person when she decided to pay him a visit in his home country, Nigeria.
6. She can get jealous easily
Jealousy can ruin relationships if a partner cannot control it, and many actors have been known to be uncomfortable with the love scenes that their spouses have to do. Although it comes with the territory, Lisa does not seem to understand that Usman's career as a rapper will have him attracting lots of female attention. She, therefore, started insulting Usman's female fans when he interacted with them in a club, but Usman retorted that he was not even her husband yet. Such behavior led to Usman finally putting his foot down, saying that if Lisa ever made him choose between her and his music, he would pick his career.
7. She has been arrested several times
Lisa has a criminal past whichinvolves harassment charges. After her ex-husband filed for divorce in 2013, Lisa started harassing him from 2013 to 2015. She was arrested for harassment, although the specific charges were stalking. In all charges, she plead guilty and paid a fine. While that should have served as a lesson, Lisa continued harassing a woman whom she thought was involved with Usman. Lisa offered a bounty to anyone who would provide personal information about the woman, but she was reported to the police.
8. She allegedly is suicidal
Fans already knew that the relationship between Lisa and Usman was troubled, given how jealous and controlling she was. However, they did not know how far she was willing to go to have the Nigerian by her side. Usman revealed that although they professed their love for each other, deep down, he knew he did not love her. He was even ready to call it quits but then claimed that Lisa threatened to kill herself if he ever left her. Consequently, the rapper kept lying to Lisa that he loved her to save her from herself. However, Lisa said that no man would ever make her commit suicide.
9. She received death threats over her use of a racial slur
Lisa used the N-word on her husband, which caused an uproar on social media as fans wanted her to be removed from the series. The reality star knew that she had wronged her husband by using the racial slur hence apologized, and Usman forgave her. Unfortunately, not everyone saw her apology as sincere, and they started issuing death threats. The threats became so bad that not only was her life at stake but her daughter's too.
10. She was ready to move heaven and earth for Usman
Lisa declared that she would have done anything for Usman, but everything changed when he said she wanted to commit suicide because he planned to leave her. She even proved her commitment by changing her religion from Christianity to Muslim all because Usman's family wanted him to marry a Muslim girl.