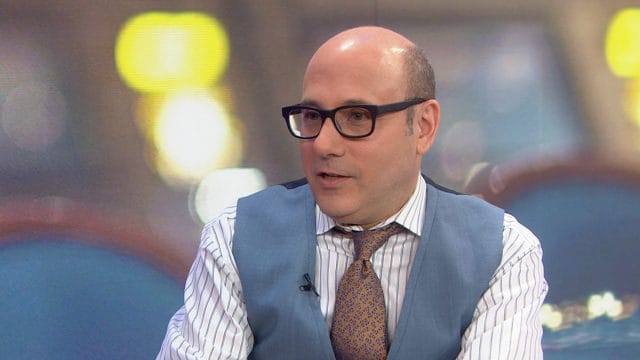 Willie Garson is the kind of guy that usually plays the sidekick or the friend that likes to store and retrieve bits of knowledge and wisdom when it's either really needed or the main character really doesn't want it. He can also be the very sarcastic little guy that you don't really want to deal with but know you'll have to if you want to get the kind of information you need. In short he's the support, the costar, the guy in the background you don't think much of until you really need him. That's okay though, this has still made him a star worth noting and someone that's inherently needed in many productions.
Everyone's got their niche, right?
5. He's close friends with Sarah Jessica Parker.
He and the actress have been friends for the past 15 years. It's always nice to know A-list talent and be on good terms with them if you ever happen to need anything in life. It's not wise to lean on them too much obviously but Willie seems more like the kind of guy that would use their friendship to a positive advantage so long as he could do something for her as well.
4. He's a fierce poker player.
He's actually won a round on a Celebrity Texas Hold 'Em tournament. He was given the name Evil Willie for the manner in which he plays. He doesn't look like he could bluff anyone for a single moment let alone get them to fold or call him on a winning hand. But that's the beauty of poker, you don't have to look fierce, you just have to know how to play.
3. He's that person next door that you might depend on or at least be friendly with.
Willie understands that he's not leading man material and he's come to accept that long time ago. The one thing he knows however is that he is definitely the kind of guy that others would look to when they need someone to depend on and just hang around with. There's nothing wrong with being the person that's there when you need them.
2. He attended Yale Drama School.
He's been an actor and a director so he knows his way around the industry at this point, at least from the standpoint of creating a character and directing them. There's no telling if he'll keep going and up his game anytime soon but the one thing that is certain is that he's at least created a few memorable characters, like Mozzie on White Collar.
1. He's played the part of Lee Harvey Oswald three different times.
He played the fall guy in Ruby, Quantum Leap, and MADtv, so he's got an obvious range that goes from the big screen to satire. That's a good amount of skill for anyone to enjoy and it's enough that he decided to take the role three different times without much difficulty. Willie is the kind of guy that wants to work, which is admirable and makes him entirely reliable.
The guy on the sidelines is sometimes the best guy to get to know.
Tell us what's wrong with this post? How could we improve it? :)
Let us improve this post!